Instant Pot Dinners For Busy Weeknights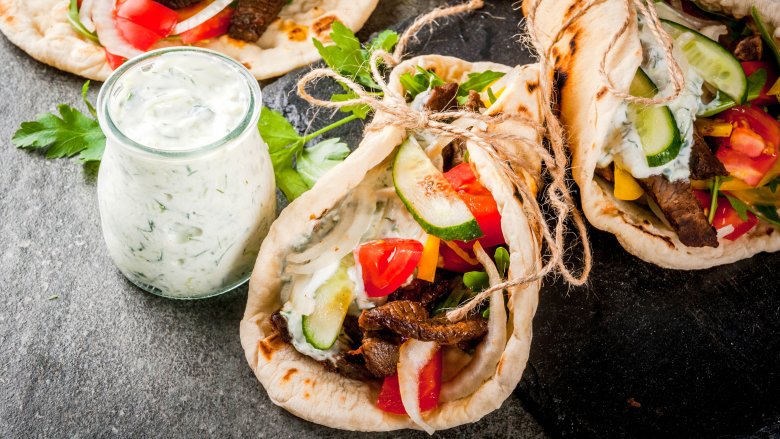 Shutterstock
Instant Pots are pretty much as close to Harry Potter-style magic as we can get in our regular, sort of boring, 21st century reality. They're versatile, they're fast, and they're a lifesaver on those days when time just seems to get away from you before you know it. But still, it's easy to get stuck making the same old things. Be honest: how many times have you used it to make chicken soup in a pinch?
There's no need to get stuck in a routine, and let's face it. Even favorites can become not-so-favorite if they make their way onto the plate too often! So, let's talk about how you can switch it up with some new favorites, and along the way, we'll talk about some quick, easy, Instant Pot meals that aren't just perfect for busy nights, but that might be a little bit different. Some might be things you never thought to make in your Instant Pot, and others might be some re-imagined classics that need to make a comeback.
Lasagna soup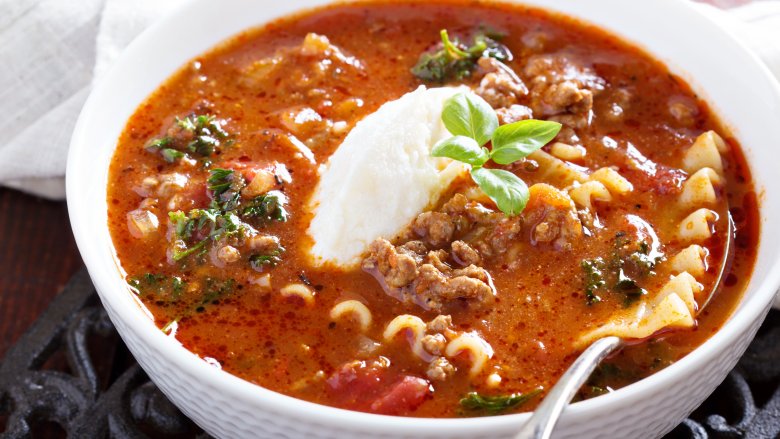 Shutterstock
Lasagna might be a staple of sit-down family dinners, but who has time to assemble and bake an entire lasagna? Use your Instant Pot, and it's actually super-easy to put together a delicious, hearty soup instead. You don't even need to pre-cook the noodles!
Start off by using the saute function, and browning your ground beef (with a bit of olive oil, if needed). Add salt and pepper to taste, and once it's browned, start to add your onions and garlic. Mix for a few more minutes, add a cup of water, and whatever seasonings and spices you like: think classics like thyme, basil, and oregano, or get creative with things like chili powder. Stir, then add a can or two of tomato sauce, diced tomatoes, and your raw lasagna noodles broken into pieces as big or as small as you like. Add at least four cups of chicken broth; the noodles are going to absorb a lot of the liquid, so play around with your ratio of noodles to broth — it's definitely not an exact science. Cook on high for four minutes, use a natural pressure release, and you'll end up with a delicious, hearty soup.
Paella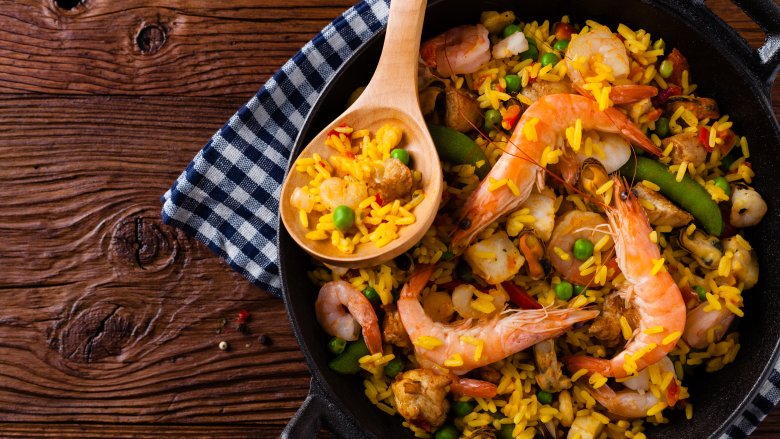 Shutterstock
Let's say right up front this isn't a traditional paella. Authentic Spanish paella is cooked over an open fire and it's a massive process, but there's no reason you can't combine all the classic flavors in an Instant Pot and enjoy it any day of the week.
First, an optional step. Chorizo absolutely isn't a part of traditional paella, either (and Jamie Oliver got some serious flak on social media for suggesting it was), but it does add such a nice flavor to this dish you can start by sauteing a bit in the bottom of your Instant Pot. Warm it up and take it out, then set it aside until you're ready to plate up your meal. Throw in a handful of diced onion and garlic, add your seasonings — garlic, salt, pepper, smoked paprika, sweet paprika — and keep stirring. Once everything is nicely coated, add around half a cup of white wine, a can of crushed tomatoes, two cups basmati rice, four cups of chicken broth, and fresh, live clams. Cook on high for eight minutes, vent naturally, then add your large shrimp (already peeled, cleaned, and deveined). Saute until the shrimp is opaque, then dish it up!
Pho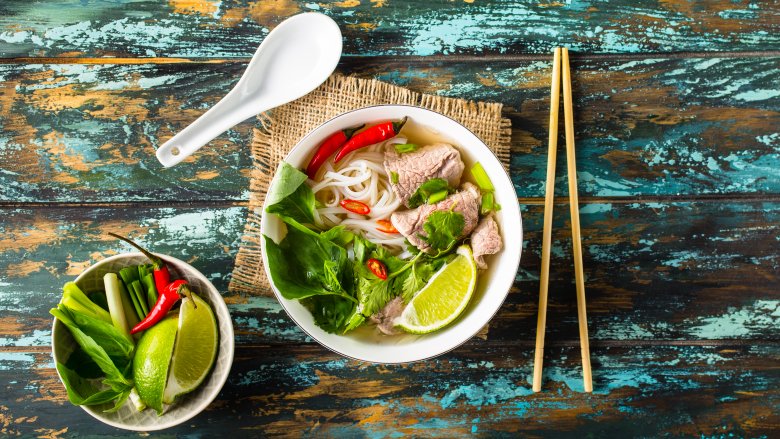 Shutterstock
Pho is a flavorful and traditional Vietnamese soup, and it's easy to put together in your Instant Pot. Start by boiling some water, then turn off the heat and drop in your pho noodles. Once cooked, pour them out of your Instant Pot and set them aside, then use the saute setting to start charring seasonings: coriander, cinnamon, and star anise. Crush up the charred spices, add them to a sachet or cheesecloth bag, and then start sauteing your onions. Once the onions are browned, add your chicken (or other meat of choice), then seasonings to taste. (This can be things like crushed ginger, garlic, diced jalapenos, Sriracha, and sesame oil.)
Fill with chicken or beef broth (depending on the protein you used), then add a dash of hoisin and some fish sauce, both to taste. Throw in your ball of seasonings, then seal it up, cook on high for about seven minutes, and release the pressure naturally. Transfer your drained pho noodles to the bowls, and when the pressure release is finished, remove the ball of seasonings, and add your spicy, flavorful protein and broth.
Sloppy joes
Shutterstock
When is the last time you had sloppy Joes? We know, right? Even if you loved them as a kid, you might not think they'd make the transition to a grown-up meal very well, but they absolutely do. The Instant Pot is the perfect grown-up toy to make these old favorites, and they're incredibly easy.
Start by sauteing some diced veggies, and you might want to add things like bell peppers, onions, celery, or even some diced jalapenos. Heat for just a few minutes, then add ground beef. Once that's browned nicely, that's when you dump in your tomato sauce. Get creative, and experiment with different flavors. Add a dash of Sriracha for some extra kick, or use some Worcestershire sauce, spicy mustard, brown sugar, chili powders, or even some curry powders. You can even add a can of pineapple for a fun, fruity kick. Cook on high pressure for 10 minutes, release, and stir. Now, it might not look too much like it's going to stay on a bun, but that's all right. Pull out some cornstarch, set your Pot to Saute, and thicken. All that's left is adding it to a bun — along with whatever toppings you like, of course.
Buffalo chicken soup or chowder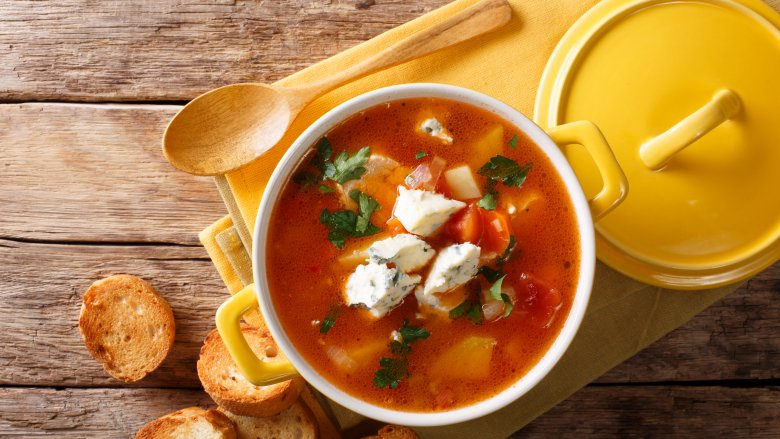 Shutterstock
Who doesn't love Buffalo chicken wings? They're a game day favorite, and they're amazing when they're done right. Now, an easy soup form of this flavor? Yes, please!
First, the soup. It takes a bit of planning ahead, because the key ingredient is one you're going to have to pick up already cooked: a rotisserie chicken. You can be prepping that while the Instant Pot does what it does best, and it's not going to take long. Just saute some butter, carrots, onion, and celery until the onions are clear, and add a healthy dose of onion and garlic powder. Then, add a whole bag of cauliflower, as much Frank's hot sauce as you like, and fill the rest of the way with chicken broth. Use the soup setting, wait 30 minutes, then puree with an immersion blender. Add your rotisserie chicken, Saute for a few more minutes to bring everything up to temp, and finish.
If you'd like to turn it into an even thicker, creamier version, add some coconut milk during that final step. Your soup is now the texture of a hot and spicy chowder!
Beef gyros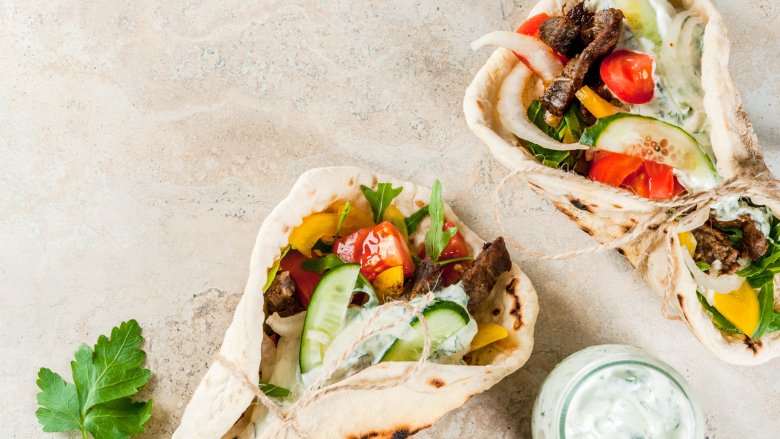 Shutterstock
Beef gyros can be tough to get right, because too often, they're literally too tough. Not with the Instant Pot! Just trim all the fat off your beef and slice it into thin strips (and "thin" is key, no more than a quarter-inch thick). Add to your Instant Pot with enough water to cover, then add seasonings like oregano, salt, pepper, parsley, garlic, olive oil, and a dash of lemon juice. That's it! Use the Meat/Stew button, cook for 30 minutes, let it naturally vent, and then let the meat sit for another 15, after the cycle is complete. Not only will your meat be tender, but it'll be just the right amount of juicy, too. 
That's when you put the rest of your gyros together. Slice some tomatoes, lettuce, and onion, whip up a quick Tzatziki sauce (with Greek yogurt, garlic, dill, lemon juice, and olive oil), and pile everything on your pitas. It's fast, delicious, and best of all, it's even healthy.
Corned beef and cabbage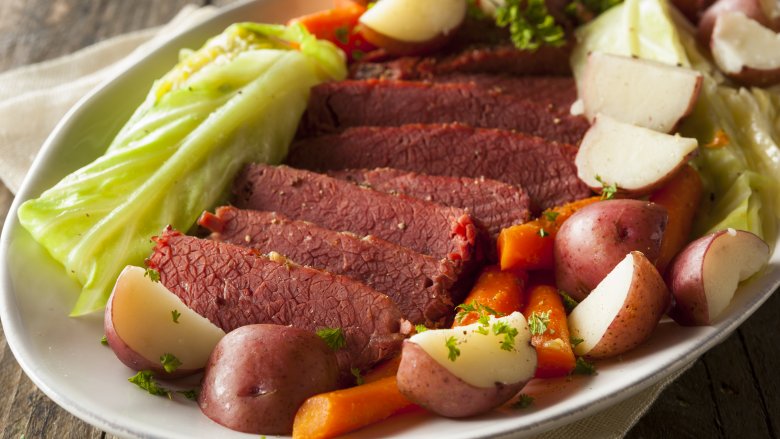 Shutterstock
Corned beef might not be from Ireland, but this American St. Patrick's Day favorite is still delicious. The problem usually is that it takes a long time to cook, but trade the stove top for an Instant Pot, and it only takes about an hour and a half.
Start by putting your corned beef brisket into the Pot (using a rack to keep it from sitting on the bottom), along with the spice packet and anything else you care to add (like garlic). Cover with water, and cook on high for 90 minutes. Your brisket will come out perfectly tender, and while you're letting that rest, put your cabbage, diced potatoes, and carrots back into the liquid you just cooked your beef in. Add another five minutes onto the timer, and not only are your veggies done, but they're filled with all that delicious corned beef flavor. Sure, this one might take a little longer than a soup or stew, but it's a largely hands-off sort of meal that's so easy, you're going to want to have this March favorite all year around.
Swedish meatballs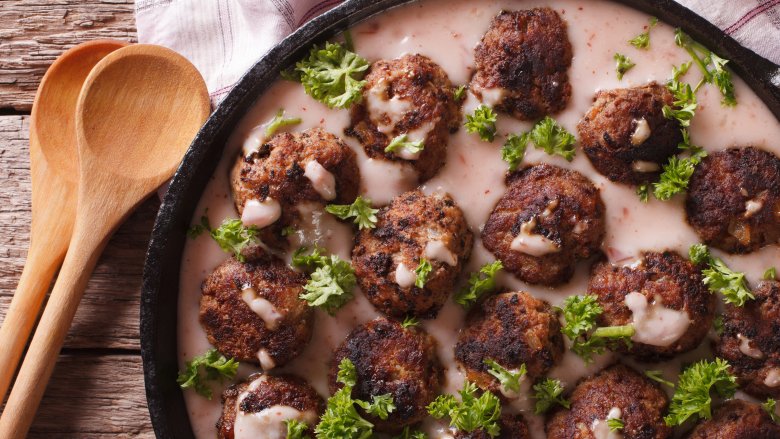 Shutterstock
Start by mixing up your meatballs, and you can feel free to use your favorite, go-to recipe. If you don't have one of those on-hand, mix up some ground beef and ground pork (in a ratio of 2:1), and add seasonings like onion, garlic powder, salt, pepper, sage, and parsley. Make your meatballs only about an inch in diameter, and then it's time to mix this meal up.
For mushroom fans, layer the bottom of your Instant Pot with mushrooms and onions. Cover with beef broth, pile on the uncooked meatballs, and use the Meat/Stew setting for a 20-minute cook. Or, you can serve these meatballs up in a bowl of thick, hearty gravy. Cook them in a mix of beef broth and onions, then once the meatballs are done, thicken with some corn starch. Add 10 minutes of cook time onto the project — using the soup setting — and you'll have a delicious, creamy meatball so good, you won't have to make special trips to IKEA any more.
Pulled pork sandwiches (or tacos)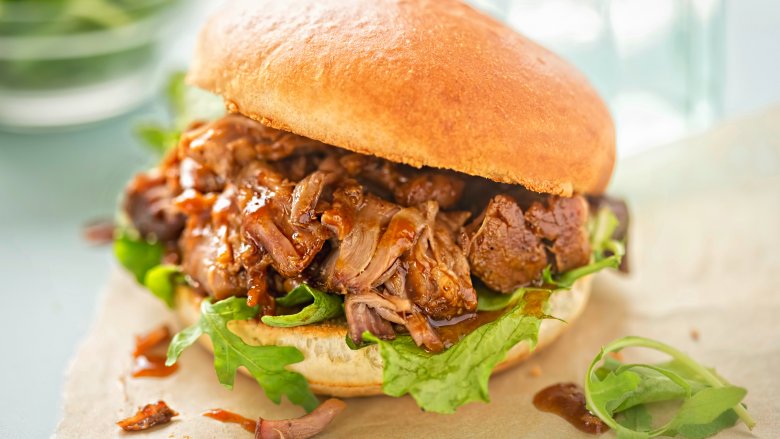 Shutterstock
Who doesn't love a bit of pulled pork? Whether you serve it up on some buns or in tacos, it's always the main part of a delicious meal. It doesn't have to take forever, either, just around an hour in your Instant Pot.
Start by cutting your pork into manageably-sized pieces, then browning each side in the bottom of a Pot warmed by using the saute function. While the pork browns, mix up the liquid you're going to use to cook it the rest of the way. Use any number of ingredients, but a classic idea is chicken stock, BBQ sauce, brown sugar, a dash of vinegar, mustard, and seasoning like cumin. Pour that liquid over your pork, set it to high pressure, and cook for 60 minutes. After a natural release, pull your pork out and shred it into pieces. While you're shredding, switch your Instant Pot to saute, and simmer to reduce your sauce. By the time you're done prepping the pork, you'll have a delicious sauce to serve any way you like.
French dip sandwiches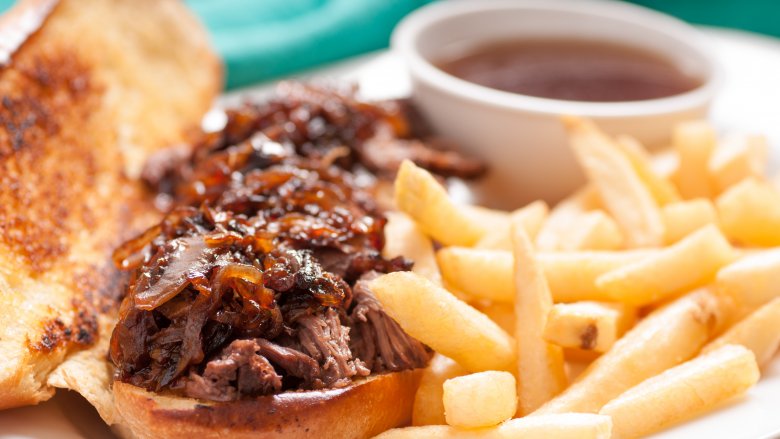 Shutterstock
This one's going to take some planning ahead, as even your Instant Pot is going to need some time to turn your chuck roast into meat tender enough for a sandwich. Start by seasoning your meat, then searing it with help from the Saute button. Then, take out your meat and let it rest while you add onions and a bit of red wine. Keep sauteing until it starts to thicken, then put your meat back in and add some beef broth.
Switch to the Meat/Stew function, and let it run for 80 minutes and follow that with a natural release. By the time you crack the lid, your roast will be the perfect texture for slicing and shredding onto your waiting rolls. The liquid will have reduced down to au jus, just right for serving up alongside your sandwiches. Add some cheese or serve on rolls prepped with a bit of butter and garlic, and you'll have a light, tasty dinner option perfect for those nights you want something that's just not too much.
Chicken enchilada soup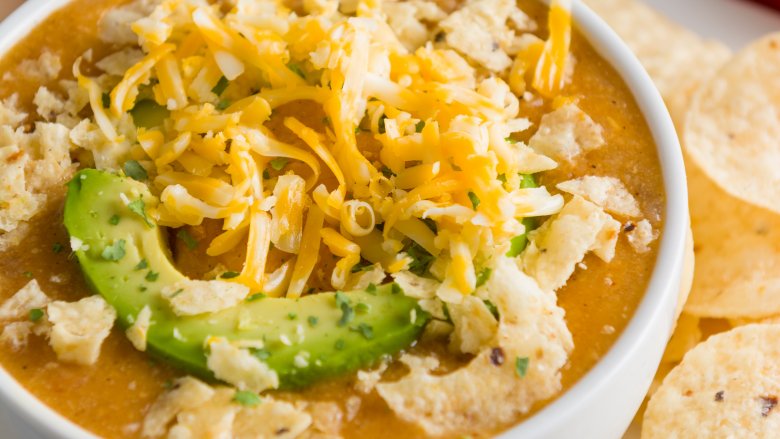 Shutterstock
How about something hot, spicy, and with a bit of a Tex-Mex influence? Chicken enchilada soup can definitely hit the spot, and it all starts with sauteing some veggies — like red pepper and onions — for just a few minutes. Add chicken breasts, diced into pieces, along with chicken broth, and cans of diced tomatoes, pinto beans, black beans, and corn. Make it as spicy as you like by adding things like chili powder and the enchilada sauce that gives this one a kick, then cook on high for seven minutes. By the time it's cycled through natural pressure release cycle, you'll have your soup. How easy is that?
The great thing about this one is how easy it is to experiment with. Add green chilies or some hot peppers for some extra heat, or stir in a can of refried beans for some extra creaminess, and tweak your spices to as be as mild or hot as you like. Use just a few chicken breasts for a single meal, or make enough for dinner and a few lunches. Top with avocado slices, grated cheddar, or sour cream, and serve with a side of tortilla chips.
Beef stew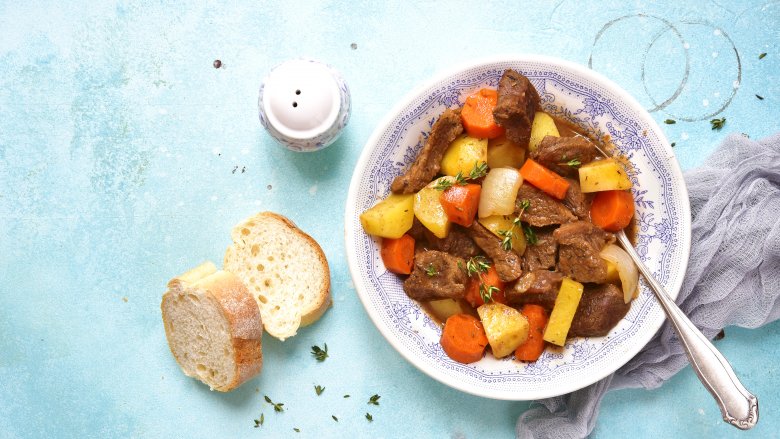 Shutterstock
Beef stew is another dish that can be tough to get right, and it all depends on the texture of your meat. That's where the Instant Pot can be a huge help. Start this one by using it to sear your stew meat (with the saute function), then add in all your beef stock, carrots, potatoes, butternut squash, onions, and celery, all cubed, sliced, or quartered. Add in tomato paste and beef stock for some extra flavor, extra salt, pepper, garlic powder, and onion powder if you like, and seal it up.
Then, it only takes about 20 minutes on high to turn all your ingredients into a hearty, delicious beef stew. If it's not quite thick enough when you open it, switch to saute and let everything reduce just a bit, then serve it up right onto the plate. There are a ton of ways to switch this up, too. Add in some white beans, mushrooms, chipotles, barley, or use Guinness or red wine for some of your liquid. How can you go wrong with that?
Salmon and veggies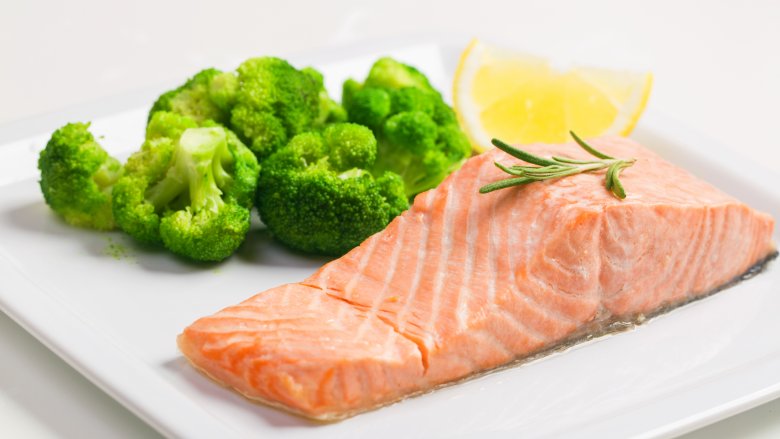 Shutterstock
It's not just heavy, hearty dishes that are going to come out of your Instant Pot, and if you're looking for something a little on the healthier, lighter side, you can use it to whip up a quick salmon dinner with all the veggies and greens you want.
It's easy! Just use your wire rack, put your salmon filets in with the skin side down. Drizzle with lemon, add salt and pepper if you like, and use the steam setting for three minutes. Three minutes! Take your salmon out, and from there, it's just a few more minutes. Toss in your veggies, and whether it's julienned carrots and zucchini or chunks of fresh broccoli and snap peas, it'll only take a few more minutes — also using the steam setting — to turn some fresh veggies into the perfect side dish for your slice of salmon. Who says eating healthy has to be complicated?
Chili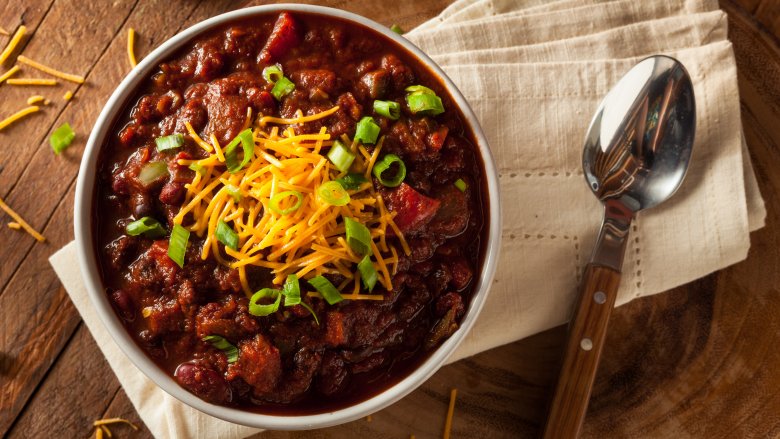 Shutterstock
Chili is one of those dishes that's brilliant in its versatility, and every time you make it, it can be just a little bit different. Since there's no right or wrong way to make this one, let's talk basics first, then ideas.
Saute your ground beef until it's browned, and then start adding your ingredients — including tomato paste and diced tomatoes for the base. Once your Pot is full, just 15-20 minutes on the chili setting and another 10-15 minutes through the natural release cycle, and you're golden!
And that's it. (If it's not quite thick enough for your liking, switch to the saute function and let it run — stirring regularly — until it thickens.) The great thing about this is that no matter what you have in your kitchen cabinets and in your fridge, you can probably whip up a delicious chili. Get creative when you're adding your ingredients! Add some hot peppers for extra kick, or some brown sugar for a bit of sweetness. Use kidney beans or black beans, a dash of apple cider vinegar, or even a shot of espresso. You can even go vegetarian, and no one will miss the meat.