Shrimp Alfredo Recipe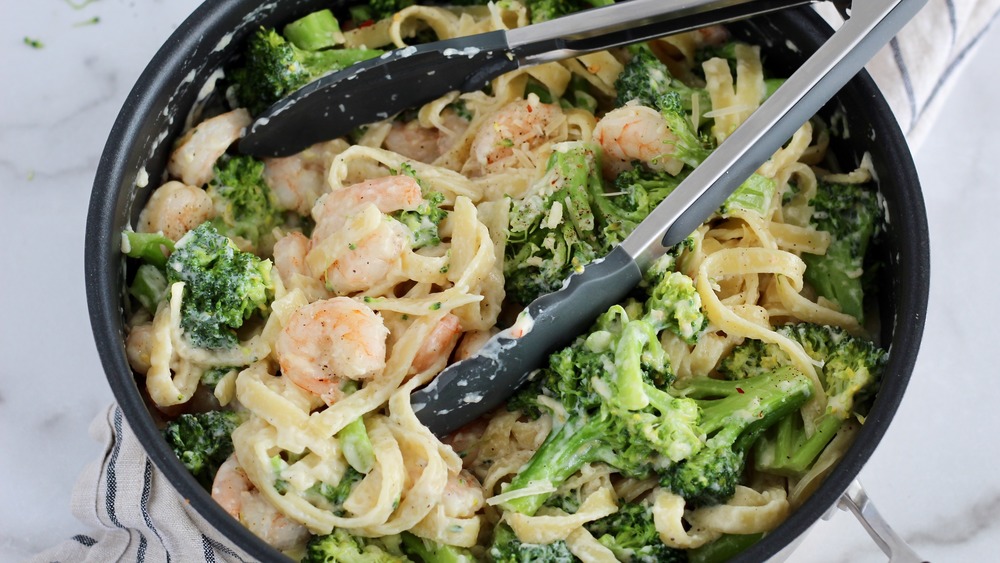 Mackenzie Burgess/Mashed
If you love pasta, cheese, and comfort food, keep reading. This creamy dish is our take on classic fettuccine Alfredo with the addition of fresh shrimp and broccoli. Today, there are tons of different variations on the classic fettuccine Alfredo, including the addition of cream and different proteins and vegetables.
Nowadays, most fettuccine Alfredo recipes you search for include heavy cream. Here, we are swapping it with whole milk to still provide an ultra creamy pasta and delicious pasta dish while slashing the calories and fat. Even though we lightened it up, don't you worry. This shrimp Alfredo is still the perfect pasta pick-me-up for when you just want a little comfort from your food.
Check out other easy, healthy recipes by registered dietitian nutritionist Mackenzie Burgess on her blog at Cheerful Choices. As a dietitian, Mackenzie believes in the importance of balance and the idea that food serves as both nourishment and enjoyment.
Gather your ingredients for this easy shrimp Alfredo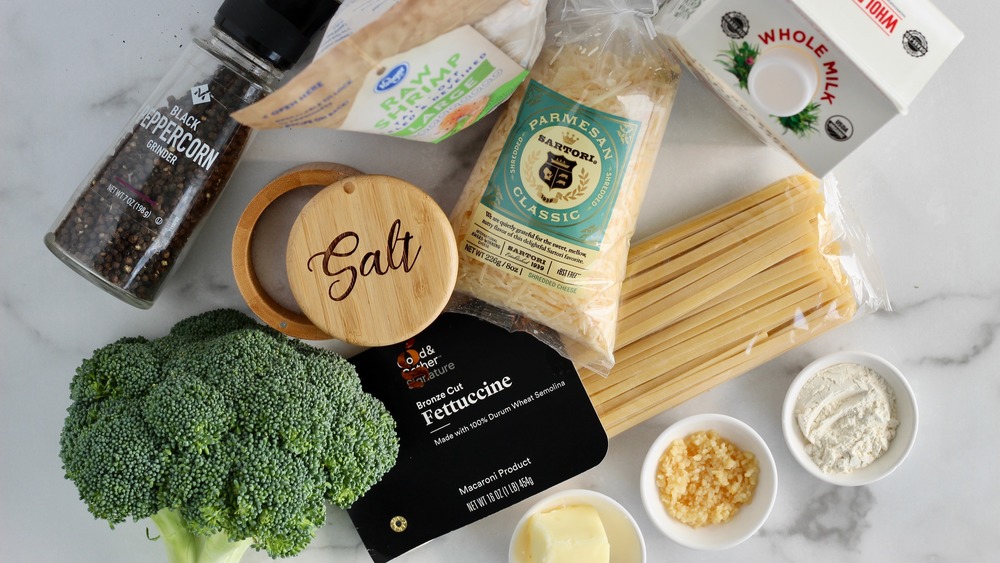 Mackenzie Burgess/Mashed
There are just nine ingredients used in this creamy shrimp Alfredo recipe. The recipe as written makes enough for four large servings. If you want to make more, use an extra-large pan and double the recipe.
Even though this shrimp Alfredo calls for simple ingredients, it packs in major flavor. Don't be afraid to add lots of salt and freshly ground black pepper.
Parmesan cheese also gives this recipe an umami punch. Umami is a category of taste — just like sweet, sour, salt and bitter — that is typically described as the savory taste. To get more technical, umami corresponds to glutamate, a type of amino acid present in many foods such as meat, cheese, and various veggies.
Start by cooking your noodles for this shrimp Alfredo recipe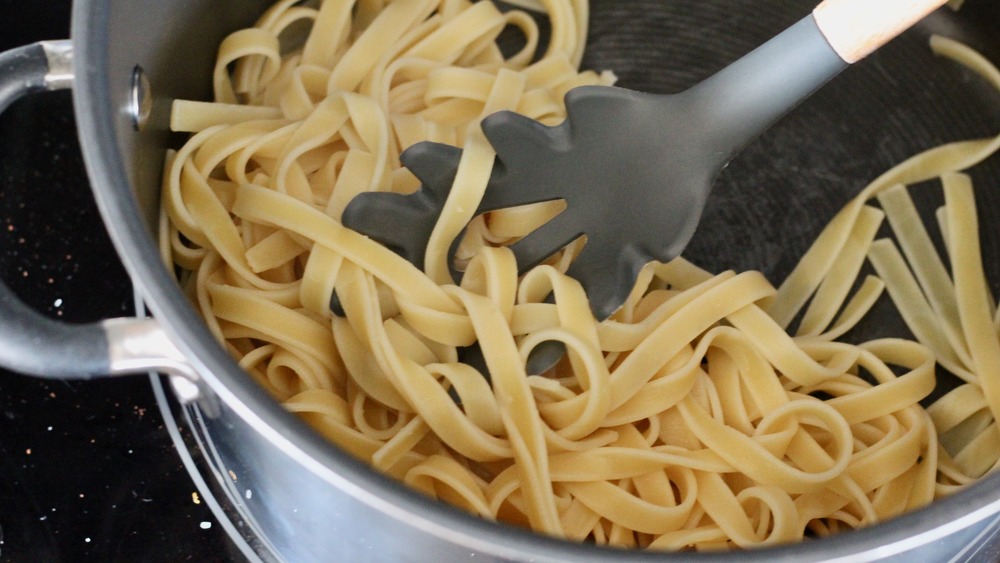 Mackenzie Burgess/Mashed
Fettuccine noodles have a large surface area and make the perfect vessel for the rich and creamy shrimp Alfredo sauce. Cook your fettuccine noodles to al dente according to the package instructions. Typically, this means cooking your paste in boiling water for ten to 12 minutes.
After it's done cooking, be sure to taste your pasta and ensure it's softened to your liking. We find that al dente (Italian for "to the tooth") is the best for this Alfredo because it's the perfect level of chewy. Before you drain your pasta, be sure to save a cup of starchy pasta water to set aside for later.
If you don't have fettuccine noodles, you can also substitute other types of pasta like spaghetti, ziti, or bow-ties. If you are gluten-free, swap with a fettuccine alternative made from brown rice flour or almond flour.
Chop up your broccoli into florets for your shrimp Alfredo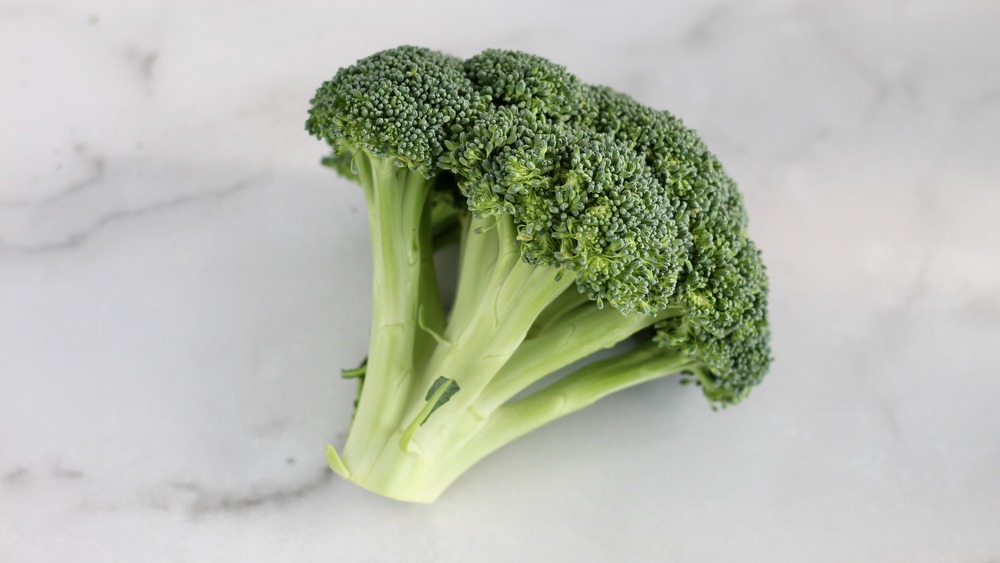 Mackenzie Burgess/Mashed
Choose a large broccoli head for this shrimp Alfredo recipe. Cut the head into smaller florets about one inch in size. Be sure to reduce food waste and use the stem too — it's completely edible and even has a slightly sweeter taste. You can chop the stem into small coins and throw them in with the florets. If you're using pre-chopped broccoli, use about four cups of florets.
Broccoli is a great way to boost the nutrition of this shrimp Alfredo recipe. It packs in important nutrients like vitamin C, fiber, iron, and potassium. If you don't like broccoli, you could also throw in green peas, asparagus, or zucchini.
Steam the broccoli for your shrimp Alfredo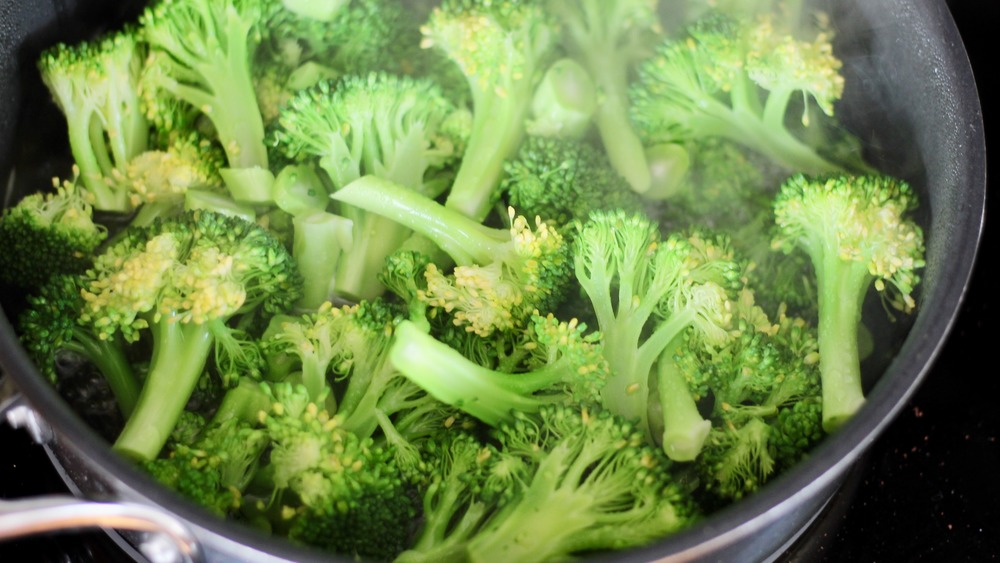 Mackenzie Burgess/Mashed
We are all about easy clean-up and doing fewer dishes, so the rest of the cooking steps for this shrimp Alfredo recipe will all take place in one pan. We recommend using a large sauté pan that has raised sides.
First, add half an inch water to the pot and bring to a boil. Then, add your chopped broccoli into the pan, bring the heat down, and let steam for five minutes. The broccoli is done when it's slightly tender and turns a bright green color. This is a great method to steam your broccoli for other dishes too. One it's done, set aside your steamed broccoli and wipe out the pan.
Cook the shrimp on each side for this shrimp Alfredo recipe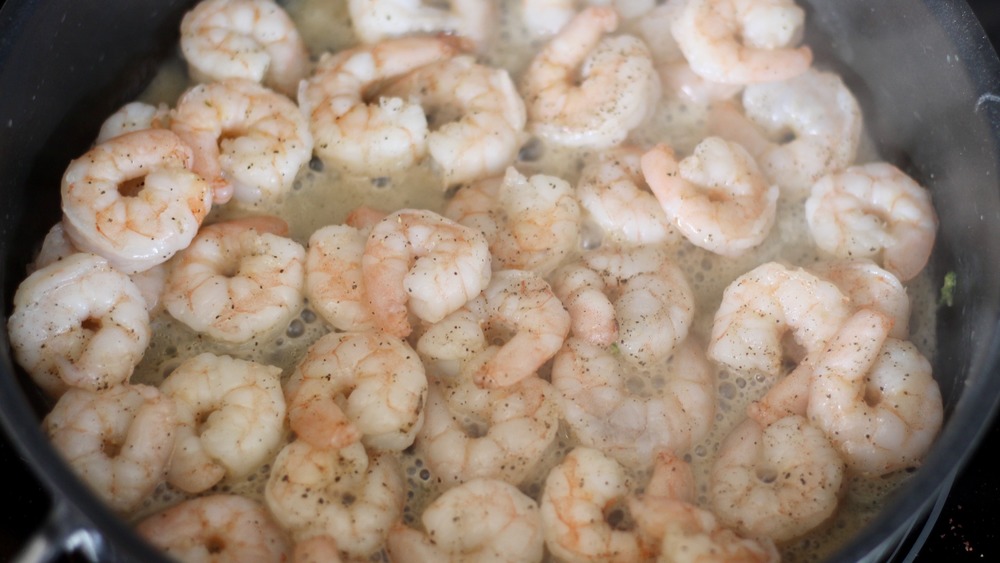 Mackenzie Burgess/Mashed
Use that same pan to cook the shrimp for your shrimp Alfredo. Melt your butter, then add over shrimp in an even layer and cook for two to three minutes per side. Here, we are seasoning the shrimp with a bit of salt and pepper. If you want to up the flavor, feel free to add in other spices. Sprinkle in some paprika or Old Bay to give it a beautiful bright red hue. Garlic powder won't hurt here either.
You'll know the shrimp is done when it turns opaque white and pink in color. Avoid overcooking or you'll end up with rubbery, dry shrimp.
Make your homemade shrimp Alfredo sauce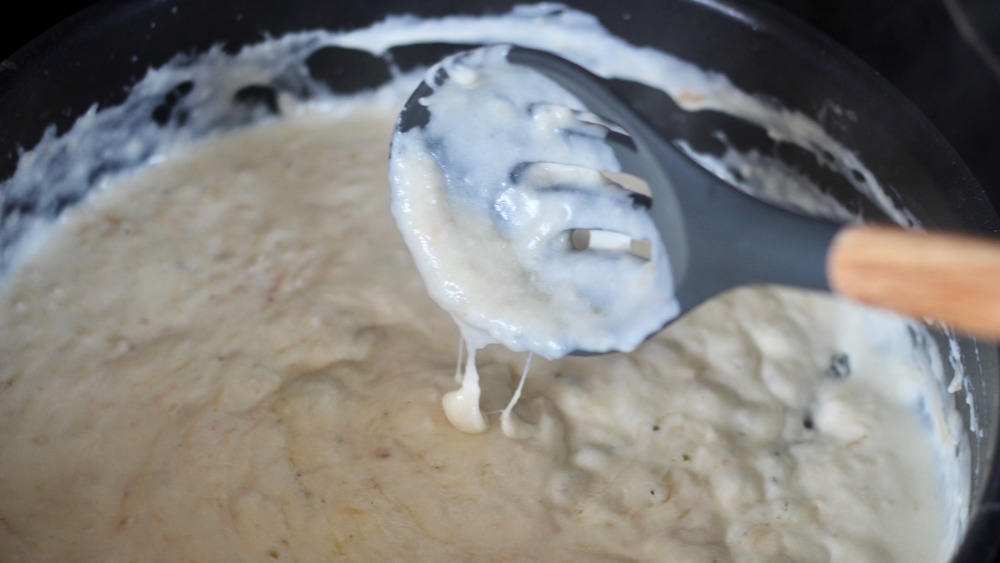 Mackenzie Burgess/Mashed
The final piece of this shrimp Alfredo recipe that brings everything together is the luxurious Alfredo sauce. Start by using that same pan to melt butter and cook your minced garlic. Once the garlic is slightly brown and aromatic, add in the flour and stir it all together. You want to make sure there are no clumps left. This combination of butter and milk is known as a roux, and it's the basis of other decadent dishes like macaroni and cheese and gravy.
Then, pour over whole milk and let it simmer to thicken the sauce. Alfredo typically calls for heavy cream, but we are choosing milk to significantly reduce the amount of calories and saturated fat.
Put your shrimp Alfredo all together in one pan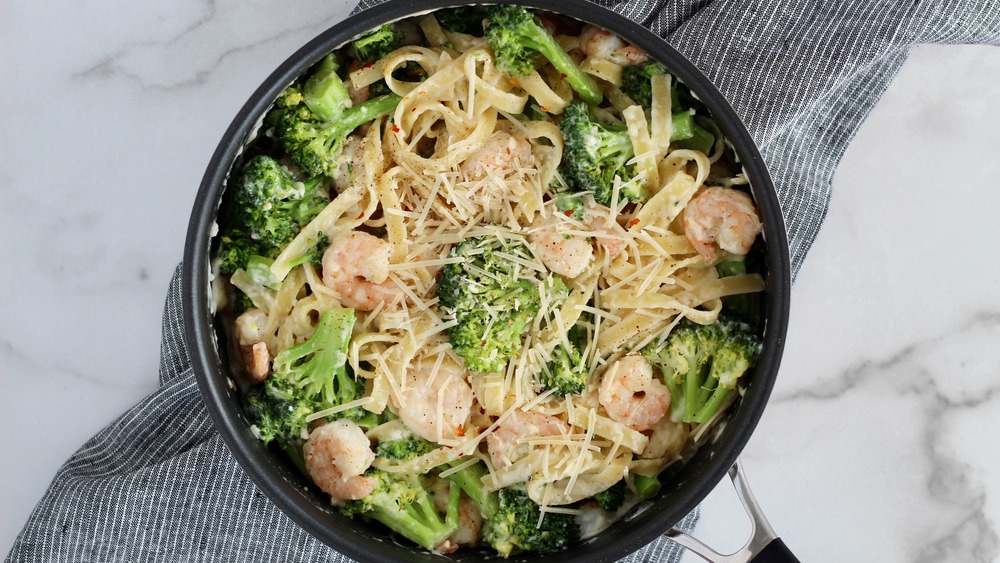 Mackenzie Burgess/Mashed
This is where the magic happens. Add everything back into the sauce and stir until it's all coated. If the sauce is a little too thick for your liking, that's where the reserved pasta water comes in. Add a small amount of pasta water to thin out the sauce. You can add as much or as little as you like.
Once you're ready to serve, be sure to sprinkle some extra Parmesan cheese on top. We love to enjoy this shrimp Alfredo alongside a leafy green salad or fresh garlic bread. If you have any leftovers, store in an airtight container for up to three days.
Shrimp Alfredo Recipe
If you love pasta, cheese, and comfort food, you'll love this creamy shrimp Alfredo dish with the addition of steamed broccoli.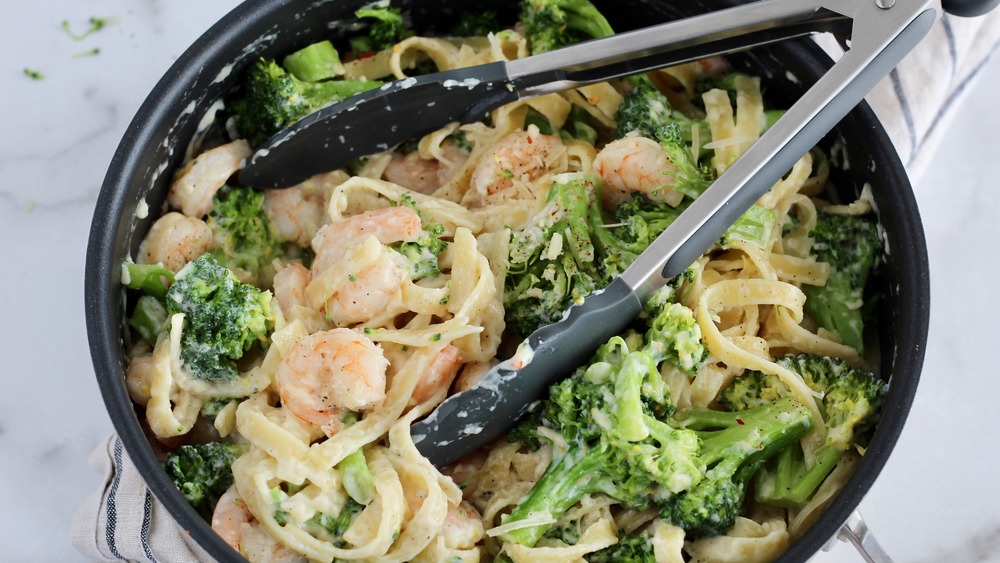 Ingredients
8 ounces fettuccine noodles
1 large head broccoli, chopped into florets (about 4 cups chopped)
3 tablespoons unsalted butter, divided
1 pound shrimp, peeled, deveined, and tail-off
2 large cloves garlic, minced
2 tablespoons all-purpose flour
1 ½ cups whole milk
1 cup shredded parmesan cheese, plus more for serving
Salt and pepper to taste
Directions
Cook fettuccine noodles according to package instructions to al dente. Save 1 cup of pasta water for later.
Add ½ inch of water (regular water, not pasta water) to the bottom of a large sauté pan and bring water to a boil. Add chopped broccoli, cover, and bring heat down to medium. Steam for 5 minutes until broccoli is slightly tender and bright green. Set aside broccoli for later.
Wipe out this same pan and add 1 tablespoon butter. Keeping it at medium heat, melt butter, then add shrimp. Season shrimp with salt and pepper to taste. Cook 2 to 3 minutes each side until pink, then set aside with the broccoli for later.
Again, wipe out this same pan and add 2 tablespoons butter. Keeping it still at medium heat, melt butter and add minced garlic. Cook garlic until fragrant, about 1 to 2 minutes. Add in flour and stir until completely combined with butter.
Add over milk and let simmer for 2 minutes to thicken. Stir constantly to prevent scorching. Turn heat to low, then add in Parmesan cheese and stir until melted. Generously salt and pepper to taste.
Add cooked fettuccine noodles into sauce along with broccoli and shrimp. Stir until everything is coated. If you want a thinner consistency, pour over a small amount of pasta water at a time and give another stir. Top with additional Parmesan cheese and serve hot.
Nutrition
| | |
| --- | --- |
| Calories per Serving | 655 |
| Total Fat | 24.0 g |
| Saturated Fat | 13.8 g |
| Trans Fat | 0.4 g |
| Cholesterol | 200.2 mg |
| | |
| --- | --- |
| Total Carbohydrates | 66.4 g |
| Dietary Fiber | 7.3 g |
| Total Sugars | 9.7 g |
| Sodium | 1,260.8 mg |
| Protein | 45.2 g |