Everyone Is Talking About This KFC And Genshin Impact Crossover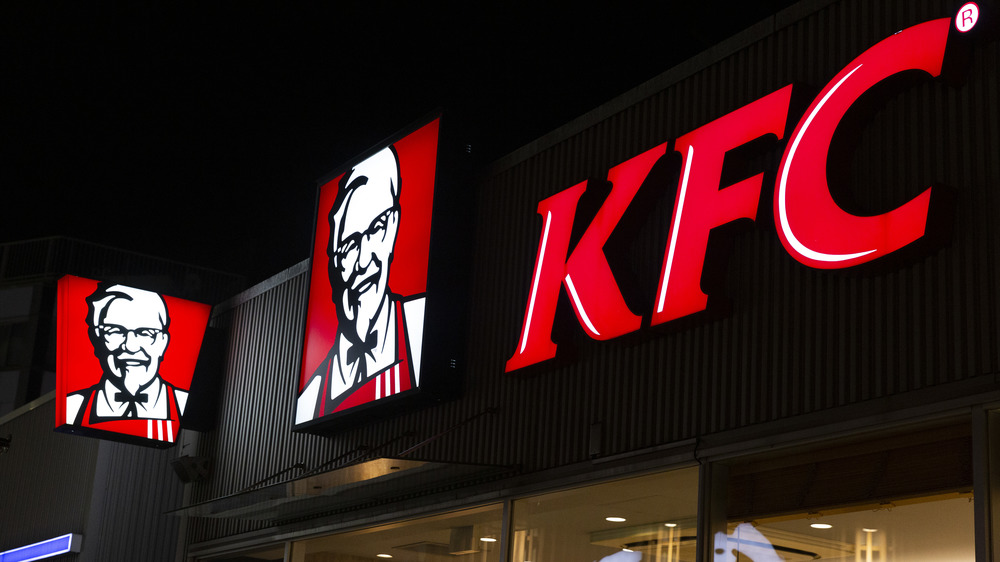 Yuichi Yamazaki/Getty Images
KFC is a big name in the world of fast food chicken (if not the largest). According to FirstWeFeast, the brand's presence across the globe is impressive with outlets in over a hundred countries. It all began, of course, with Harland Sanders, KFC's founder in 1930 who used to run a gas station and came up with his signature Original Chicken recipe sometime in 1940. It took years but KFC eventually managed to make a solid mark on its customers. 
These days, KFC remains as big as ever with an impressive international presence. And recently, people have heard through the grapevine that something rather exciting is brewing in KFC's Chinese outlets. As reported by Forbes, the brand has collaborated with Genshin Impact in China, and fans of the game are intrigued to say the least.
What does this project entail? Early photos reveal an interesting theme with Noelle and Diluc dressed in KFC-themed outfits. Fans may also be able to get their hands on merchandise like a Diluc-themed bucket. Here's everything we know so far about this fascinating crossover.
Fans of Genshin Impact are losing their minds over the collab with KFC
As reported by GameRant, as a game, Genshin Impact is incredibly popular among its millions of fans who have played the game since its launch last year. It took just two months for the game to prove that it's here to stay. The outlet also says that the game managed to bring in major profit for the company, approximately $400 million dollars, to be precise. Cool, right?
Well, it only makes sense that Genshin Impact is now tying up with a giant like KFC to appeal to more fans. This news has been leaked, by the way and a formal announcement hasn't taken place yet. It looks likely that enthusiasts will get a chance to feast on a special meal featuring the game's characters for a limited period. The news story was leaked by a content creator on Twitter. The tweet read, "KFC collaborating with Genshin Impact. Offering limited time KFC Diluc Bucket and Wing skin." Sadly, as Comic Book reports, it's likely that this will be limited to fans in China. 
Fans on Twitter are already excited, but some are clearly upset about the exclusivity. One Twitter user wrote, "Are you telling me China is getting limited [wing] glider, or do all KFC around the world propose this [collaboration] because if not, I have never been this mad." Only time will tell, friends.