Puttanesca Recipe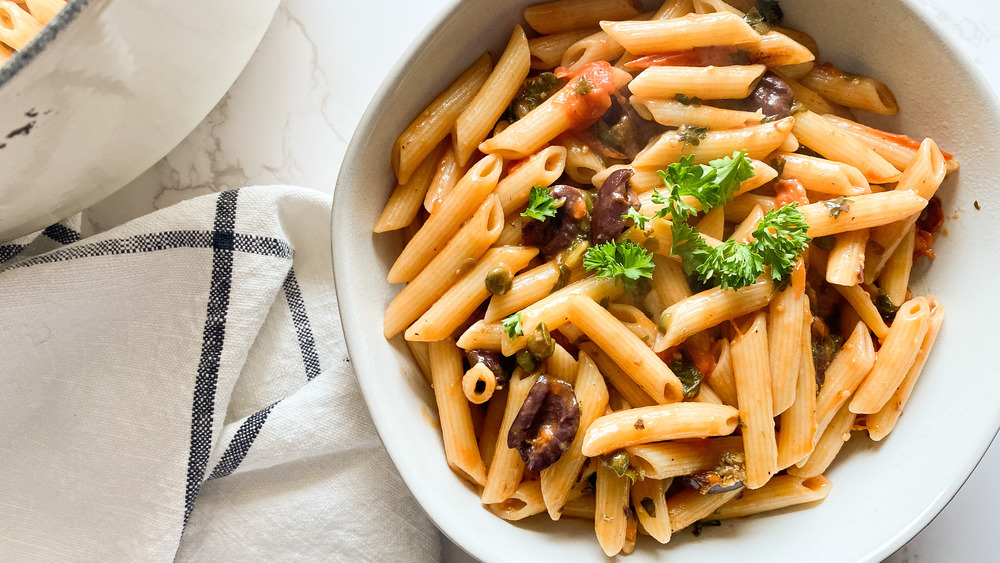 Kristen Carli/Mashed
There are a few theories as to why this dish is called pasta puttanesca, and they're all pretty colorful tales to varying degrees. Suffice it to say that "puttanesca" roughly translates to "lady of the night" in Italian, and so many stories point to this recipe originating sometime in the mid-20th century in the Spanish Quarters of Naples, a part of the city then known for its red-light district, according to Italy Magazine. This spicy, easy-to-prepare dish may have also been the result of a less colorful group of restaurant customers asking for a quick, tasty late-night meal.
But don't worry, there's nothing low rent about the taste here. This quick and easy dish is packed with flavor and is a filling, satisfying meal. "I love to pair this with caesar salad and garlic bread," says chef, food writer, and registered dietician Kristen Carli of Camelback Nutrition & Wellness. And like many pasta dishes, this is one that's even better the next day as the flavors get more time to combine. "This [dish] stores in an airtight container in the fridge for up to five days. When you pull it out to reheat it, I recommend giving it a drizzle or two of olive oil after heating," says Carli. A nice, flavorful extra-virgin olive oil would be ideal there. 
But frankly, it's also delicious served cold more like a pasta salad, even with crunchy lettuce such as chopped Romaine added in. However you decide to serve it, this is a puttanesca that will have everyone asking for seconds.
Gather your ingredients for puttanesca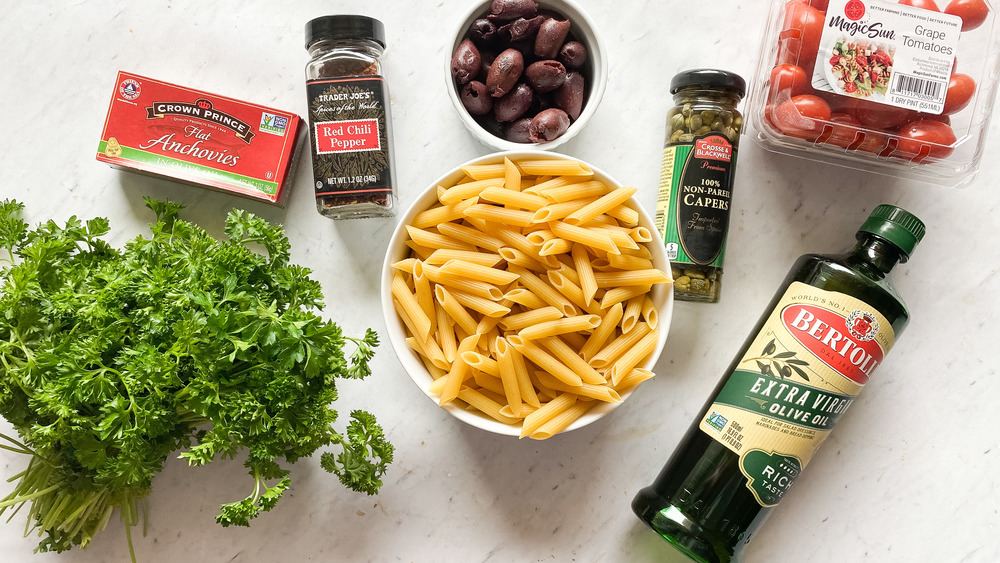 Kristen Carli/Mashed
For this salty, spicy, satisfying dish, you'll need 1 tablespoon of olive oil, 3 anchovies, 1 pint of grape tomatoes, a 1/2 cup of kalamata olives, a 1/2 cup of curly parsley, 1 pound of penne pasta, 4 1/2 cups of water, a 1/4 cup of capers, 1 teaspoon of salt, a 1/2 teaspoon of black pepper, and 1/4 teaspoon of red chili flakes. If you haven't done so already, take a few minutes to halve the grape tomatoes, halve and pit the kalamata olives, and chop up the curly parsley. The parsley and tomatoes are an especially great accompaniment to the briny, salty flavor of the olives and capers.
Note that usually, the water is an approximation when you cook pasta as you'll discard the excess, but in this case, you want it to cook so that it's almost entirely absorbed by the pasta. It's all part of building the dish's flavor and texture, so be sure to watch the exact amount of water you're adding to the pot for the best puttanesca results.
Cook the tomatoes, olives, and anchovies for puttanesca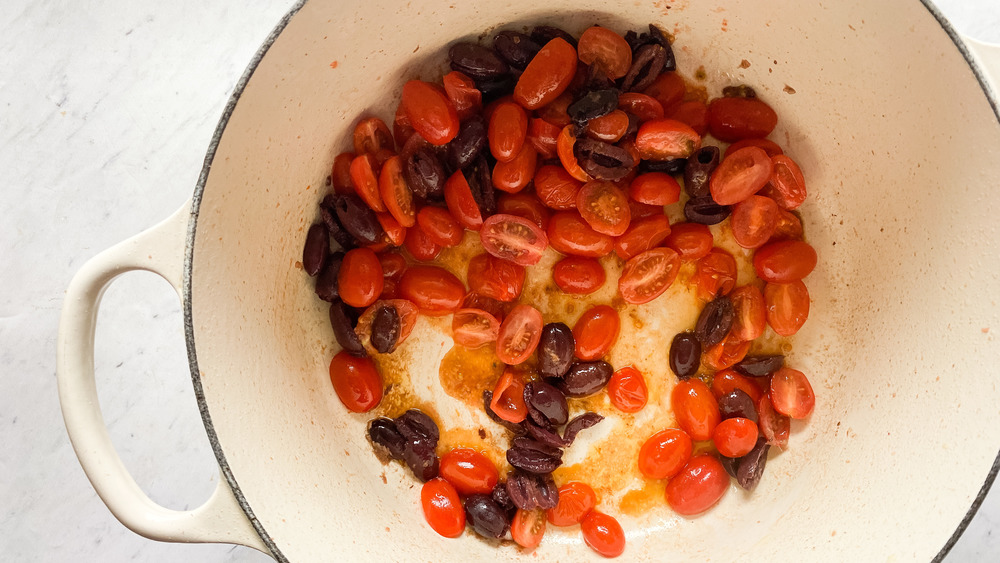 Kristen Carli/Mashed
Put a large stockpot or Dutch oven on the stove over medium heat and add the olive oil, heating it until it is shiny and shimmering. Then add the anchovies, cherry tomatoes, and olives. Stir occasionally and let things cook until anchovies break down and begin to smell fragrant.
"One mistake to avoid is not allowing your anchovies to cook through," says Carli. "They break down all the way when cooking long enough, which is what you want." That way, their flavor will permeate the dish and you'll have an even smoother texture in the final result. Your tastebuds will thank you, to be sure, so take an extra minute to make sure everything's cooked through.
Add the rest of the puttanesca ingredients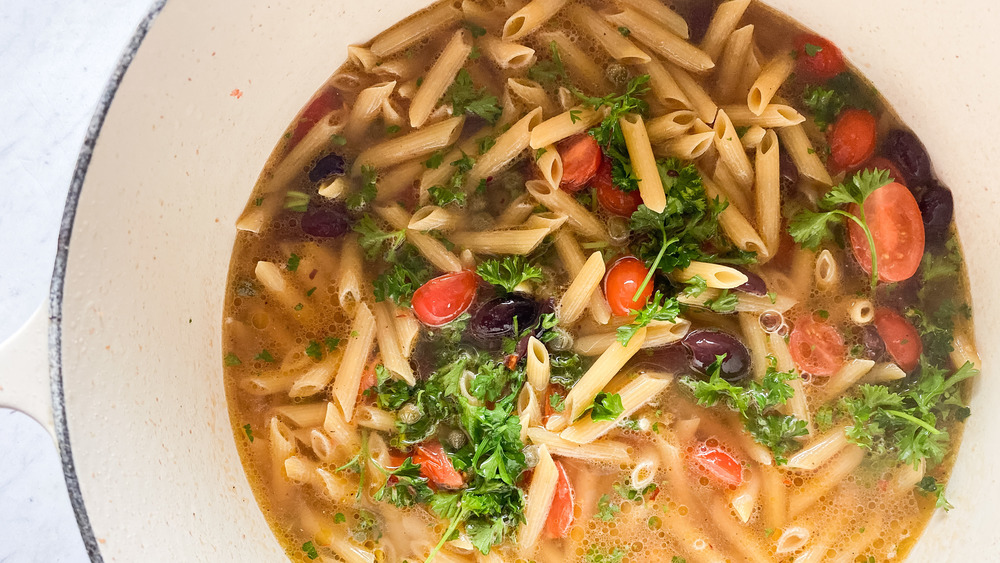 Kristen Carli/Mashed
Once the anchovies are broken down entirely, add all of the remaining ingredients into the Dutch oven or pot. Bring the liquid to a boil and then let things cook at an active simmer for about 10 minutes. Make sure nearly all of the liquid is absorbed by the pasta, leaving behind a dish with a silky texture.
And hey, guess what? It's time to mangiare, because this dish is done! Yet, pasta puttanesca really is that simple. If you have any leftovers, this will last about five days in an airtight container in the fridge.
This dish can be served as an entree on its own but, if you're looking for other pairing ideas for this classic Italian meal, a piece of roast chicken works great with the savory heat of puttanesca. You could also add in some cooked Italian sausages that have been sliced and stirred right into the pasta itself. Ultimately, there is plenty of room here for variation.
Puttanesca Recipe
Pasta puttanesca is a fast and easy dish that's full of spicy heat and plenty of flavor. Here's a puttanesca recipe that will have everyone asking for seconds.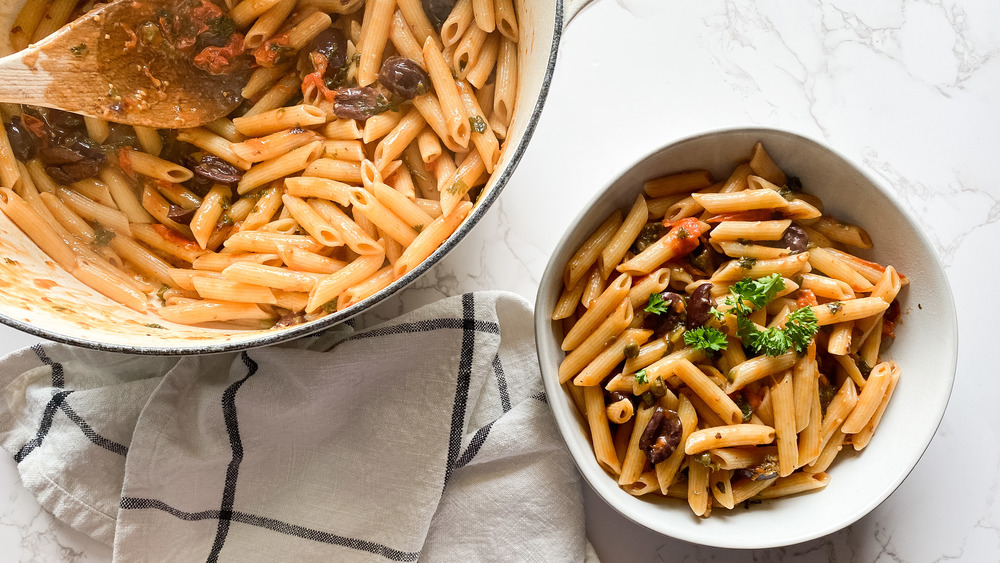 Ingredients
1 tablespoon olive oil
3 anchovies
1 pint grape tomatoes, halved
½ cup pitted kalamata olives, halved
½ cup curly parsley, chopped
1 pound penne pasta
4 ½ cups water
¼ cup capers
1 teaspoon salt
½ teaspoon pepper
¼ teaspoon red chili flakes
Directions
In a large stockpot or Dutch oven over medium heat, add olive oil and heat until shiny. Then add the anchovies, cherry tomatoes, and olives. Cook until anchovies break down and smell fragrant.
Add remaining ingredients, then bring the stock to a boil.
Cook at a low boil for 10 minutes, or until all liquid has been absorbed and pasta is ready.
Serve pasta puttanesca on its own, or with accompaniments like roast chicken or Italian sausage.
Nutrition
| | |
| --- | --- |
| Calories per Serving | 498 |
| Total Fat | 7.5 g |
| Saturated Fat | 1.1 g |
| Trans Fat | 0.0 g |
| Cholesterol | 2.6 mg |
| | |
| --- | --- |
| Total Carbohydrates | 90.3 g |
| Dietary Fiber | 5.9 g |
| Total Sugars | 5.4 g |
| Sodium | 1,043.0 mg |
| Protein | 17.0 g |