Easy Egg Salad Recipe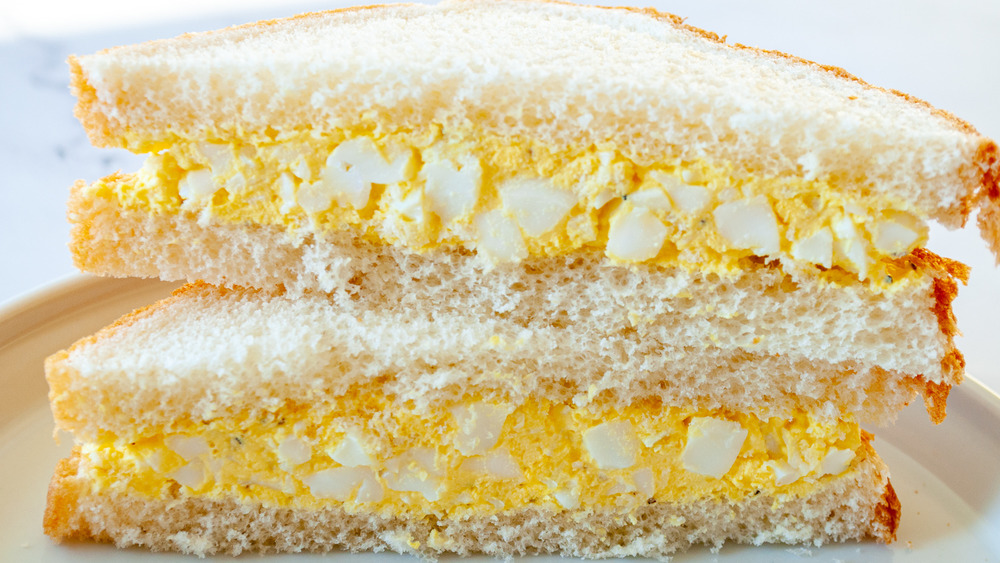 Laura Sampson/Mashed
Egg salad is one of those dishes you likely often enjoy at restaurants, buffets, and catered events, but for some reason you may rarely think to make it yourself at home. But that is about to change. "This is a quick and easy spin on the classic egg salad," says chef and recipe developer Laura Sampson of Little House, Big Alaska. And it's a handy snack or meal you'll find yourself making all the time once you realize how easy it is to whip up a tasty serving of this egg salad. In fact, provided you can hard boil a good egg, you basically can't mess this meal up.
"Keeping little packs of cooked and peeled eggs on hand means no one goes hungry in our house," Sampson says, as "a snack is just 5 minutes away! [And] as the mom of a Type One Diabetic, a high-protein, low-carb egg is the perfect snack for all of us. I even like to send them with my husband for his work fridge. At work, he kicks it up with Sriracha and has the egg salad on crackers. It is so easy to stay satisfied when you have a protein-filled lunch."
Of course, you can also enjoy this egg salad for breakfast or even as part of your dinner. It makes a great sandwich or wrap, it mixed well into a salad, it can be scooped atop a burger, and on the ideas go. With a rich, creamy, egg salad like this one at the ready, you really can't go wrong.
Gather your ingredients for egg salad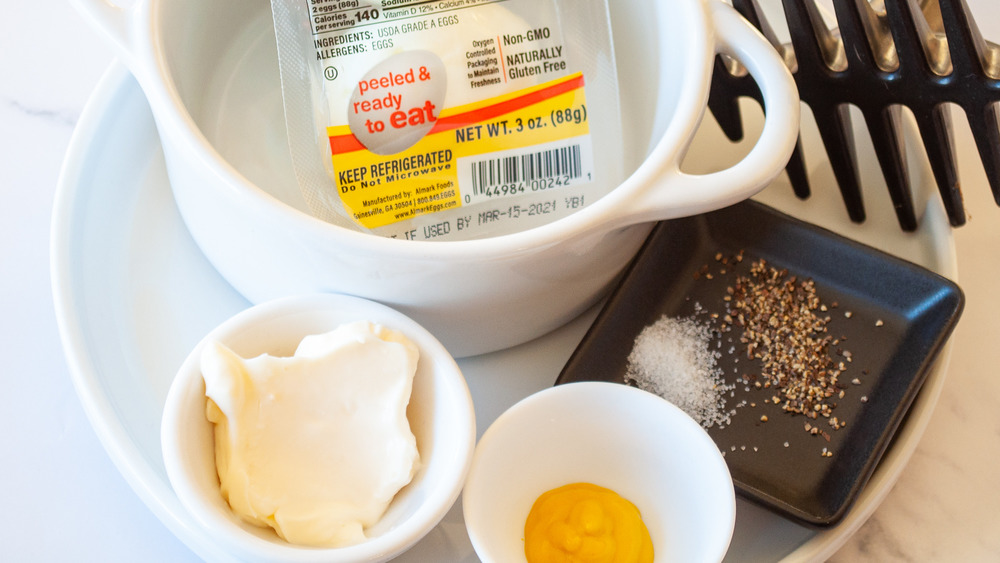 Laura Sampson/Mashed
For this classic egg salad, you'll need 2 pre-cooked and peeled hardboiled eggs, 1 tablespoon of mayonnaise, a 1/2 teaspoon of yellow mustard, 1/4 teaspoon of salt, and a pinch of black pepper. But that is merely your baseline. Consider this recipe to be your starting point or your blank canvas, if you will. "You can try making this with Dijon mustard if you like a little kick to your egg salad," says Sampson, and don't forget about that spicy Sriracha sauce option, too.
And don't hesitate to dress things up, too. "You can add just about anything to a classic egg salad like fresh herbs or green onions," Sampson says. "Also, adding a nice crunchy lettuce leaf takes this sandwich to the next level." Once you feel comfortable with the basic egg salad recipe presented here, the only thing really limiting you when it comes to the potential add-ins for egg salad is your imagination.
Mash the eggs for egg salad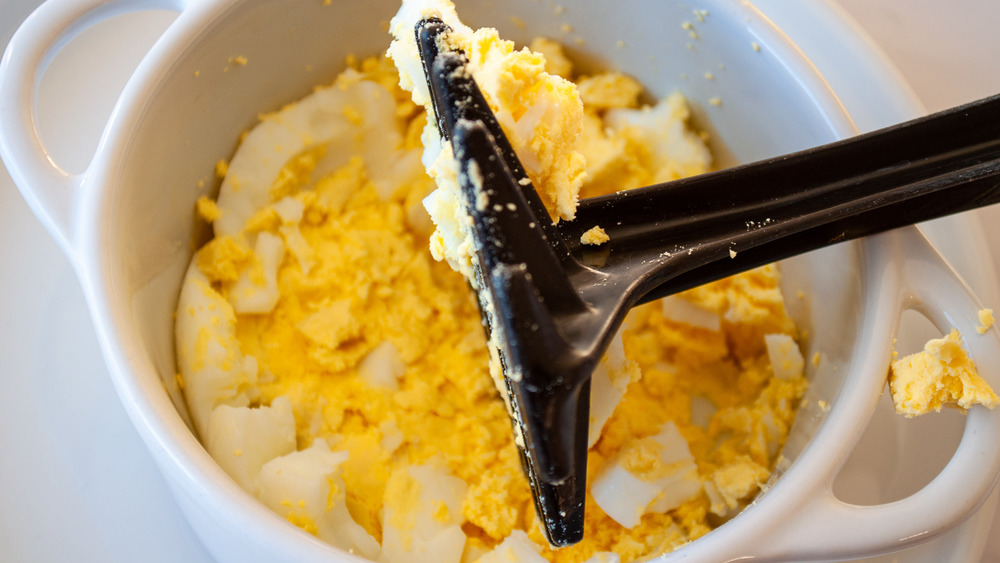 Laura Sampson/Mashed
Put the two pre-cooked and peeled hardboiled eggs into a bowl with a flat bottom. Then, take a potato masher and, yes, mash the eggs. A fork works fine too, if needed, but of course, a masher works just a bit better — it's right there in the name, even!
Sampson loves using store-bought pre-cooked, pre-peeled eggs for this dish because they make the whole prep even easier. Of course, you can prep the eggs yourself, too. Just make sure not to overcook them or the mashing really won't work out well, as the eggs could be too rubbery for perfectly textured egg salad. Of course, few if any people seriously want rubbery, overcooked eggs with those weird green yolks, so you likely already know to avoid that particular pitfall. Also, remember to let hard-boiled eggs cool down properly before you attempt to peel them.
Add flavor to the egg salad mixture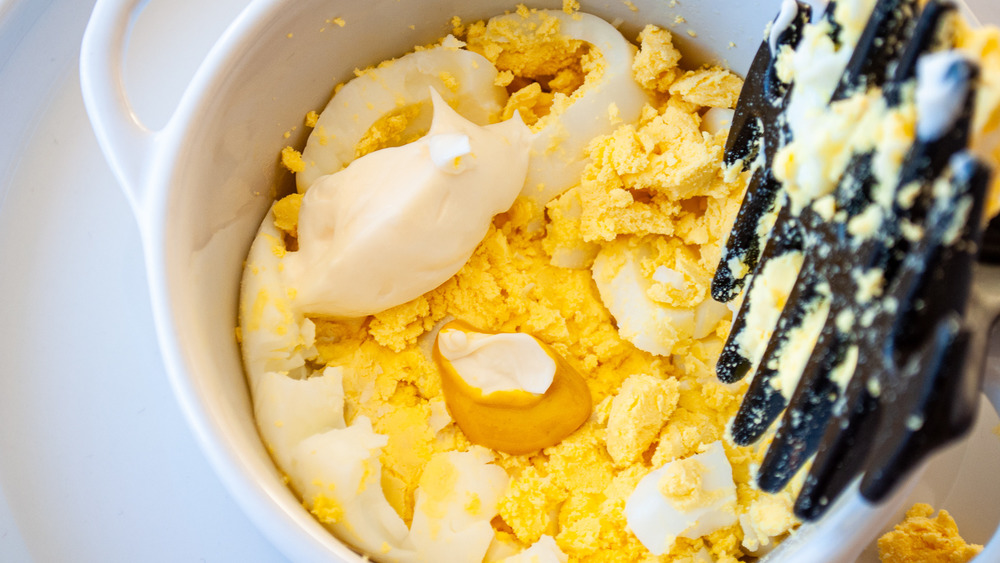 Laura Sampson/Mashed
"There's just something about mayo and mustard that makes egg salad the creamy delight it should be," says Sampson. However, remember that you can ease off on the mustard if you don't like things spicy, or you can switch it out for a different variety like Dijon. 
For this next and final step, add the mayonnaise and mustard to the mashed eggs, distributing them as evenly as you can. Then, mash the eggs again to really mix everything together. Now try a little taste, adding salt and pepper to your liking, then mash one more time. If you still feel like you need to ease off on the heat or spice of this egg salad, then feel free to reduce the amount of black pepper as well.
How to serve your egg salad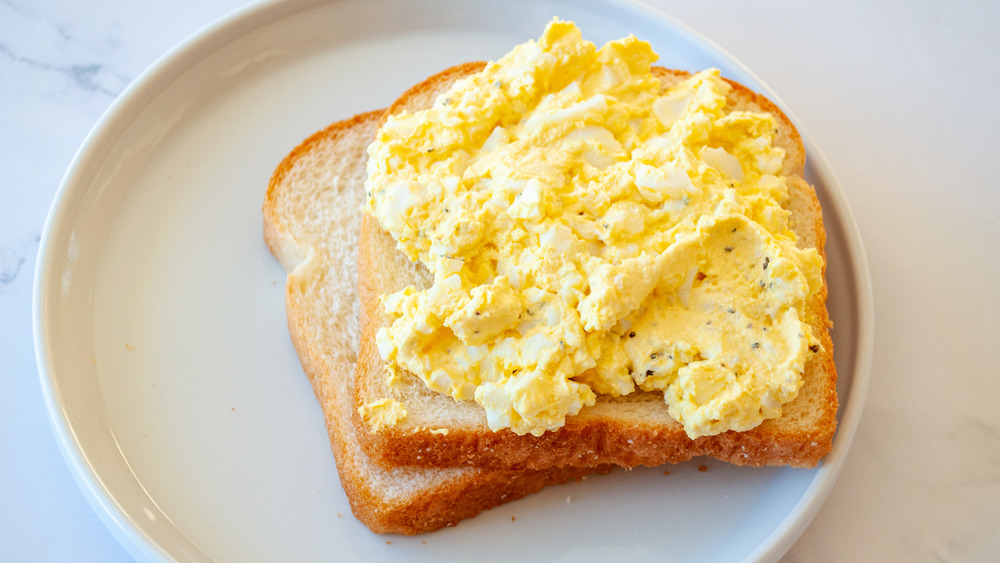 Laura Sampson/Mashed
Laura Sampson usually recommends you that you "serve [egg salad] as a sandwich or as a dip," giving it that perfect carby accompaniment. And don't forget about adding tomatoes, onions, leafy greens, and more if you are going with the sandwich approach, as these ingredients will add new flavor and texture. 
As a dip, you'll want to add extra mayo and mustard to change up the texture a bit. While you're at it, consider some fresh chopped dill, too, or even a surprisingly healthy hit of paprika to up your dip game. Plus, bringing in spices helps to add interest and also steers you away from common egg salad mistakes, anyway.
But also try this egg salad in wraps and flatbreads, on hot dogs and burgers, mixed into salads (green or pasta salad alike), or as-is for a protein dose that will keep you filled and energized.
Easy Egg Salad Recipe
Egg salad is something you likely often enjoy but may rarely think to make for yourself at home. But that's about to change with this easy, delicious recipe!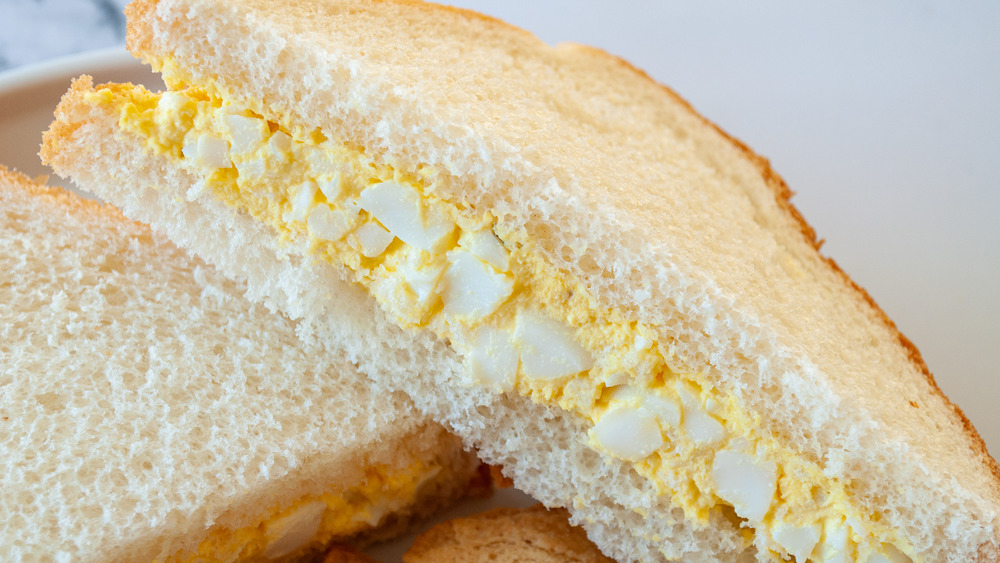 Ingredients
2 peeled hardboiled eggs
1 tablespoon mayonnaise
½ teaspoon mustard
¼ teaspoon salt
Pinch of black pepper
Directions
In a flat bowl, mash the hardboiled eggs with a potato masher or fork.
Spoon in the mayonnaise and mustard, then mash again to combine.
Add salt and pepper and mash one more time, tasting and adjusting as needed.
Serve egg salad as a sandwich on toast, as a wrap, in a salad, or add more mayo and mustard and serve as a dip.
Nutrition
| | |
| --- | --- |
| Calories per Serving | 224 |
| Total Fat | 19.4 g |
| Saturated Fat | 4.4 g |
| Trans Fat | 0.0 g |
| Cholesterol | 325.6 mg |
| | |
| --- | --- |
| Total Carbohydrates | 0.9 g |
| Dietary Fiber | 0.1 g |
| Total Sugars | 0.3 g |
| Sodium | 239.7 mg |
| Protein | 10.9 g |