The Shocking Amount Of Money The Most Expensive Cake In The World Was Worth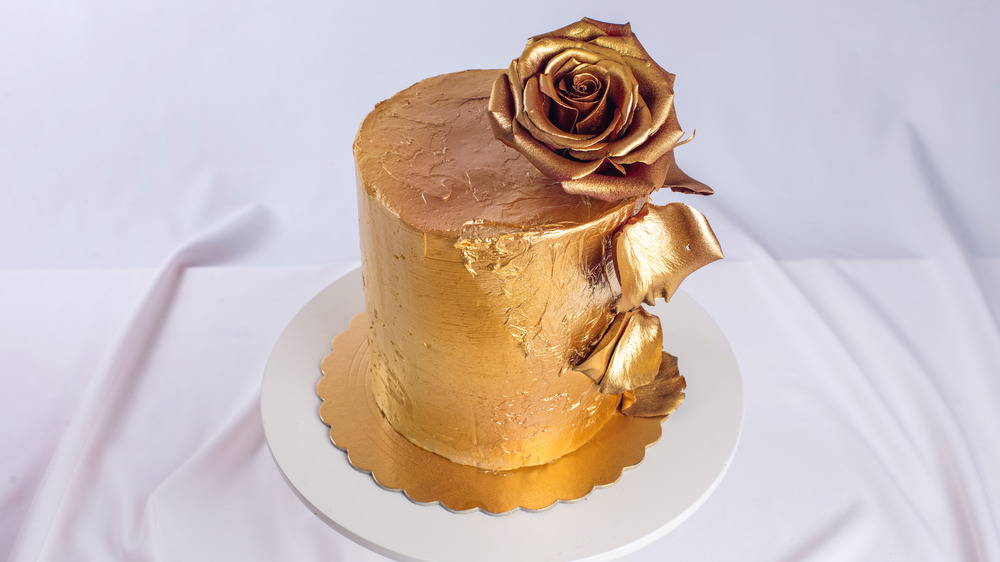 Shutterstock
When it comes to the most expensive cakes the world has to offer, you just might be astonished at how pricey these desserts can actually get. Most of the top-tier cakes worth mentioning belonged to celebrity couples on their wedding days (via Bakingo). For example, Princess Diana's wedding cake was on the lower end of the scale at $40,000. Gucci Mane and Keyshia Ka'oir's wedding cake was on the higher end at $75,000, and he even used a saber to slice it. However, the world's costliest cake to date was actually purchased by an unnamed buyer.
According to CNBC, the record for the most expensive cake used to be a modest $50 million. The new record was set by Debbie Wingham, a British designer who apparently loves to break luxury records such as this. Her first taste of notoriety came from designing the most expensive dress for $17.7 million. But that's nothing compared to the cake record she set.
The unnamed buyer from the United Arab Emirates purchased her record-breaking cake for a party celebrating his daughter's birthday and engagement back in 2015. The cake came with a price tag of $75 million. Unfortunately, it wasn't the prettiest cake ever created. But it was made with some of the most luxurious ingredients and decorations money can buy, which is what drove the price so high.
What made this dessert so expensive
According to CNBC, the special $75 million dessert was a runway fashion show cake that measured six feet long and took more than 1,100 hours to make. Wingham said the cake was made with, "Madagascan vanilla bean with mascarpone cream and strawberry conserve," as well as "triple Belgium chocolate with chocolate ganache and chocolate truffle cream." So, even if the cake wasn't the prettiest, it must have tasted great.
The 1,000-pound cake included sculpted people, couture clothing, and accessories that Wingham designed. It included 250 pounds of fondant and other sugary goodness. To top it all off and really explain the exorbitant price tag, the cake included 4,000 diamonds in four colors: pink, yellow, white, and black. Some of these were not small stones either.
CNBC says the cake had "a 5.2-carat pink diamond, a 6.4-carat yellow diamond, and 15 five-carat white diamonds," which amounted to over $45 million in value. Of course, there were also "400 one-carat and 73 three-carat white diamonds, along with 75 three-carat black diamonds," to finish the cake off. With so many diamonds on for just the dessert, you have to wonder what the bride-to-be's engagement and wedding rings looked like.