The LongHorn Steakhouse Dessert The Food Network May Have Copied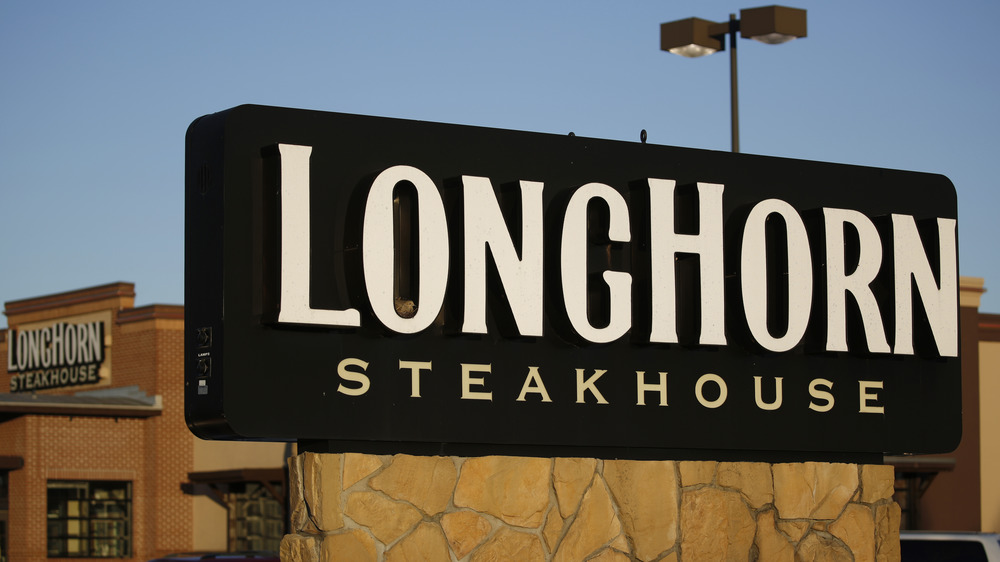 Bloomberg/Getty Images
When your dessert is so good that the Food Network posts a copycat recipe for it, you've done something right. That's possibly the story of the LongHorn Steakhouse Chocolate Stampede, the Atlanta-based chain's cult-favorite conglomeration of chocolate cake, mousse, shell, and syrup with vanilla-bean ice cream. The restaurant has kept the elaborate recipe under wraps, but LongHorn lovers may be able to recreate the dessert at home using the Food Network's Almost-Famous Chocolate Mousse Cake, which is About magazine claims is based on(and deliciously similar to) the real Chocolate Stampede.
The Food Network website says its recipe takes several hours — a bit longer than dinner at LongHorn Steakhouse — but yields 12 servings of the rich confection. The dessert begins with boxed devil's food cake mix, which forms the base and center of each slice. Most of the work is in two types of homemade mousse (light chocolate and dark chocolate), which requires multiple bain-maries and both whipped cream and whipped egg whites. The Food Network might mimic the intensity of the Chocolate Stampede's chocolate mousse by infusing theirs with brewed coffee, which enhances the flavor of chocolate, according to The Kitchn. Serve a la mode and dig in while pondering the similarities of the two chocolaty delights.
The possible big difference between the LongHorn Steakhouse and Food Network desserts
Comparing photos of the Almost-Famous Chocolate Mousse Cake with those of the original Chocolate Stampede, you'll notice many similarities. Both desserts are served in angular wedges that show off a cakey bottom and center surrounded by rich mousse, topped with chocolate shell, drizzled with chocolate syrup, and accompanied by vanilla ice cream.
A deeper dive into the Food Network's recipe, though, shows a key difference in the quantity of chocolate. While the original Chocolate Stampede is described as "six types of chocolate in peaks and layers that are served with vanilla bean ice cream" on LongHorn's website, we only count five chocolate elements in the Almost-Famous Chocolate Mousse Cake: cake, light chocolate mousse, dark chocolate mousse, shell, and sauce.
The Food Network certainly created a worthy DIY dupe for the Chocolate Stampede, but the real LongHorn Steakhouse recipe remains a mystery. What's the one remaining type of chocolate? It could be chocolate shavings, the final touch on the towering Chocolate Stampede as shown in the photo on the restaurant's website. To determine the secret ingredient for certain, we may need to make a few more trips to LongHorn Steakhouse — purely for research, of course.