Arby's Wants To Pay For Your Fish Sandwich. Here's Why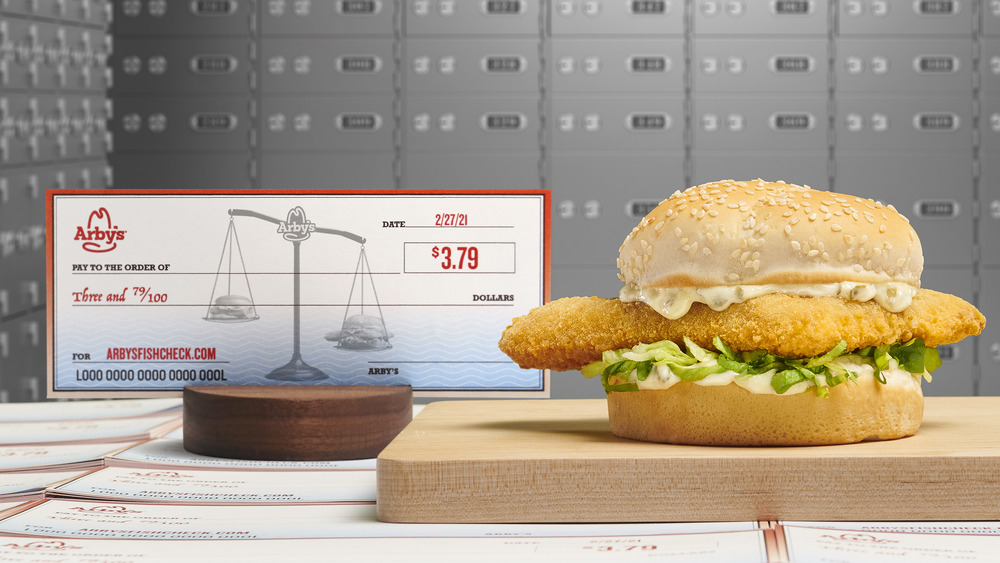 Arby's
Over the weekend, Arby's announced the drastic measure they intended to take for all of their customers who have ever been disappointed by a fish sandwich. This was an opportunity for those who, having heard about their recently released Crispy Fish Sandwich, still bought the Filet-O-Fish. As they explained in a new ad they aired during Saturday Night Live and which you can watch on YouTube, they decided to give everyone who has settled for a Filet-O-Fish a check for $3.79. That's right: Arby's want to pay you for a fish sandwich.
As a follow-up press release breathlessly told Mashed, however, it took less than an hour for Arby's to distribute all of their checks, with 300K visitors queuing while the SNL episode still aired. Still, Arby's fans can still sign up for a grand check prize of $379 by following the instructions on Arbysfishchecks.com. The site also continues to troll McDonald's by showing a reCAPTCHA photo with both the Arby's sandwich and the Filet-O-Fish with the instructions to click all the squares that show the sandwich that looks more filling. There's also a poll about why you love Arby's fish sandwich and a question about why Arby's is giving you money.
You can enter for the grand prize until March 12. Doing so will also make you eligible for a coupon for a $1 Arby's Crispy Fish Sandwich.
Arby's continues to troll McDonald's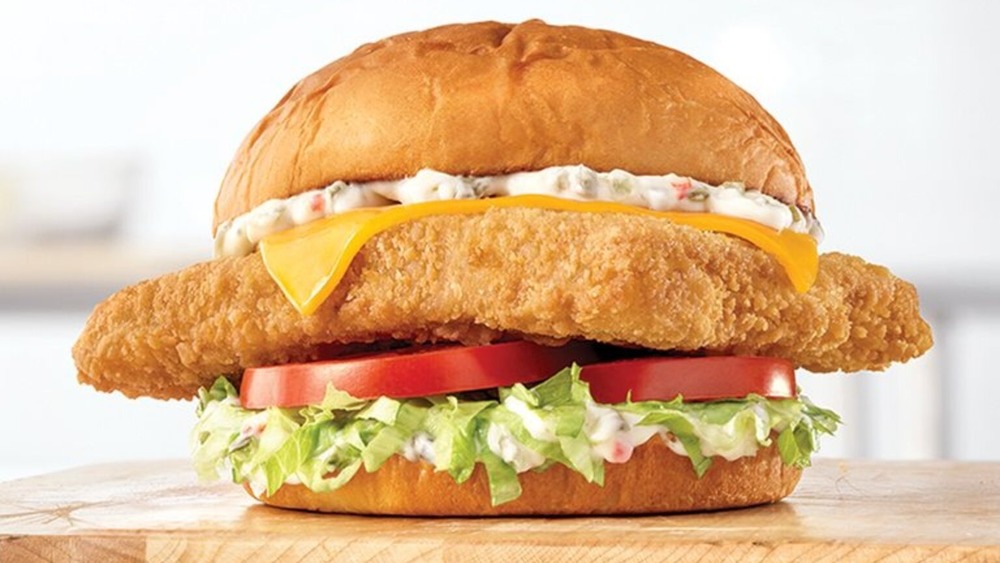 Arby's
These fish sandwich checks are a continuation of Arby's campaign to make the most out of their limited-time fish offerings at McDonald's expense. Until March 29, per Inspire Stories, Arby's PR Agency explains, you can either order the Crispy Fish Sandwich for $2.99 or the King's Hawaiian Fish Deluxe for $3.99. The former consists of Alaskan Pollock, tartar sauce, iceberg lettuce, and a sesame bun. The latter consists of the same but also boasts tomatoes, cheddar, and a special sweet and fluffy King's Hawaiian Bun.
Ever since unveiling these two options, Arby's has made sure that everyone knows their disdain for McDonald's Filet-O-Fish, especially the square shape in which they cut the fish. They have gone to Twitter and joined sea shanty TikTok with this message. Despite such social media posturing, Scott Vogel, a food critic writing for Newsday, found both sandwiches lacking and himself asking who thought cheese and fish should go together. However, he does credit that the Filet-O-Fish "is also something of a marvel, at least in an 'Invasion of the Body Snatchers' pod people sort of way," so Arby's message seems to already be shared by others.