This Is The Best Way To Thaw Frozen Pumpkin Bread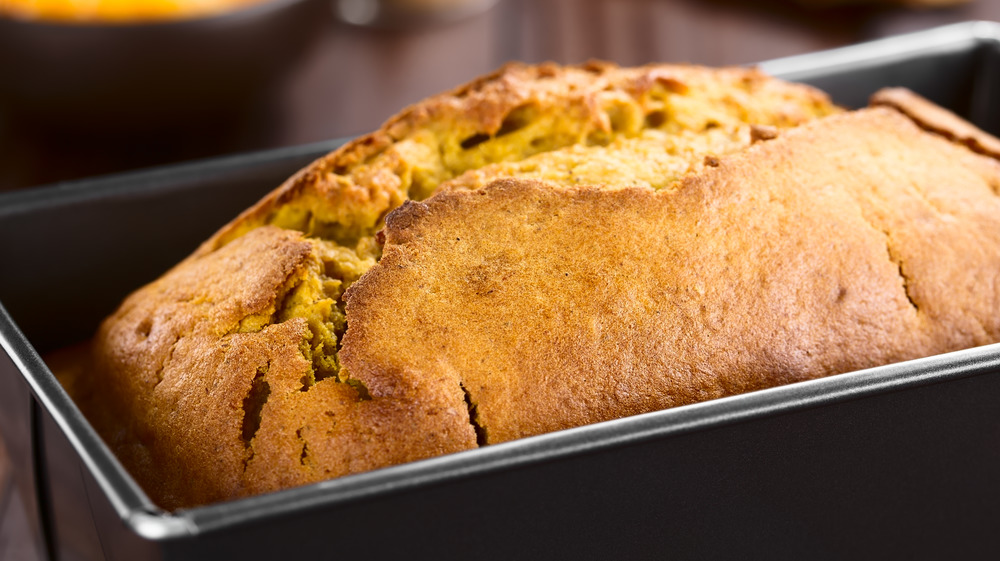 Shutterstock
Freshly baked pumpkin bread is a comfort food treat that, for some reason, we only make when the leaves begin to change color in autumn. Why is that? Even if fall is the official pumpkin spice season, the truth is that canned pumpkin is on store shelves year-round. Pumpkin bread is easy to pull together, and you don't need to knead the dough or even use a mixer (via Sally's Baking Addiction). Need another reason to bake a batch today? According to Land O' Lakes, pumpkin bread freezes really well, so you can stash a loaf or two in your freezer to have ready to go in no time. When you're ready to eat it, it's important to know that there's a wrong way and a right way to thaw frozen pumpkin bread.
Thawing pumpkin bread is different than with frozen loaves of regular, yeasted breads. Lighter and less dense, yeasted breads should be thawed while still tightly wrapped — doing so ensures that moisture is absorbed by the bread so it won't dry out (via Kitchn). Pumpkin bread, however, is very dense and very moist. The trick to thawing it is to let some of that moisture out.
Do this to prevent a soggy loaf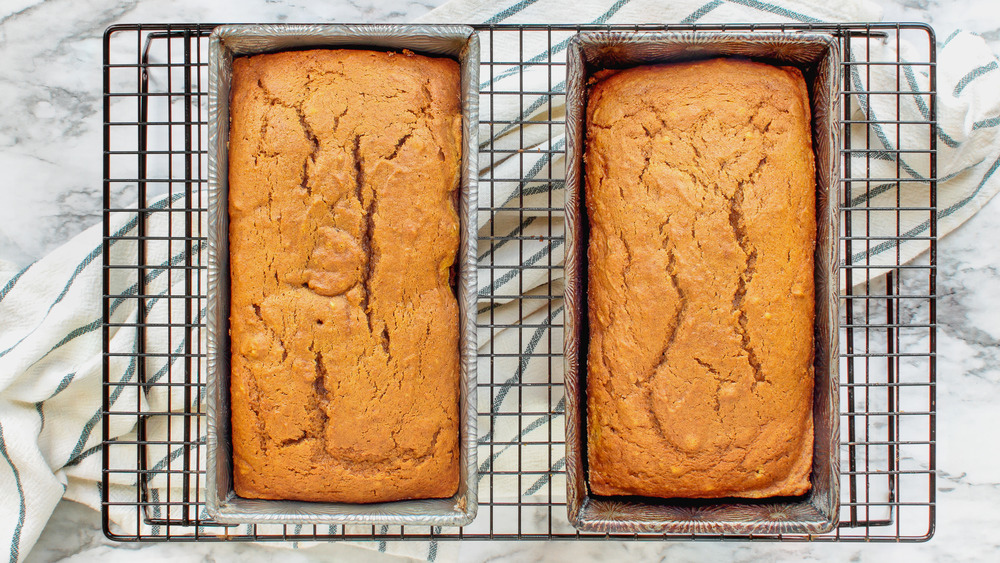 Shutterstock
The best way to thaw pumpkin bread, according to Taste Of Home, is to open the wrappings around the bread, exposing some of the loaf to the air. Doing this allows condensation to evaporate, moisture that would otherwise sit on the surface of the bread and make it soggy. And while this technique would dry out traditional, yeast-risen breads, pumpkin bread stays moist and tender. Let the partially opened, frozen loaf sit out at room temperature for a few hours until it's completely thawed. Then, be sure to wrap it up again!
Ideally, your pumpkin bread should have at least two layers of wrap protecting it when it goes into the freezer. According to Kitchn, it's critical to keep the bread from exposure to air in the freezer, which could dry it out, create off odors, or even cause freezer burn. When your pumpkin bread comes out to thaw, open all the layers of wrap so that water isn't trapped inside.
A short thaw is all that stands between you and a soft loaf of deliciously fragrant, spiced pumpkin bread from the freezer.