Easy Okonomiyaki Recipe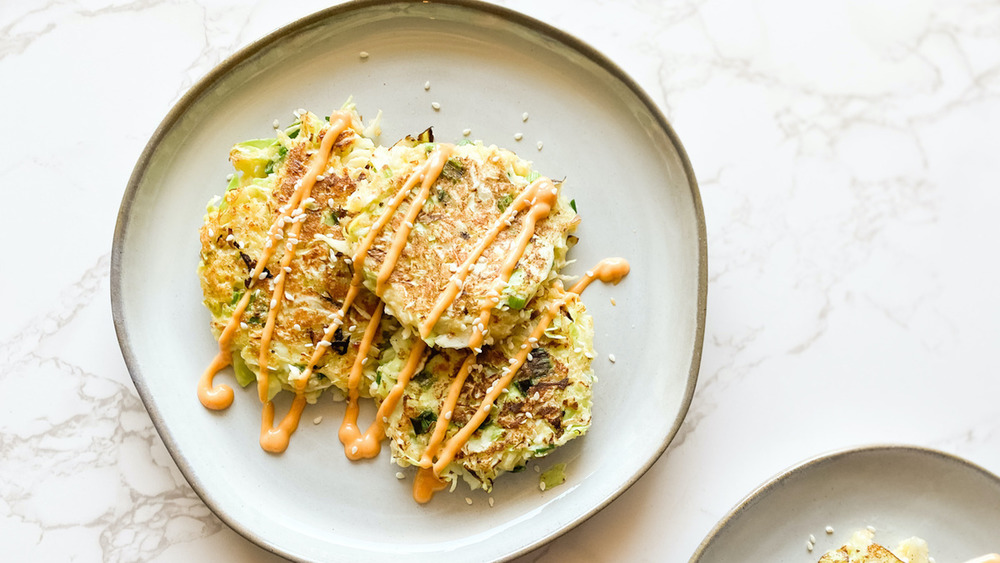 Kristen Carli/Mashed
If you're a fan of Japanese food, there's a good chance you're already familiar with classic Japanese meals like sushi and ramen. There's another popular Japanese dish that you need to put on your rotation, though: okonomiyaki.
Okonomiyaki is sometimes referred to as Japanese pancakes or Japanese pizza. The name can be broken down into "okonomi" ("what you like" or "preference") and "yaki" (which means "grilled"). The name is apt. Okonomiyaki has cabbage, eggs, and flour or breadcrumbs at its core, but you can customize the dish however you like once you have those ingredients checked off of the list.
In Japan, how it's made depends on where it's made and who's making it, generally speaking. You don't have to travel to the country to try it, however, as it's an easy and extremely satisfying meal to make at home. This recipe from Kristen Carli of Camelback Nutrition & Wellness may well become your next favorite go-to for this nutritious, filling, and tasty meal. This is quite possibly the easiest okonomiyaki recipe you'll ever make.
Gather your okonomiyaki ingredients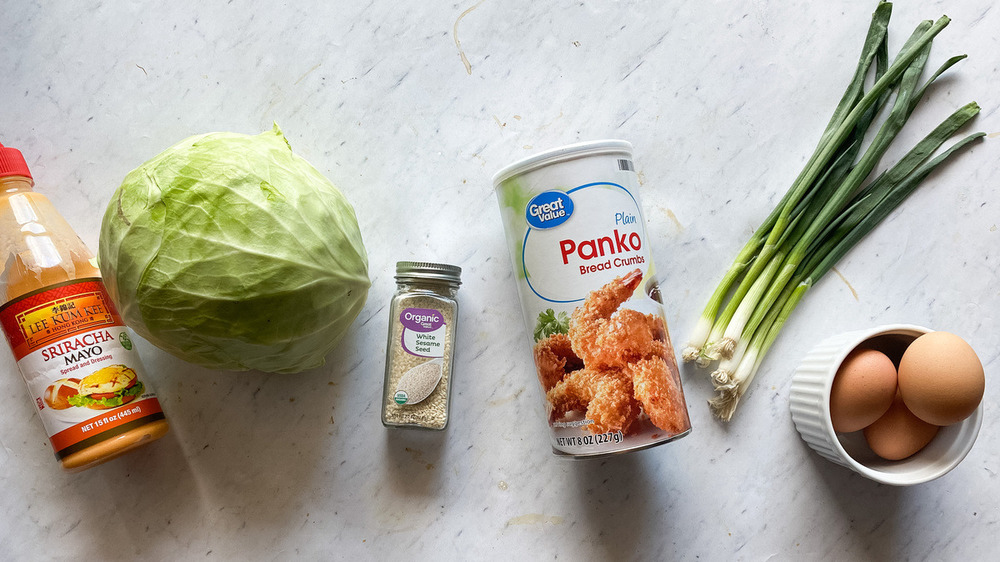 Kristen Carli/Mashed
Like any good breakfast dish (though let's be honest, okonomiyaki is good at any time of day), this recipe has a simple set of ingredients that you likely already have on hand: eggs, green onions, panko breadcrumbs, salt, sesame seeds, and olive oil. You'll also need a good amount of green cabbage — about half a head — to form the core of the dish.
When it comes to making okonomiyaki, think of it as you would an omelet or scramble in the sense that you can add spices and certain extras that you enjoy. If you prefer your meals with a spicy kick, you could add some cayenne pepper, and if umami flavors are more your speed, feel free to toss in some seaweed, bonito flakes, or dashi powder.
Anyone who has tried okonomiyaki before may notice that this recipe swaps the flour for panko breadcrumbs. That's for a pretty good reason. "I like to use panko breadcrumbs because they are very crispy and provide a great texture," Carli says.
Shred the cabbage for okonomiyaki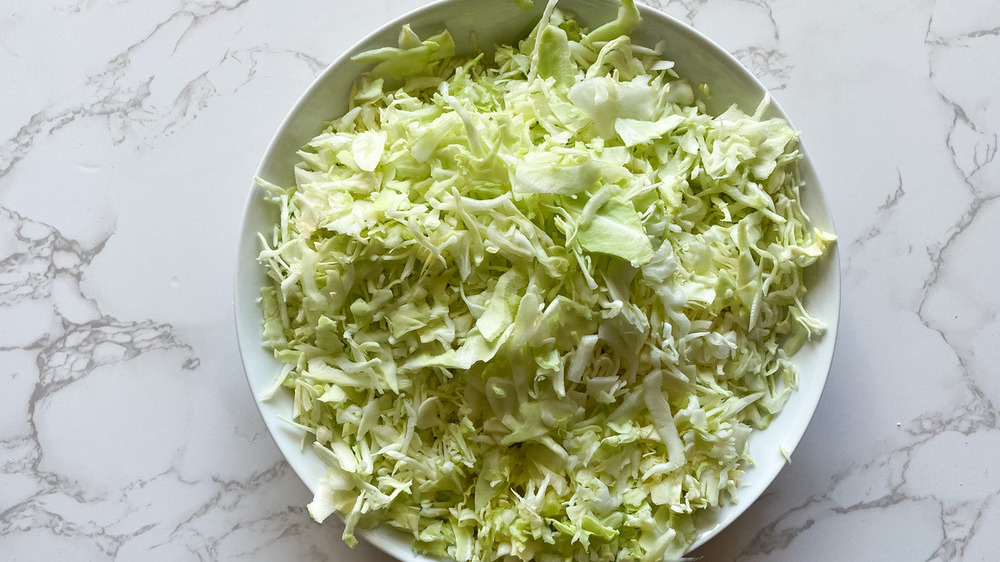 Kristen Carli/Mashed
Frankly, you can't have the perfect okonomiyaki without chopping the cabbage down to the right size. There's a reason okonomiyaki is sometimes referred to as a cabbage pancake, after all. The easiest way to do this is to chop the cabbage into large chunks and then use a food processor's shredding attachment to produce thinly-shredded bits of cabbage. If you don't have a food processor, however, fear not.
Japan Today outlines the most effective method for disassembling cabbage meant for okonomiyaki. Start by cutting the cabbage into quarters, cut out the core, flip it so the outer leaf is facing you, and then slice thin strips about a quarter of an inch thick all the way across, turning your knife to match the general orientation of the cabbage. This will make sure you've got slices that are all about the same size. Thus, they'll cook evenly.
Of course, there's always the option to hack away at your cabbage until it's broken down, but that can get messy and will likely affect the texture of the final dish. Instead, just take your time, knowing that it's all in the service of great okonomiyaki. While you're at it, take another minute to chop up your whole bunch of green onions.
Beat the eggs and combine with other okonomiyaki ingredients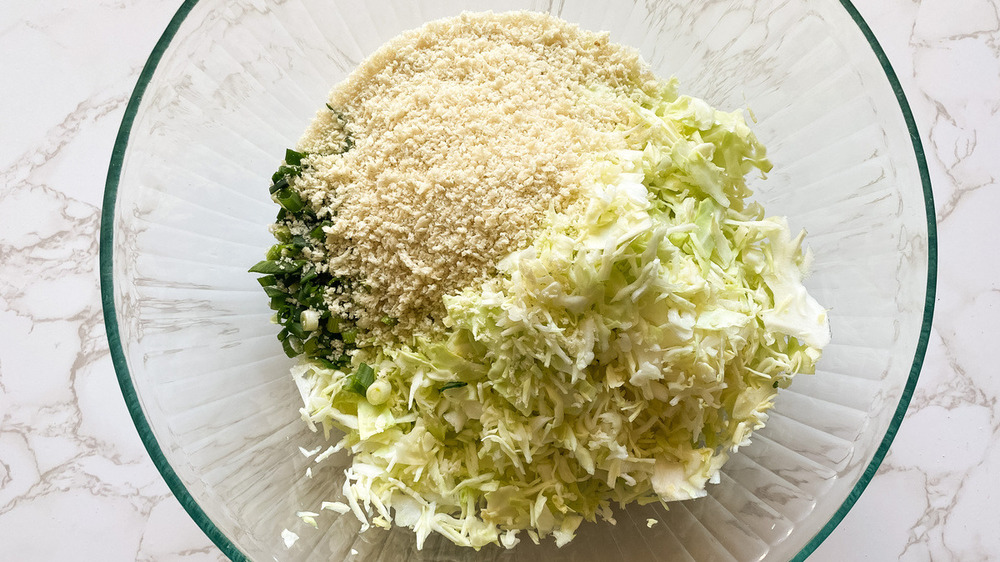 Kristen Carli/Mashed
Eggs are the delicious glue holding all of the various parts and seasonings of your okonomiyaki together. Crack four eggs into a bowl and beat them well with a fork or whisk until they're evenly combined with consistent color and texture to the mixture. Well-beaten eggs will more evenly distribute across the rest of the ingredients as opposed to more gently whisked eggs, which will have some parts with more egg yolk and some parts with more egg whites.
Set your eggs aside as soon as they're ready. Don't worry about leaving them out on the counter, as they won't be sitting for long. Then, in a bowl that's large enough to fit all of your ingredients, combine your chopped cabbage, green onions, panko breadcrumbs, and salt (as well as your favorite spices or other ingredients that you want cooked in). Pour the beaten eggs into the bowl as well and combine the ingredients together with a utensil like a wooden spoon, fork, or spatula.
Form the okonomiyaki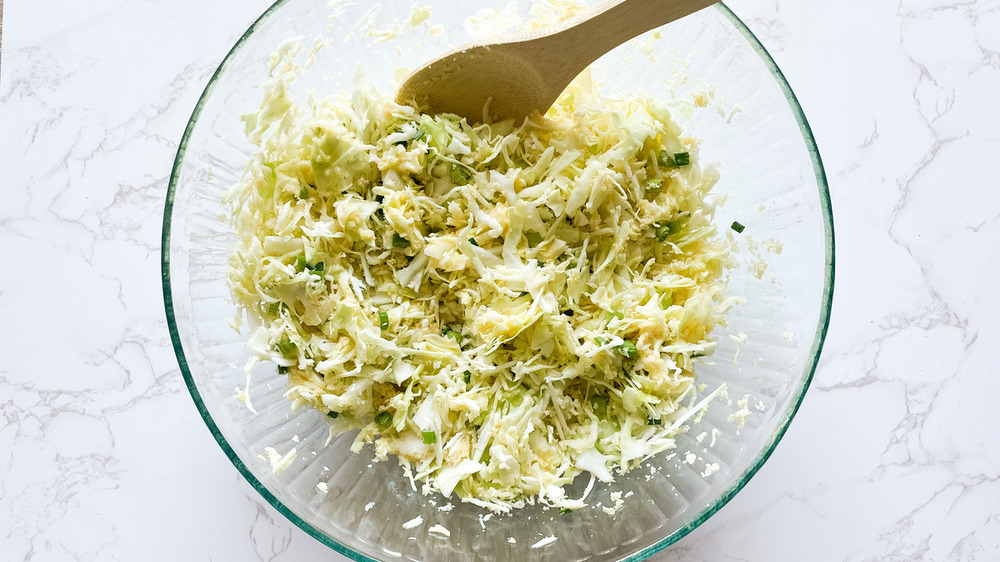 Kristen Carli/Mashed
As every chef and home cook knows, the key to a consistent, evenly cooked dish is the perfect ratio of ingredients. This is admittedly much easier to do when you're working with things that can be exactly measured, but, as you know by now, okonomiyaki does not only use exactly measured and uniform ingredients. The culprit: the cabbage. But don't let the imprecision bother you, as okonomiyaki is pretty forgiving and easy to scale. For this recipe, half of a head of cabbage chopped into about quarter-inch slices generally does the trick. 
Don't get too worried if the batty seems too liquid or like it won't hold together. "This batter is very loose and should be crumbly, but they should hold together just enough to be flipped without falling apart," Carli says.
Fry up your okonomiyaki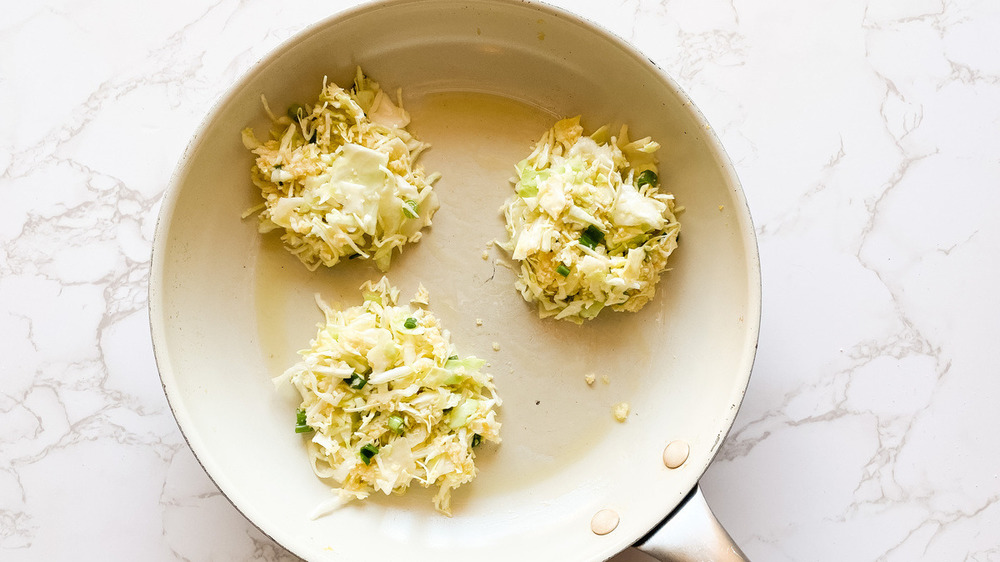 Kristen Carli/Mashed
Most of the work is done by this point. There's just one big final step: the actual shaping and cooking of your okonomiyaki, which is done at the same time. For some, this may just be the hardest step, though there are a few tips to make sure that each cake ends up just right. Plus, with practice, you'll surely become an okonomiyaki-shaping master.
Start with a large nonstick pan and put it over medium heat. Add a tablespoon of olive oil to grease the pan. Then take a large spoonful of the cabbage mixture and, using a metal or wooden spoon, add it to one corner of the pan. Flatten it with the back of a spatula (no one wants round okonomiyaki, after all). Cook it for three minutes on one side, flip it, and then cook it for another three minutes. 
Carli has a good tip to keeping it all together: "Be careful when flipping and use the spatula to form the broken off pieces back into the patty." Yes, it really is that simple. Keep forming the pancakes and cooking them until you've used all of your cabbage mixture.
Plate okonomiyaki and top with your favorite sauce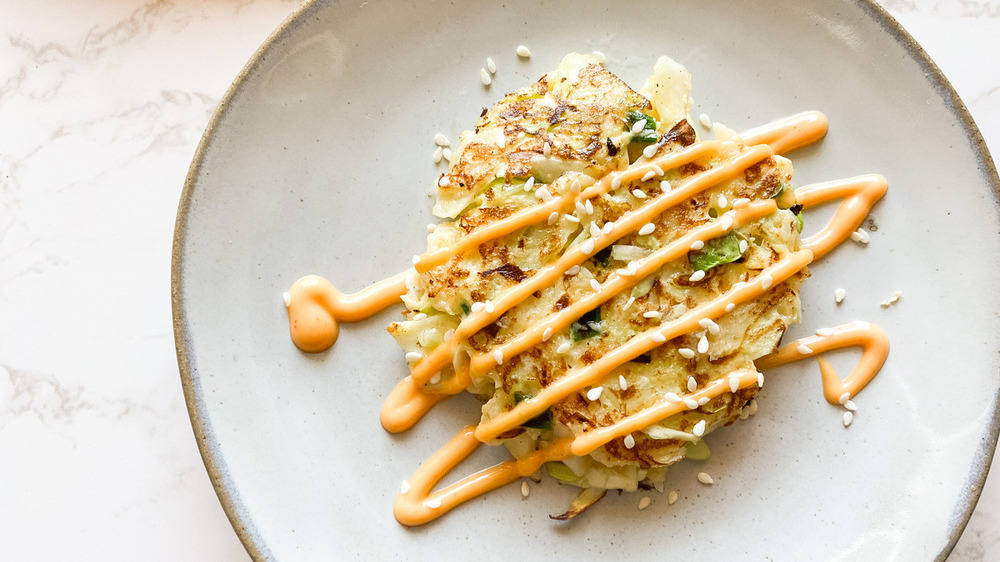 Kristen Carli/Mashed
The seemingly endless ways to customize your okonomiyaki don't end when the cooking is done. Okonomiyaki can be topped with just about anything, as it turns out. Dried bonito flakes and green onions are one common topping combo, to start. And then there are the sauces. Carli prefers Sriracha mixed with mayonnaise (along with some sesame seeds) for this recipe, though "other sauces beyond Sriracha mayo are hoisin or just straight Sriracha," she says.
Hoisin is a dark sauce with a fermented soy sauce base. Another popular sauce topping is Kewpie mayonnaise, which is a popular Japanese mayo that uses egg yolk instead of whole eggs. That's only the beginning, as you can get pretty creative with sauces, toppings, and other accompaniments for your finished okonomiyaki.
In short: Feel free to get creative once you take your okonomiyaki off the hot pan. When it's all said and done, okonomiyaki are served "as you like it" for a reason.
Easy Okonomiyaki Recipe
These cabbage pancakes will be your next favorite go-to for a nutritious and tasty meal. This is quite possibly the easiest okonomiyaki recipe you'll ever make.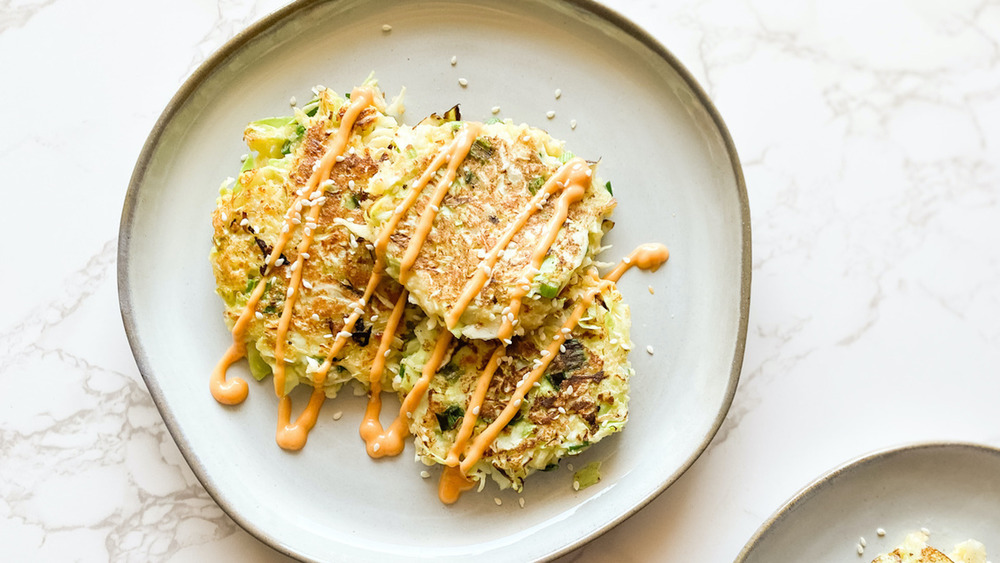 Ingredients
½ head of cabbage
4 eggs
1 bunch green onions, chopped
1 cup panko breadcrumbs
1 ½ teaspoon salt
1 tablespoon olive oil
Optional Ingredients
Sriracha mayonnaise
Sesame seeds
Directions
Chop cabbage into large chunks. Using a food processor with the shredding attachment, shred the cabbage. Set aside.
In a small bowl, beat eggs until combined.
In a large bowl, combine the cabbage, eggs, green onions, panko breadcrumbs, and salt.
In a large nonstick pan, heat olive oil over medium heat. Add a large spoonful of the cabbage mixture and flatten with the back of a spatula.
Cook for 3 minutes on each side. Repeat with the remaining cabbage mixture until all cabbage pancakes have been cooked.
Serve with Sriracha mayo and a sprinkle of sesame seeds on top.
Nutrition
| | |
| --- | --- |
| Calories per Serving | 183 |
| Total Fat | 8.1 g |
| Saturated Fat | 1.9 g |
| Trans Fat | 0.0 g |
| Cholesterol | 160.0 mg |
| | |
| --- | --- |
| Total Carbohydrates | 19.8 g |
| Dietary Fiber | 4.2 g |
| Total Sugars | 5.1 g |
| Sodium | 485.4 mg |
| Protein | 8.9 g |