Zaxby's Is Giving Away Free Signature Chicken Sandwiches. Here's How To Get One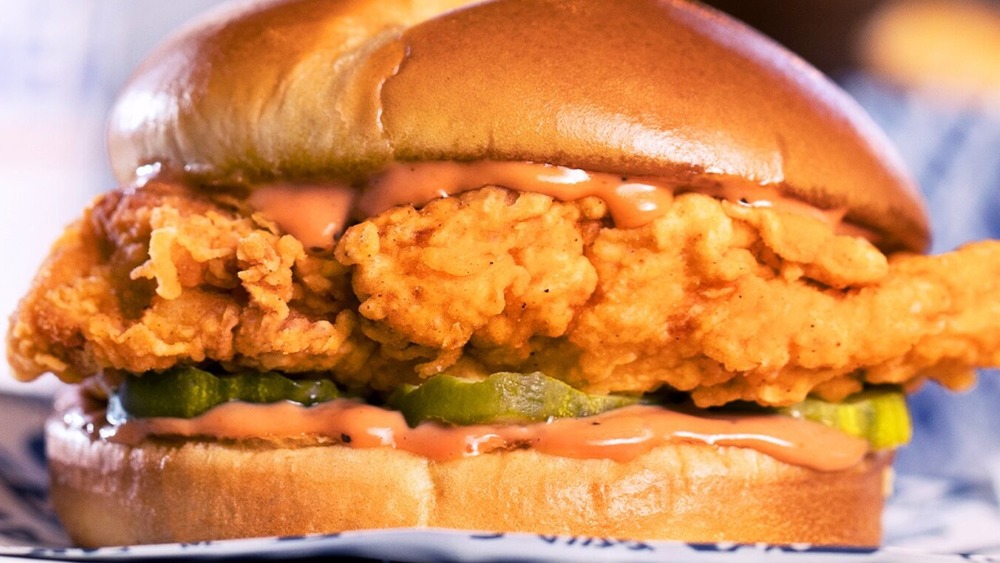 Zaxby's
After just over four months since they announced their entrance to the chicken sandwich wars, Zaxby's will finally introduce their Signature Sandwich to the menus of all 909 of their locations (via Zaxby's).
The Signature Sandwich features a double breaded chicken fillet, three pickles, and Zax sauce or spicy Zax sauce between the slabs of a toasted potato bun. However, despite the national rollout, the availability of the Signature Sandwich will be limited as Zaxby's only has a presence in 17 states. This does not seem to daunt the company challenging the chicken offerings of Popeyes, Chick-fil-A, and others. "While we may not be the largest brand competing in the sandwich war, I'm confident we have the right ingredients to win on taste and make chicken sandwich enthusiasts switch to Zaxby's," Joel Bulger, CMO of Zaxby's, declared in a press release.
To celebrate this, Zaxby's explains in the press release, they will offer a free Signature Sandwich to anyone who joins their rewards program via the app, the Zax Fanz Club. It will be an uphill battle, but Zaxby's is determined to wage the war and win. 
Will Zaxby's win the chicken sandwich wars?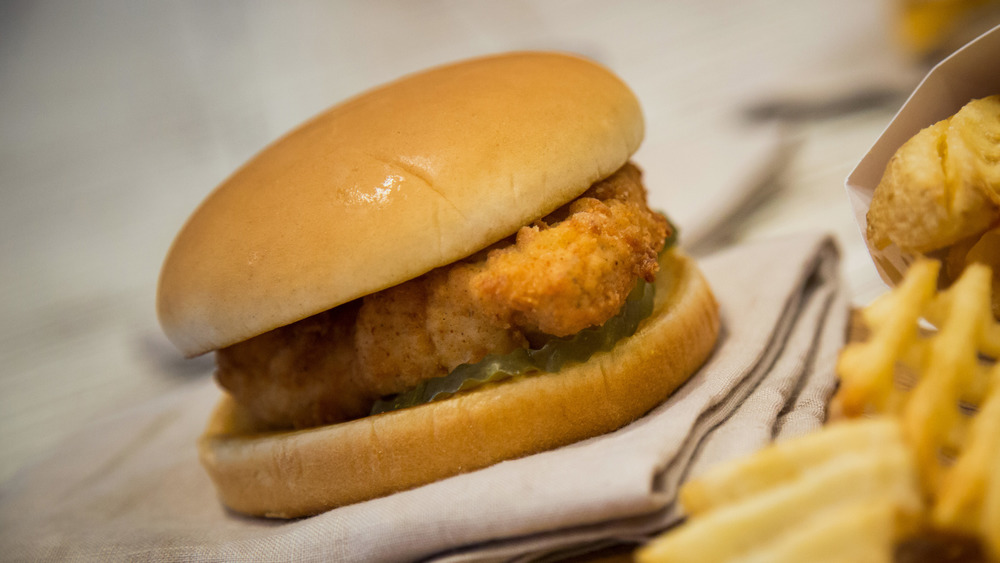 Bloomberg/Getty Images
The dubbed chicken sandwich wars first started back in 2019, so it is time to wonder who is actually winning (via Hypebeast).
Wondering the same thing, QSR compiled large sets of data to winnow the winners from the losers of the protracted marketing event, at least from January 2019 to November 2020. In that time period, Chick-fil-A has maintained a nearly undisputed supremacy in the market shares of chicken sandwiches, only briefly dipping below Popeyes in the final quarter of 2019, but even then regaining their majority as 2020 kicked off. Before Popeyes meteoric rise as a chicken sandwich purveyor, McDonald's sat in a comfortable second. Now, with their recently released chicken sandwich, we will have to see if they rise from the third position they have occupied for a year.
QSR makes two other points, however. The first is that the chicken sandwich market can continue its expansion, meaning that everyone, even those not knocking Chick-fil-A down a peg, will see a boost in sales. Second, the data for the winners and losers does not take into account all of the chicken sandwiches being debuted so far in 2021. As the Atlanta Journal-Constitution notes in a piece about Burger King's new sandwich, "McDonald's is also launching new crispy chicken sandwiches later this month. That follows others from Shake Shack and Zaxby's and Church's." 
According to Zaxby's, their Signature Sandwich outperformed their previous chicken sandwich by 600 percent. Zaxby's still has time to win the war.