Butter Vs. Oil: Which Is Better For Crispy Waffles?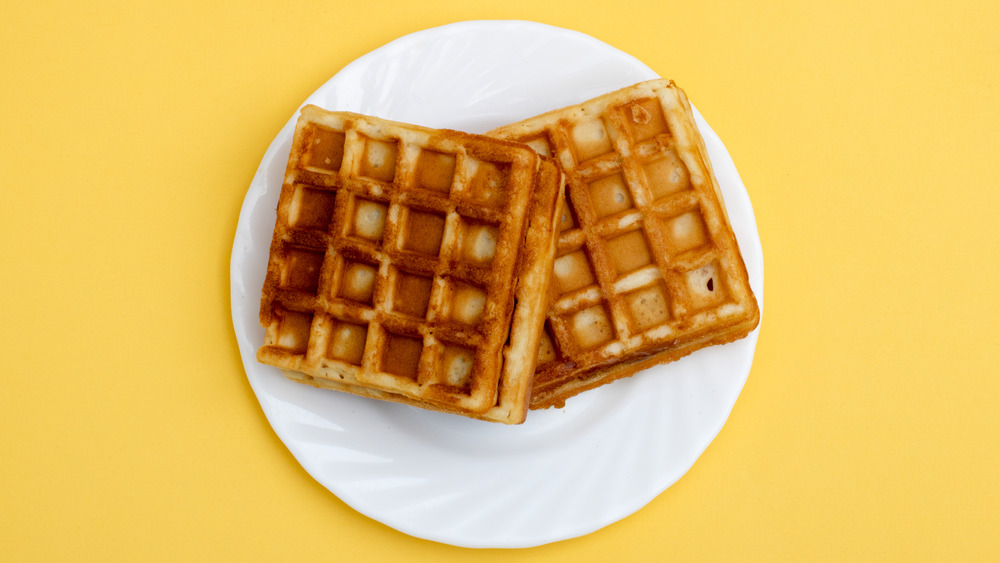 Shutterstock
Those who love crispy waffles for breakfast are likely willing to go to extra lengths to ensure their dish is just right. Whether it's adding an extra ingredient or two or making sure the waffle iron is prepped just right, there are a few things you can do to get waffles extra crispy. When it comes to the fat you should add to your waffle: should you use butter or oil? 
When you compare the two, one of the best ways to get the waffles to crisp up perfectly with a golden crust is to use oil instead of butter. Though butter tastes better, and you can always smear some on top to add flavor, oil will give you the best texture.
According to Fine Cooking, oil as a liquid fat tends to work better than solid fats like butter because it helps to thin the batter out. Generally, you want about 1.2 tablespoons of oil in the batter per waffle you plan to make. So, a recipe for 12 waffles should include about 14.5 tablespoons of oil. It's also worth noting that neutral oils like vegetable, corn, and canola oils are best because they will not heavily flavor the waffles (via LeafTV).
Oil helps with waffles in two ways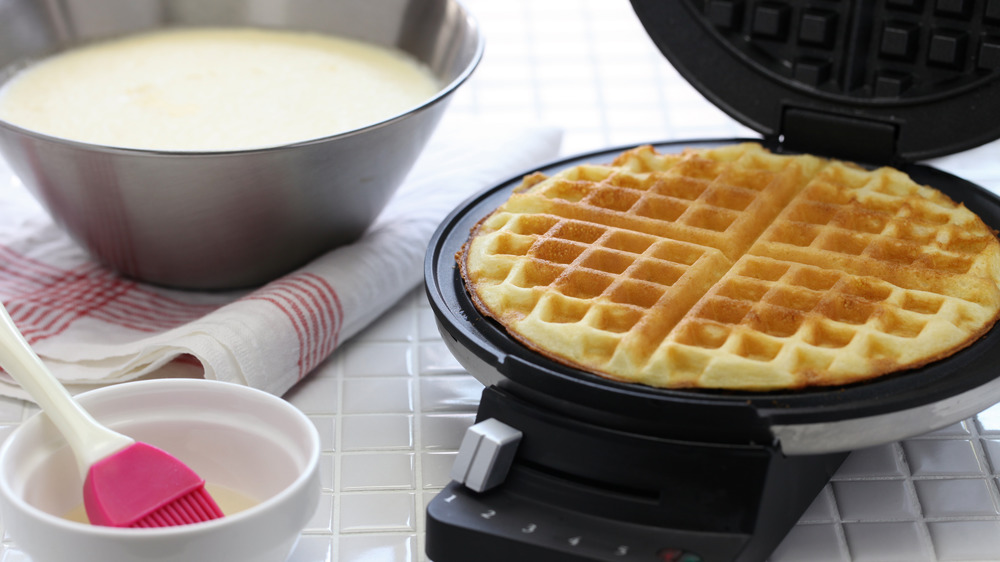 Shutterstock
According to LeafTV, oil-less waffles tend to be softer. But oil helps make waffles better in more ways than one. Oil helps to make the batter a better texture for creating crisp waffles that brown well, but it is also helpful in the cooking process. Apart from adding oil to the batter, it should be used on the waffle iron too.
The same oil can be used with a pastry brush or on a paper towel to wipe the plates of the waffle iron down. Nonstick spray is also a good option to coat the waffle iron before cooking your waffles. Though some waffle irons claim to have a non-stick finish, waffles can still stick which means that lovely crisp exterior could get lost to the iron. That's why adding a small touch of oil to the iron and cooking process will help crisp the waffle and help it easily release from the iron too. Just don't forget to wipe the leftover oil off between your batches.