Easy Moo Goo Gai Pan Recipe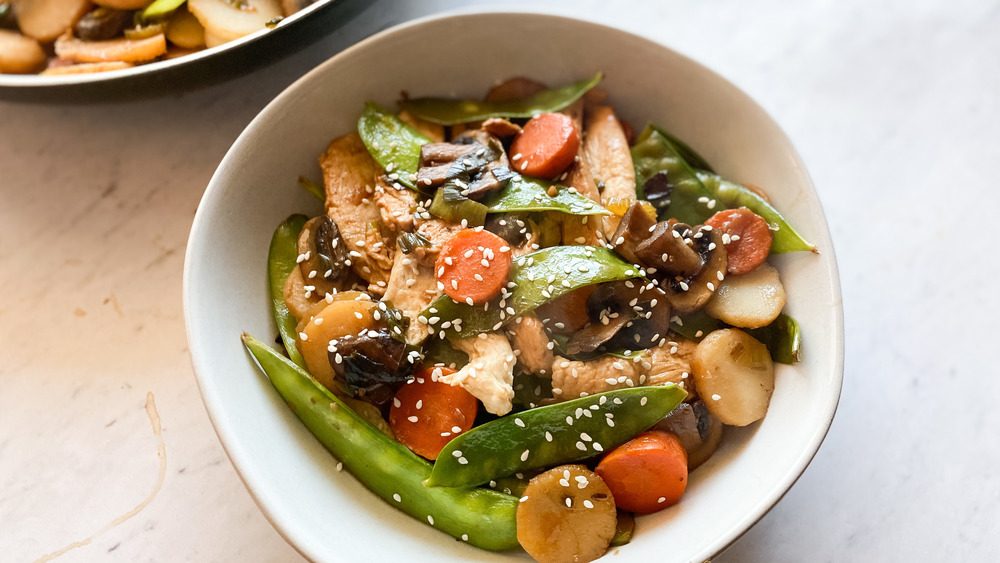 Kristen Carli/Mashed
If you are looking for a way to get the kids (or any loved ones or roommates, for that matter) to eat their vegetables without a fuss, then you're looking in the right place with moo goo gai pan, a dish that's fun to say and a delight to eat. 
It's also a pleasure to make moo goo gai pan because "it's a very easy dish, [and] not hard at all," says Kristen Carli, chef, food writer, and registered dietician from Camelback Nutrition & Wellness. And of course, it's a flexible dish, too. You can add in any preferred vegetables and even make it spicy with sliced jalapeños and red pepper flakes.
Carli says that Moo Goo Gai Pan "serves best over rice," but it's also great over noodles or as-is for a lighter meal. With a decent serving of rice or noodles, however, you can get a complete meal in a no-fuss bowl. And while this dish is traditionally not vegetarian, Carli says you can "make this dish vegetarian by subbing in veggie broth and tofu and adding extra soy sauce in place of the fish sauce. This dish would be great with cubed cornstarch covered tofu fried in olive oil."
What does moo goo gai pan mean, anyway?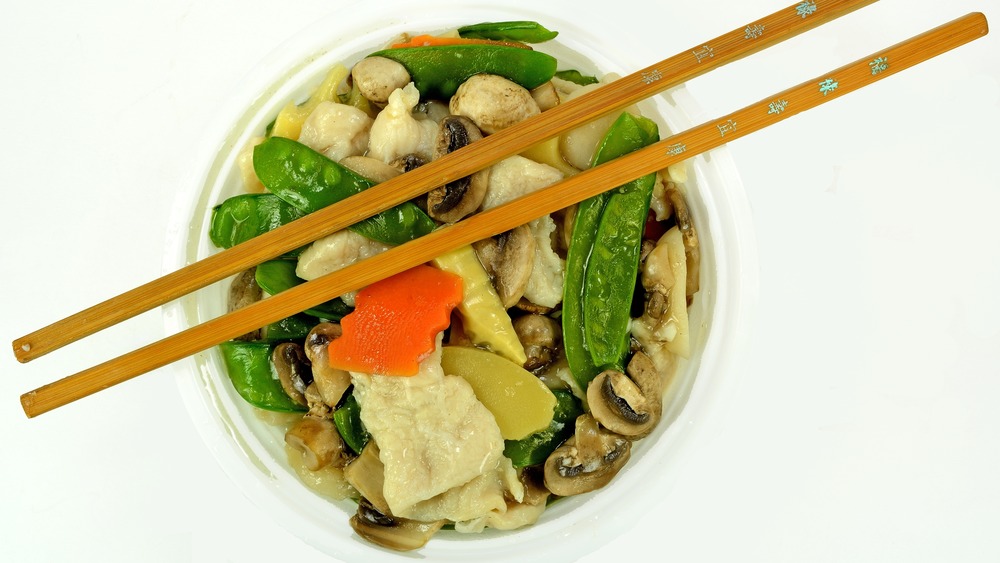 Shutterstock
According to The Spruce Eats moo go gai pan essentially means mushrooms and sliced chicken in Cantonese. So, not a real mystery there, however, the exact provenance of the dish is a bit less clear. 
According to Maggie Zhu, a New York-based Chinese food blogger, the American version of the dish has thicker sauce and more vegetables than the original, which usually contains just the two ingredients described in the name with some sauce. Moo goo gai pain seems to be more of a "second generation" American-Chinese meal than a traditional dish from China, according to anthropologist Bennet Bronson, and it's probably been served in the US since the 1950s.
Our easy version makes it easy to control the amount of sauce, and it can be modified to your taste or dietary preferences. Now, let's get cooking!
Gather your ingredients for moo goo gai pan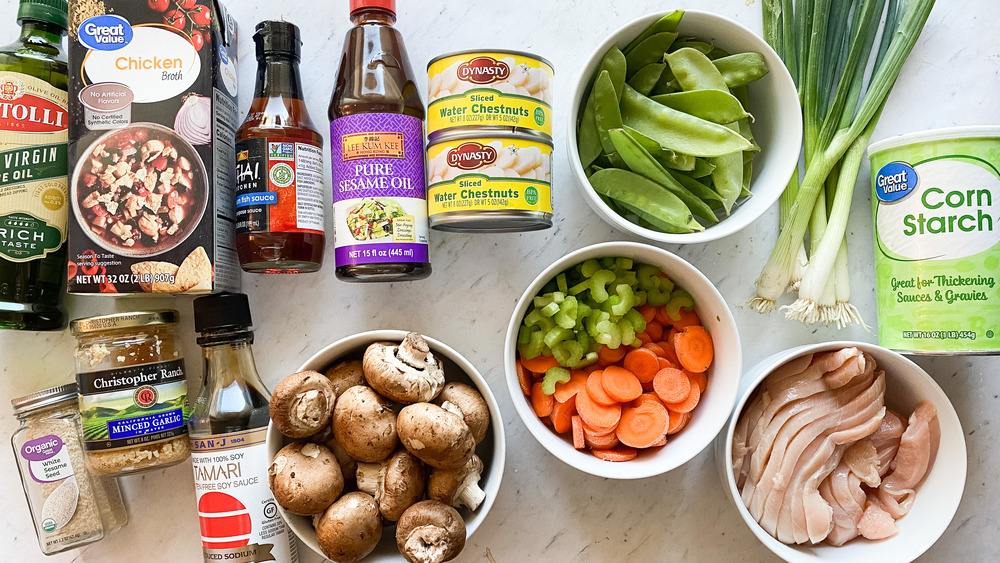 Kristen Carli/Mashed
You'll need 1 pound of boneless chicken strips, 1 tablespoon of extra virgin olive oil, 1 teaspoon of sesame oil, 1 cup of chicken broth, 2 tablespoons of soy sauce, 2 tablespoons of fish sauce, 3 teaspoons of cornstarch, 2 teaspoons of minced garlic, 5 green onions, sliced, 2 cups of sliced baby bella mushrooms, 3 carrots, sliced, 2 celery stalks, sliced, 1 cup of snow peas, a 10 ounce can of water chestnuts, drained, and sesame seeds.
And remember, you can swap in extra soy for fish sauce and tofu for chicken if you want a vegetarian dish — and of course, add in whatever other vegetables you prefer (though you'll want to be mindful of the cooking time required for them).
Make the sauce for moo goo gai pan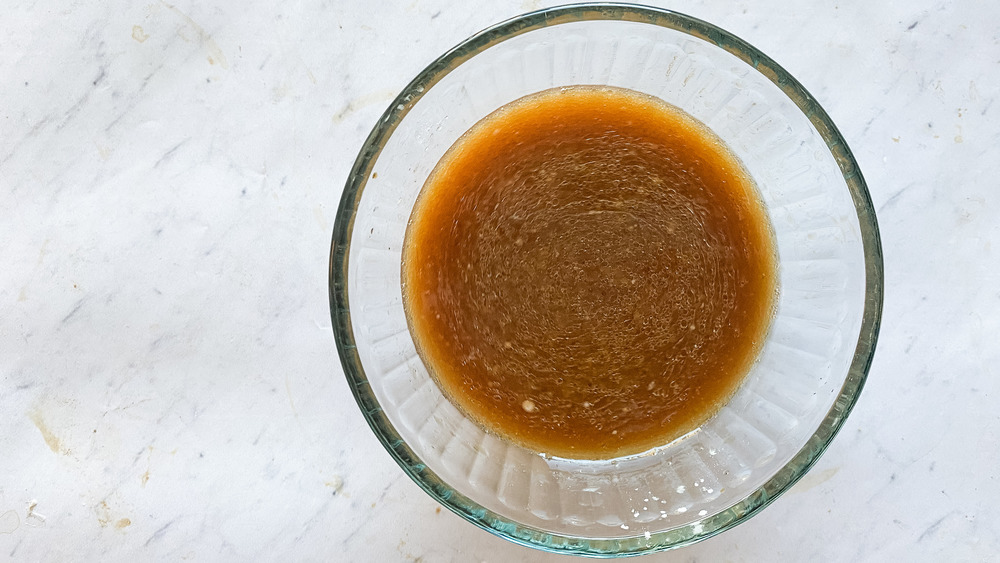 Kristen Carli/Mashed
Make the sauce by combining sesame oil, chicken broth, soy sauce, fish sauce and cornstarch in a small bowl. Whisk to combine all of the ingredients and then set the sauce aside for later. For the record: This sauce is delicious on rice, chicken, fish, or drizzled over other dishes as well, so if you want to increase how much you make, that's definitely a good move. Just make sure you keep the ratios of all the sauce ingredients the same if you increase the volume. And if you add a bit of hot sauce, that's a good move too.
Cook the chicken for moo goo gai pan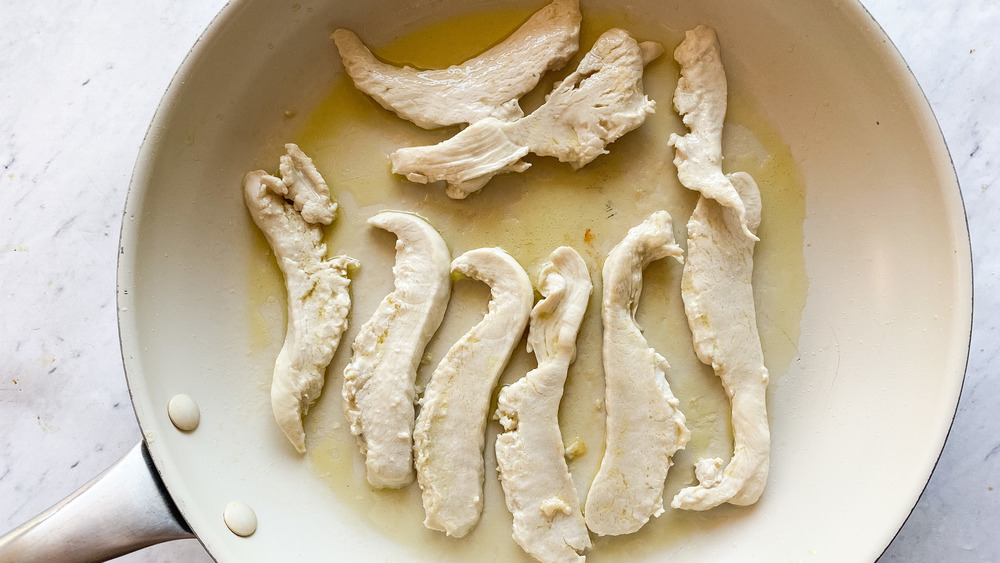 Kristen Carli/Mashed
Heat a large sauté pan over medium heat and add the extra virgin olive oil. Add the chicken strips in a single layer and cook them for about 2 minutes. Flip each piece of chicken and cook the other side until it has cooked through. Remove the chicken and set it aside. 
For safety purposes, it's always a good idea to cut open a piece or two of cooked chicken in half and make sure it is fully cooked or to use a meat thermometer to ensure the center of the poultry has reached a temperature of 165 F.
Cook the veggies for moo goo gai pan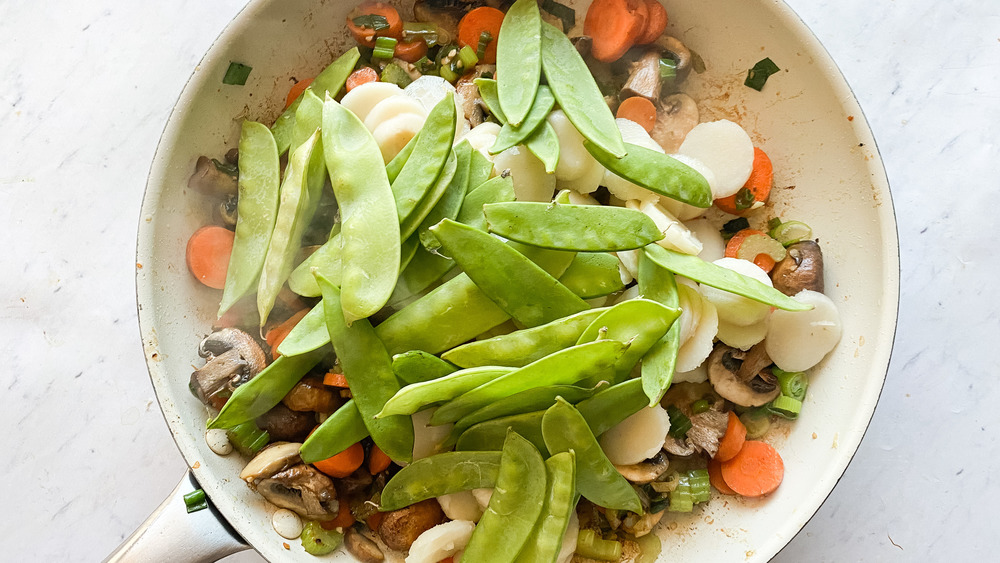 Kristen Carli/Mashed
Keeping the pan hot, add the onion and garlic and sauté (stir and shake, in other words) until the onions and garlic grow fragrant, which will take about 2 minutes. Then, add the mushrooms, carrots, and celery. Stir and cook until the carrots and celery have softened, which will take about 5 minutes.
Now, add the snow peas and the water chestnuts and cook everything for another 5 minutes or so, stirring regularly. Keep the chicken, the sesame seeds, and the sauce close at hand, because you're close to being done with your delicious dish of moo goo gai Pan.
Finish making your moo goo gai pan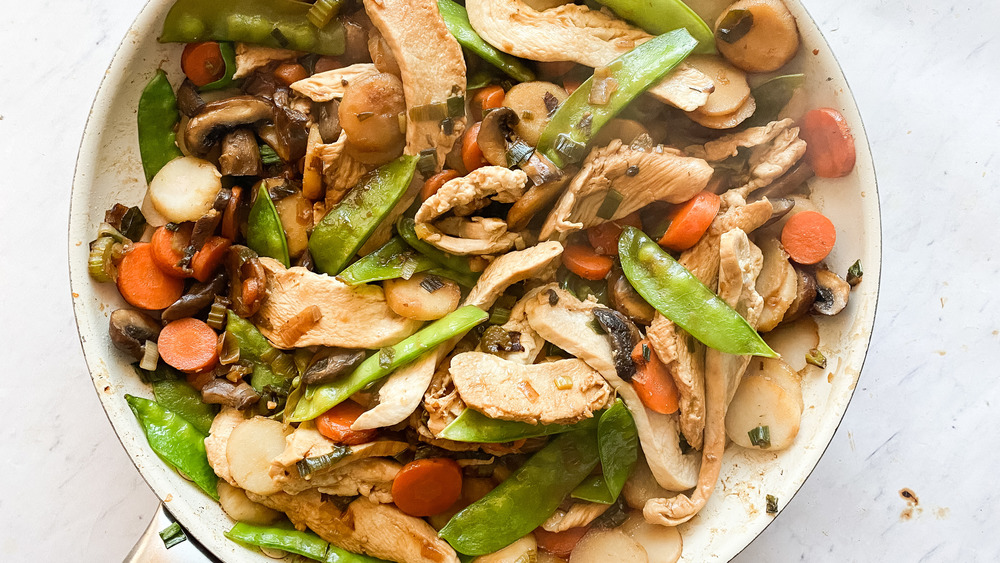 Kristen Carli/Mashed
Drizzle the sauce evenly over the cooked vegetables, and then add the chicken. Stir everything to combine and coat it all with sauce, keeping the heat at low to medium. Allow things to heat until the sauces thickens, which will take about 8 minutes. 
Plate the moo goo gai pan, ideally in broad, shallow bowls and over a bed of rice or noodles. Serve with a garnish of sesame seeds. If want additional toppings, sliced jalapeños, crushed peanuts, or bean sprouts each add a nice element. Better yet, try a bit of all three for added spice, nuttiness, and some pleasing crunch also.
Easy Moo Goo Gai Pan Recipe
Moo goo gai pain is a Cantonese dish that's a favorite at Chinese American restaurants. Learn how to make this chicken or tofu and mushroom dish at home.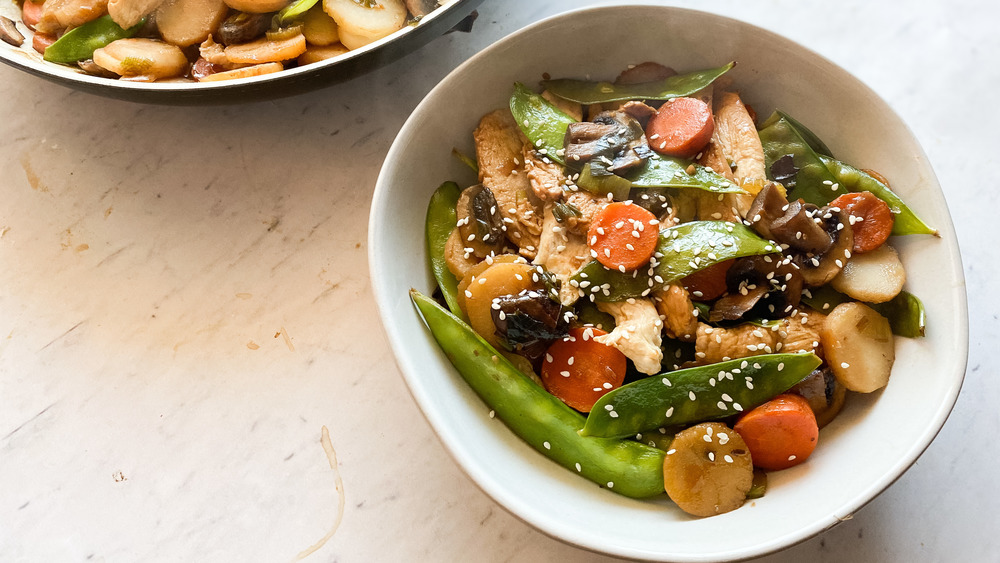 Ingredients
1 lb boneless chicken strips
1 tbsp extra virgin olive oil
1 tsp sesame oil
1 cup chicken broth
2 tbsp soy sauce
2 tbsp fish sauce
3 tsp cornstarch
2 tsp minced garlic
5 green onions, sliced
2 cups sliced baby bella mushrooms
3 carrots, sliced
2 celery stalks, sliced
1 cup snow peas
10 oz can water chestnuts, drained
sesame seeds
Directions
Make the sauce by combining sesame oil, chicken broth, soy sauce, fish sauce and cornstarch in a small bowl. Whisk to combine and set aside.
Heat a large sauté pan over medium heat. Add extra virgin olive oil. Add chicken in a single layer. Flip each piece and cook other side until cooked through. Remove the chicken and set aside
Add onion and garlic to the pan. Sauté until fragrant, about 2 minutes
Add mushrooms, carrots, and celery. Cook until softened, about 5 minute
Add snow peas and water chestnuts. Cook for another 5 minutes
Add sauce then add chicken. Stir to combine. Allow to heat through and sauce to thicken, about 8 minutes
Serve with a garnish of sesame seeds
Nutrition
| | |
| --- | --- |
| Calories per Serving | 462 |
| Total Fat | 21.4 g |
| Saturated Fat | 3.7 g |
| Trans Fat | 0.1 g |
| Cholesterol | 56.2 mg |
| | |
| --- | --- |
| Total Carbohydrates | 42.0 g |
| Dietary Fiber | 6.1 g |
| Total Sugars | 7.6 g |
| Sodium | 2,162.1 mg |
| Protein | 27.1 g |