The Real Reason The Pioneer Woman Doesn't Film At Her Home Kitchen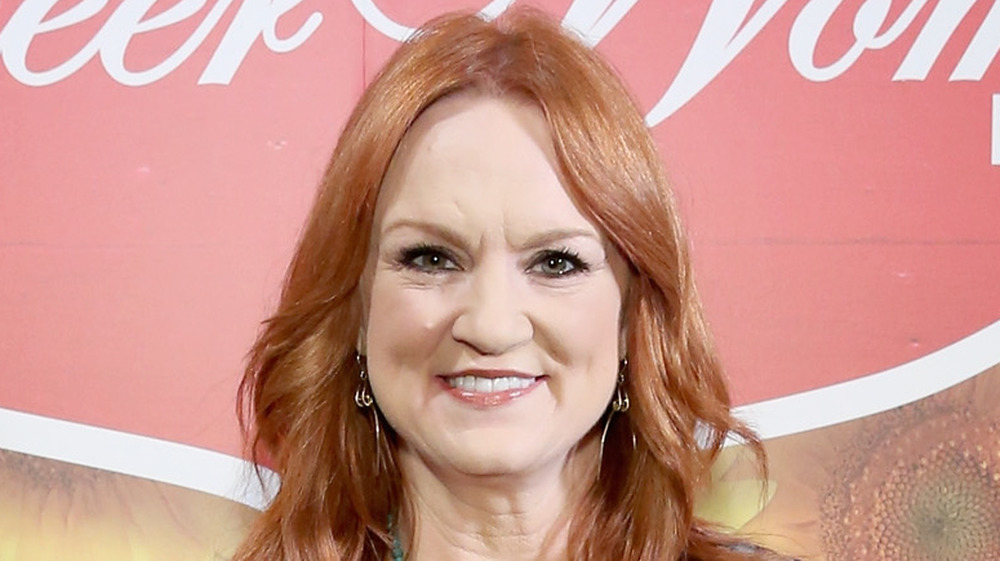 Monica Schipper/Getty Images
When it comes to your favorite cooking shows, you might be surprised by those who don't film or cook in their actual home's kitchens. Ina Garten even has a complete replica of her actual kitchen in what she calls "the barn." While it might not be a total replica, Ree Drummond of The Pioneer Woman certainly has a spare kitchen that she uses like an office in what her family refers to as "the lodge" (via Parade).
According to The Pioneer Woman, the lodge is not only where the show is filmed, but it's also where she does all kinds of food-related work. From testing new recipes to writing and photographing food for her cookbooks, Drummond really uses the lodge as an all-in-one space. But it isn't all work and no play at the lodge. She throws parties there too. 
It's even open to the public for tours between 9 a.m. and 5 p.m. on scheduled tour days. Tickets are available at The Mercantile, and they're totally free. You can ask questions and Drummond even said, "we invite people to poke around and open drawers. Although sometimes I wish I had them organized a little more!" It's another way you can enjoy more of the show you love.
Allowing guests to visit the lodge wasn't Ree Drummond's idea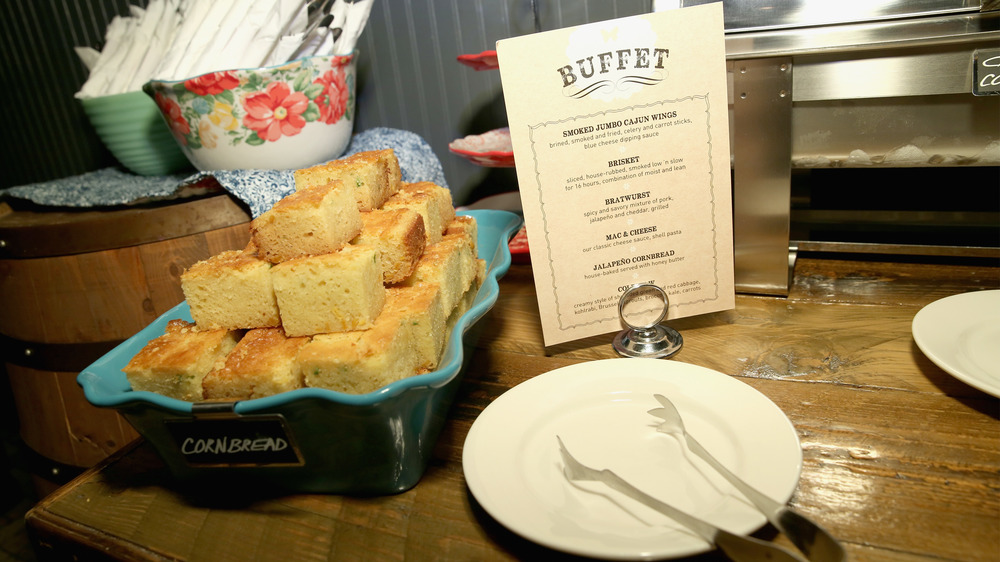 Monica Schipper/Getty Images
While Ree is all for fans and visitors stopping by to take a look at where their favorite cooking show is filmed, she wasn't the one to envision the tours. Apparently, it was her husband, Ladd Drummond, who came up with the idea to open the lodge to guests and tourists. "The Lodge is 18 miles out of town on an unpaved road," Ree said. "I thought somebody would get a flat tire. But Ladd pointed out that people are coming all the way to Pawhuska to visit our store and restaurant. He wanted to expand their experience." Clearly he had the right idea to give fans more of what they love. According to The Pioneer Woman, hundreds of people visit the lodge every month.
Between a luxe stay at the Boarding House in Pawhuska and a visit to the lodge for a full tour, fans can really experience a lot in the celebrity chef's hometown. However, no trip would be complete without a stop by The Mercantile to pick up some of the show's exclusive merchandise, useful kitchen tools, and apparel. To top it all of, The Mercantile's café offers light bites and sweet treats for a little post-tour indulgence before hitting the hay.
There are a few surprising bonuses during the tour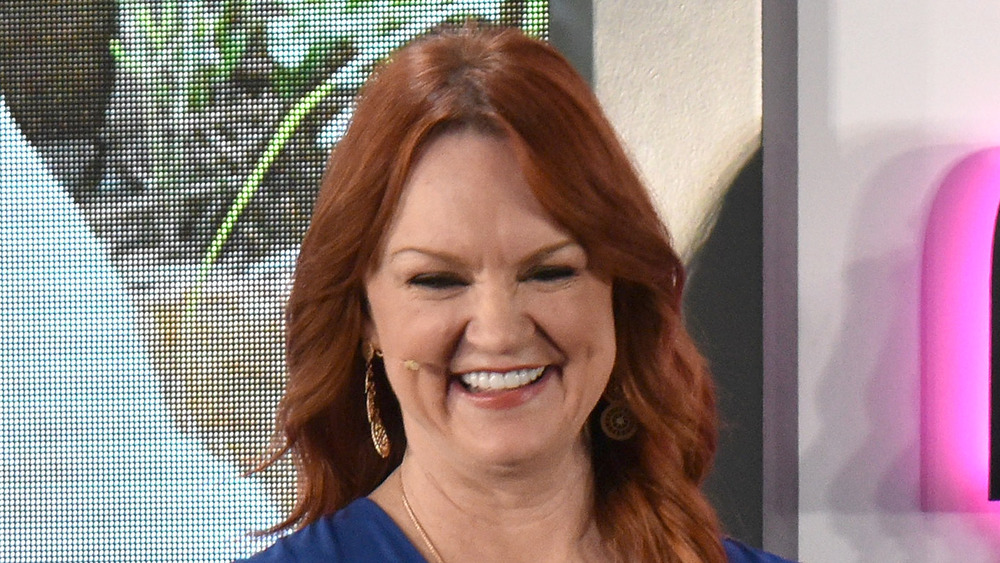 Bryan Bedder/Getty Images
One couple that visited the lodge shared some of the surprising and fun insights they gained about how Drummond does things for her cooking show (via Postcard Jar). Most fans that ultimately do visit the lodge might expect to see little beyond the kitchen and open a drawer or two like Drummond suggested. However, visitors also get to peep in the pantry and Drummond's dressing room, which are pretty exciting tour bonuses. A glimpse at the racks of dishes, serving ware, and decorative glasses show off the celebrity chef's diverse collection too. 
According to Postcard Jar, Drummond keeps a well-stocked pantry with shockingly everyday items. Her spice collection is nothing fancy and even includes some bottles and jars of generic brands. The couple even pointed out that she had ramen on hand and canned frosting too. It never hurts to have a short cut or two on hand should you need them. The pair also said the lodge feels "lived in" and shows just how "down to earth" the family really is. Drummond's dressing room is a great example of this too. Fans can see her makeup laid out (with a bottle of Tylenol to boot) on her vanity with a pair of cowboy boots underneath as well. 
The lodge is a second home for Ree Drummond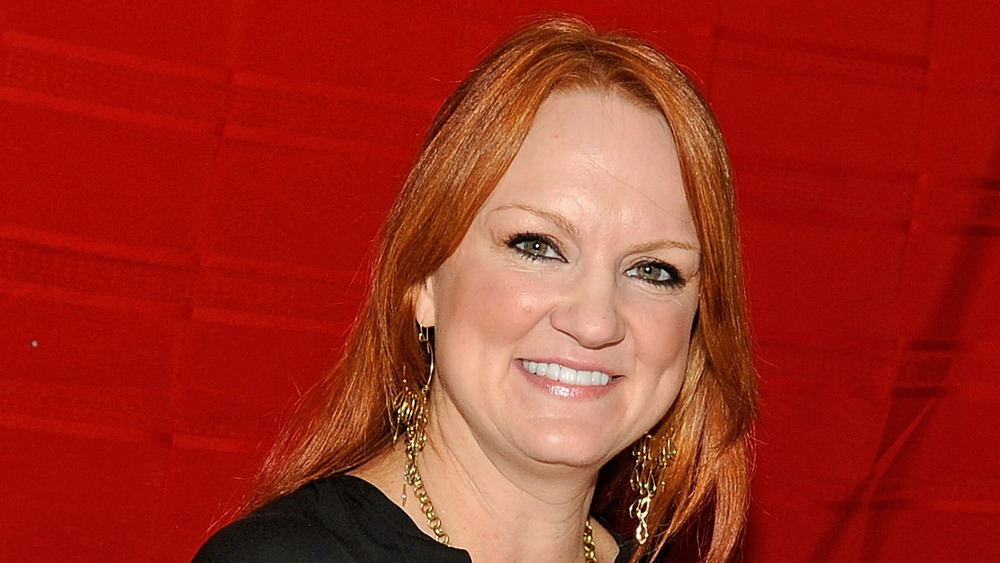 Bobby Bank/Getty Images
It turns out that the lodge was actually a second home that's only two miles from where Ree and Ladd live today (via Parade). The lodge was first constructed in the 1950's, and was actually where Ladd was living when he met Ree. But in 2008, the family decided to remodel the lodge (via The Pioneer Woman). While they had intended to turn it into a guesthouse, that didn't exactly happen, but it is somewhat of a guesthouse today. Instead of friends and family using the lodge as a guesthouse, it's the crew who sleeps in the four bedrooms there when they are filming The Pioneer Woman. 
Of course, it is also outfitted with a test kitchen, prep space, an office, and even a prop room to accommodate all of the celebrity chef's culinary and business needs. Ree explained to Parade that having the set as a separate space from her home, gives her a better work-life balance. "If it had to be at our house, I don't think we could do any of it, because our house is definitely the real world," she admitted. "You need a place to close the door and just be in your yoga pants." That's something fans can likely understand and agree with.