The Truth About The World's Most Expensive Ramen
There's something about overly extravagant food that piques popular interest. Whether it be a dish that you would dream of eating or something so over the top that it seems like a waste, there is a certain allure to the excess. While some chefs choose to elevate an already upscale dish, ramen is at the heart of the creation made at Gumshara, a restaurant in Sydney. Now considered the world's most expensive ramen at $400 a bowl, as reported by GQ, Gumshara's dish is truly a work of art. According to The Wall Street Journal, the title had previously been awarded to a $180 gold leaf-laden bowl of ramen at Koa restaurant in Manhattan.
For starters, its name "Rags to Riches" appropriately describes the deluxe version of what is often served as an instant meal from a package. Besides this reference, the name alludes to Ichiban, a character in a popular videogame series Yakuza: Like a Dragon (via Man of Many). According to Man of Many, the storyline in the videogame involves Ichiban rising from hardship, inspiring this lavish ramen. As Game Spot explains, the elaborate ramen dish was a collaboration between Five Star Games, Xbox, and Gumshara to promote the latest October 2020 release of the Yakuza videogame.
What is in this prized ramen?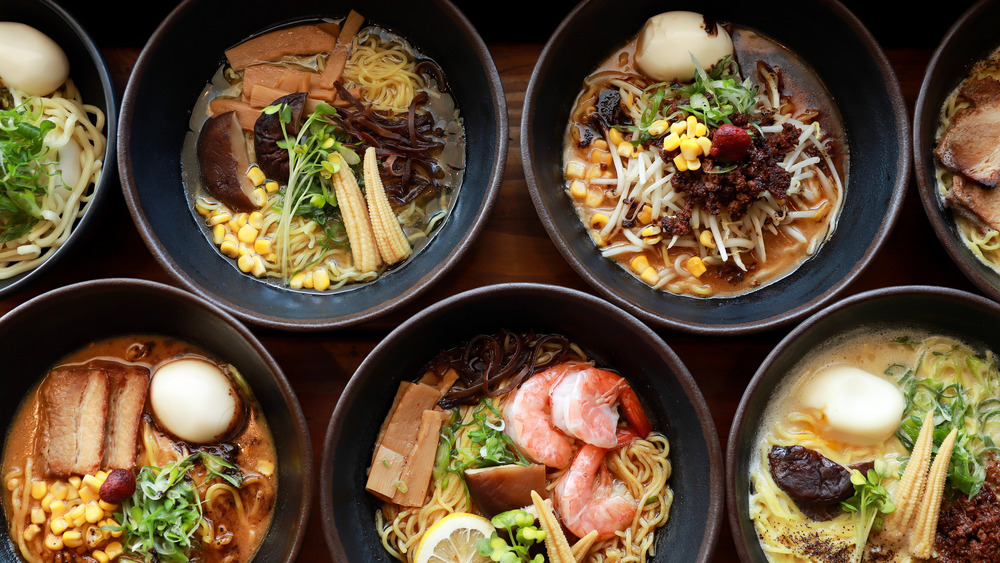 Shutterstock
On to the important details, what is in this decadent bowl of ramen? At the center of ramen's umami flavor is a long-simmering broth made from meat and seasoning (via Just One Cookbook). In Gumshara's masterpiece, pork broth is enhanced by adding 5 kg of lobster heads, per Man of Many. Given the price, there is of course an entire lobster accompanying the noodles. GQ describes a tempura-battered lobster tail, and to add some glitz, a gold leaf finished head shaped as a dragon to evoke the Yakuza series. According to GQ, the rest of the ramen follows a traditional style with an added sprinkle of golden nori at the end because why not?
Unlike other opulent creations that can be purchased if you have the money, the "Rags to Riches" ramen was awarded to the winner of a competition organized by Xbox ANZ back in November 2020. So, for now, put away your wads of cash and hold on for another opportunity to win or buy a ramen of this grandeur.