Everything You Need To Know About Cookie Fries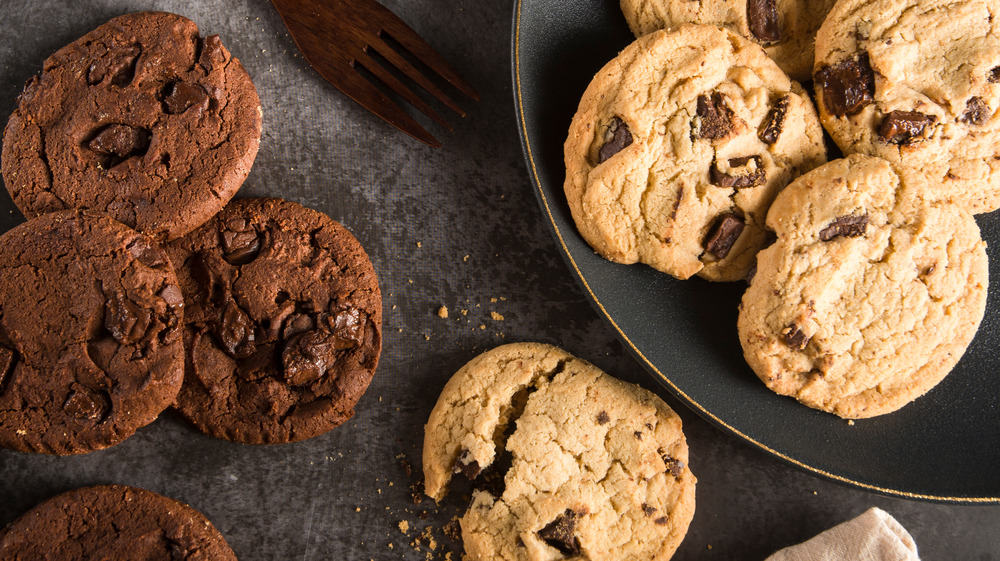 Shutterstock
Most people would find it hard to turn down a perfectly crispy, salty French fry, especially if there's a tantalizing dip in which to dunk the steamy potato snack. Likewise, there's something so utterly satisfying about a gooey chocolate chip cookie, fresh from the oven. Have you ever thought of combining the two treats, though? Well, Jill Balick and Susie Schuster did (via Popsugar) — and we're utterly grateful. 
The two entrepreneurs are the creative geniuses behind the concept of cookie fries, a signature offering by their company, The Cookie Joint. According to Spoon University, their tasty creation was even featured in The Oprah Magazine, who couldn't help but show their support for the Chicago-based spot. While The Cookie Joint also sells regular gourmet cookies, the cookie fries are their unique signature offering.
If you're having trouble imagining what exactly such a concoction might involve, it may help to know that the cookies themselves are shortbread cookies, cut to resemble crinkle cut French fries.
What kind of flavors can you get?
There's something for everyone, including classics such as chocolate chip, confetti and red velvet, as well as some fun flavors like chocolate toffee crunch, cinnamon spice, and a seasonal lemon poppyseed. For the purists out there, they also have their "original" flavor, a simple shortbread cookie that bears an uncanny resemblance to an actual carton of French fries due to its pale golden hue.
And don't forget the dipping sauces. As Delish explains, there are a wide variety of options far beyond the basic ketchup when it comes to your French fries, and cookie fries are no different. You can choose from salted caramel, marshmallow, hazelnut, peanut butter, and chocolate. That's right: You can mix and match the different flavors and dips until you reach cookie nirvana.
There are a variety of packages available. In some options, the fries are packed into mini bags, perfect for a larger crowd, while others have seasonal themes. They even have what we're pretty sure is the perfect treat for any girls' night, a "Fries Before Guys" gift basket with cartons that proclaim "cookie fries before guys" in red lettering (via The Cookie Joint).
If you're not based in Chicago, don't worry. The sweet spot ships nationwide with the help of Goldbelly. You can also become one of the 16,000 cookie lovers who follow the bakery on Instagram, but beware — those delectable snaps of cookie fries drizzled with sauce will have you rushing to place an order.