Hasselback Potato Recipe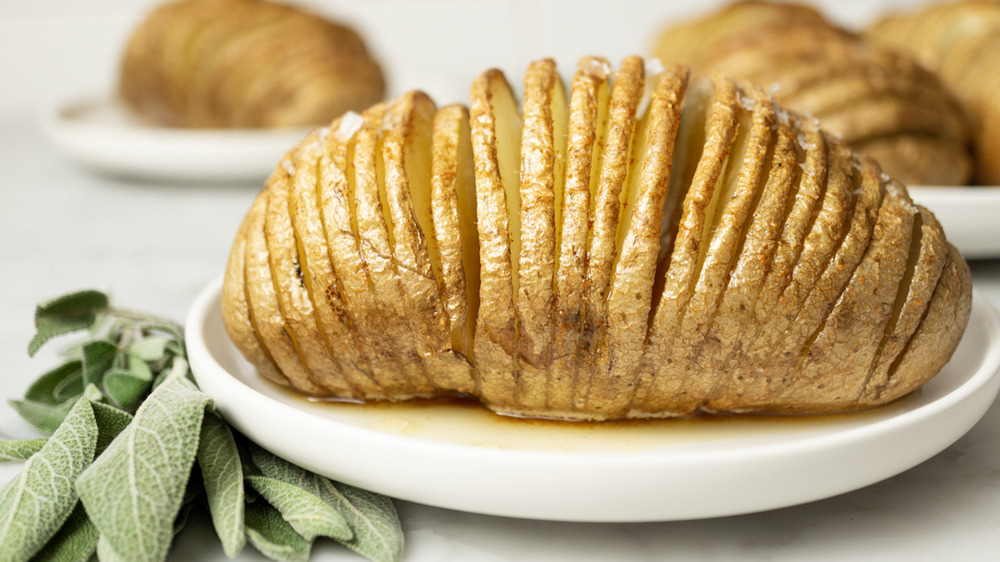 Liz Capozzoli/Mashed
Few foods are as adaptable as the potato. They can be fried, mashed, or put in a stew, to name just a couple uses. Yet few methods of cooking a potato result in a dish that looks as stunning (and tastes as great) as hasselback potatoes.
Hasselback potatoes are baked potatoes that have a bunch of thin slices on top that make the potato fan out. They're also sometimes referred to as accordion potatoes or pillbug potatoes. This recipe from Liz Capozzoli of the baking blog OwlBBaking only takes about an hour to make and is sure to be a crowd pleaser.
"In terms of flavor, they are superior because each of the slices gets roasted, crispy, and caramelized," Capozzoli says. "The inside is still soft and fluffy. The flavor of the olive oil gets baked into each slice making it very savory versus a plain baked potato."
Best of all: This eye-catching recipe isn't all that difficult to make.
Gather your ingredients for hasselback potatoes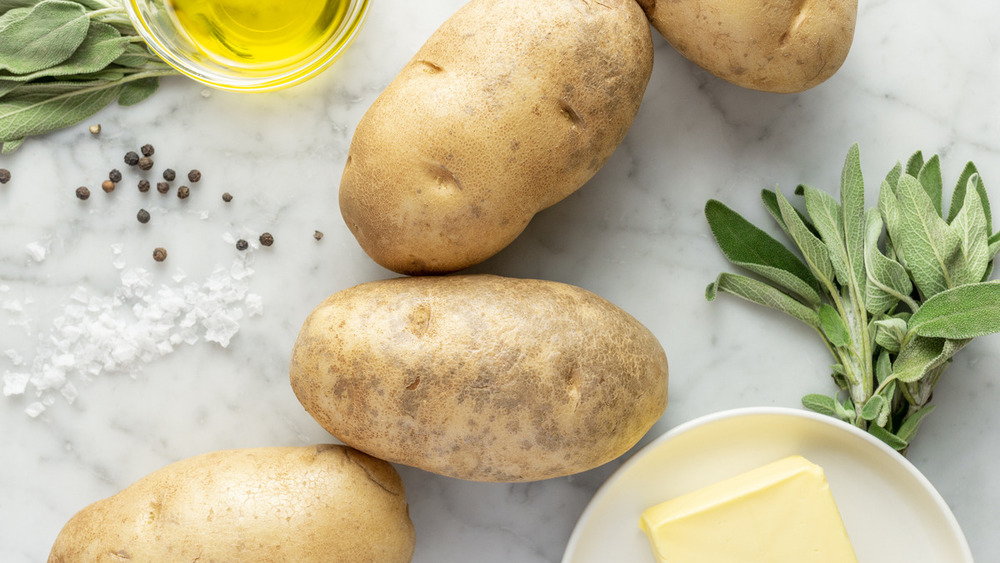 Liz Capozzoli/Mashed
Some of the best recipes have a very simple set of ingredients. This is one of those recipes. All you need are four large russet potatoes, three to four tablespoons of olive oil, five tablespoons of unsalted butter, fresh sage, pepper, and flaky sea salt.
If you're looking at that list and thinking that's not all that different from a baked potato, you're not wrong. The end result is much different, though.
"A baked potato or mashed potatoes can be very one-dimensional versus a hasselback," Capozzoli says. "Additionally, if using flakey sea salt as recommended, the flakes of salt fall into each slice, ensuring a well-seasoned bite!"
And a quick note on potato variety: Russet potatoes (sometimes called Idaho potatoes) are the ideal type for baking and French fries because of their relatively dry flesh. The same qualities make it good for hasselback potatoes.
"I chose to go with a russet because it roasts very well and holds its structure," Capozzoli says. "I think a sweet potato could also be used successfully with this recipe."
Slice the potatoes for hasselback potatoes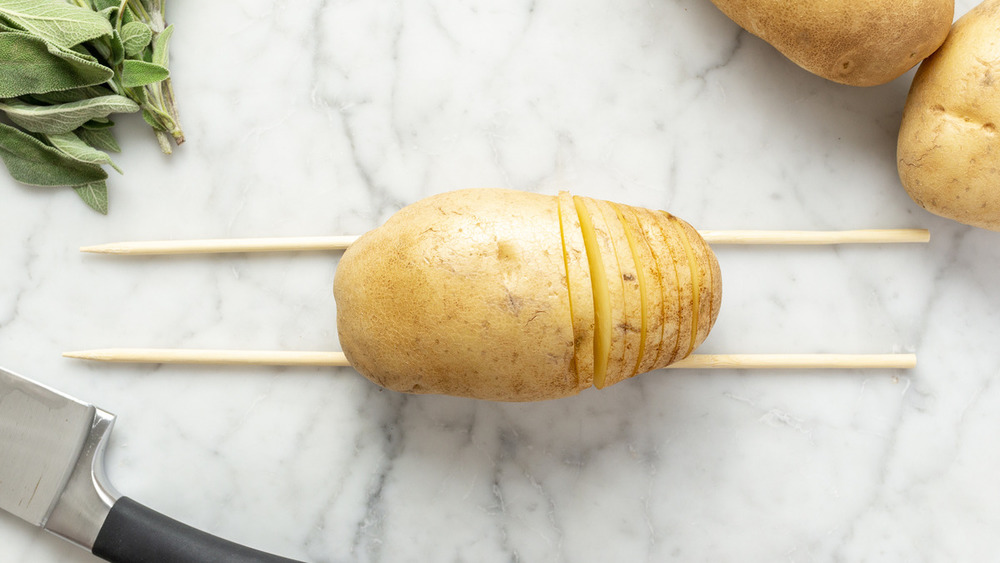 Liz Capozzoli/Mashed
Once you have everything you need in terms of ingredients, you'll also need a couple of kitchen tools. A sharp knife and cutting board, first off, but also two chopsticks or extra thick wooden skewers.
Start off by preheating the oven to 400 degrees Fahrenheit so that the oven is the right temperature once you're finished preparing the potatoes. Then, grab one of your cleaned potatoes and put it in the center of the cutting board, where you'll want to make thin slices that cut down into the heart of the potato without making a complete cut. This part might seem tricky, but with the chopsticks or skewers as a guide, it's not too difficult.
First, put one chopstick or skewer on each side of the potato lengthwise. These are the stoppers, so your knife won't go straight through. Then, cut slices across the entire potato, leaving about an eighth of an inch between cuts. Repeat for the rest of the potatoes, and it's as simple as that.
Transfer to a baking sheet and ensure the slices can fan when making hasselback potatoes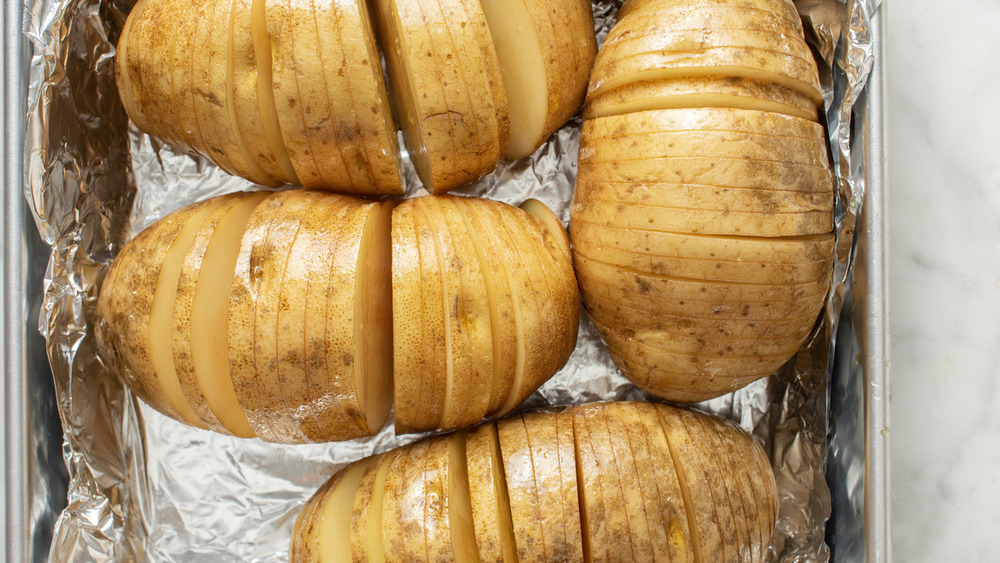 Liz Capozzoli/Mashed
Once you've made it this far, there's one thing to keep in mind: The slices make or break the recipe, and the rest is relatively easy from here. Transfer the potatoes to a baking sheet or baking pan once you've completed making the cuts. You can make life easier by lining the pan or sheet with aluminum foil, so that all you have to do for clean up is pull off the foil.
At this point, you should double check that there's ample space between the cuts for the olive oil to sink in.
"When making the cuts, the person should spread the slices open a little bit," Capozzoli says. "They will naturally open more as it roasts, but you want to ensure that the olive oil makes its way into each slice opening as much as possible."
With that checked off, brush on about half of the olive oil on the potatoes and make sure that it really gets in there.
Bake, oil, and then bake the hasselback potatoes again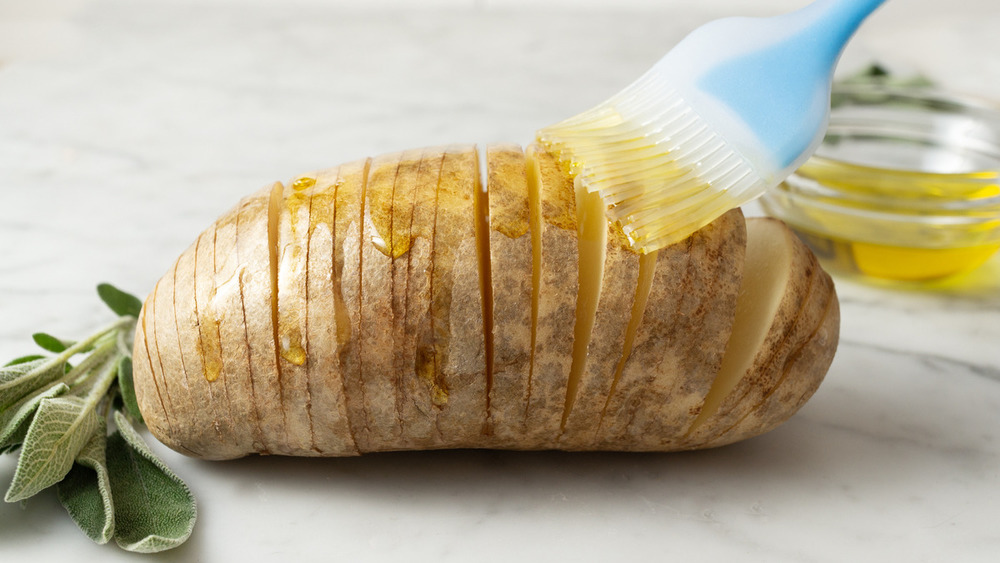 Liz Capozzoli/Mashed
The oven should be preheated to 400 degrees Fahrenheit by now and your potatoes ready to bake. Rather than throw the potatoes in and forgetting about them until the timer dings, this recipe calls for splitting the baking time in two.
For the first bake, put the hasselback potatoes in the oven uncovered and cook for 30 minutes. Then, take them out and add another layer of olive oil to the potatoes, again, making sure that the oil gets into the slices. Put them all back in the oven again for another 30 minutes.
"It is better to recoat the olive oil again halfway through because at that point the oil would have absorbed a bit into the potato and dripped to the bottom of the pan," Capozzoli says. "Adding another coat of oil ensures nice crispy slices!"
Prepare the sage butter for hasselback potatoes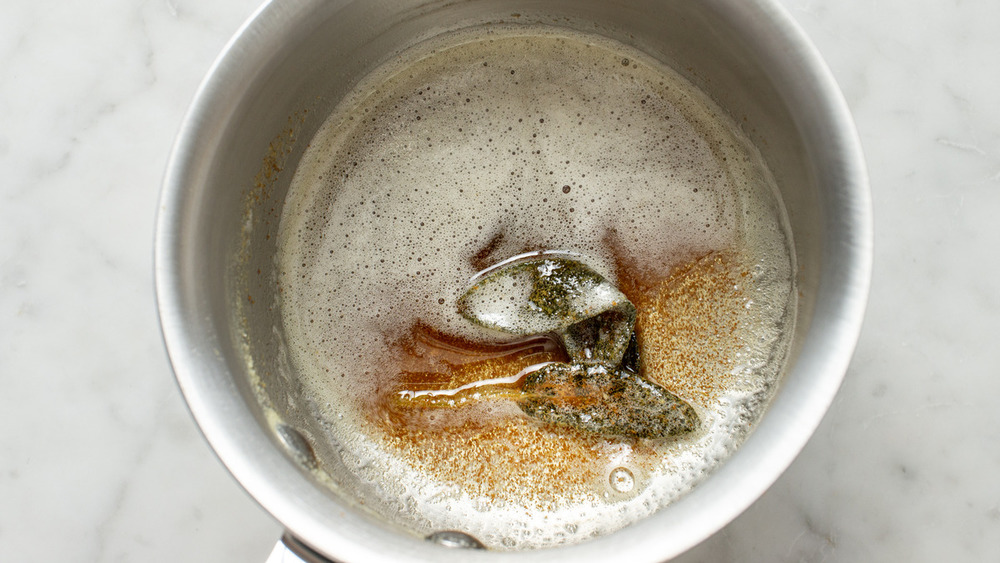 Liz Capozzoli/Mashed
Keep an eye on the timer when you put the potatoes in for their second round in the oven. When there's about 10 minutes left, you should start the sage butter that will go over the top of the finished potatoes before you serve them.
First, put the butter into a small pot over low-to-medium heat and add the fresh sage leaves. The butter will begin to simmer and melt, and you'll notice that it'll foam and bubble around the edges. Make sure you stir the butter frequently to keep it from burning. You don't, however, want to take the butter off before it starts to brown, which should take between five and eight minutes (some brown bits will be noticeable on the bottom of the pan and you'll notice a nutty smell).
The butter will eventually get to a deep golden brown. That's when you'll need to take the pan off the heat right away and pour the sage butter into a heat-proof bowl to keep it from cooking further. Keep it for later, as you'll add it soon after the potatoes are taken out of the oven.
Broil and then top with sage butter before serving your hasselback potatoes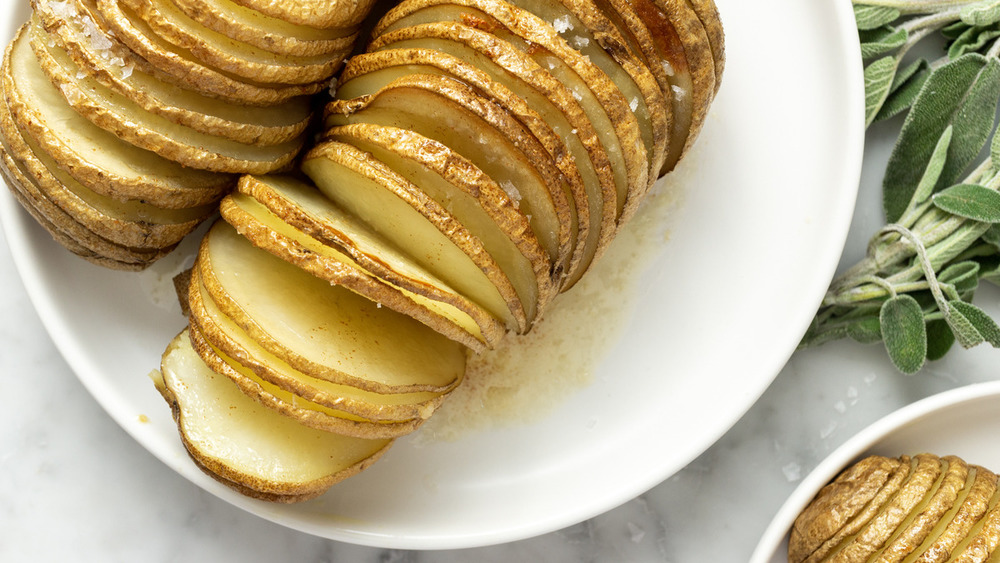 Liz Capozzoli/Mashed
To get a nice crisp on the top of your potato (which is worth it for the best looking, and best tasting, hasselback potatoes), you'll need to set your oven to broil for a minute or two as soon as the second 30-minute bake time is completed. Then comes the butter: Give each potato an equal, generous, drizzle of the stuff and top it with some flakey sea salt and fresh ground pepper to taste. Finally, you're ready to plate your hasselback potatoes alongside whatever else you're having for lunch or dinner.
"The sage and brown butter combo would go great with turkey," Capozzoli says. Don't stop there, though. "This would be fabulous paired with steak, a filet of salmon, roasted chicken, veggie burgers, a bowl of chili (pouring chili on top would also be delicious). This would also be a healthier alternative to french fries."
Whatever you eat it with, rest assured it will be delicious.
Hasselback Potato Recipe
Up your baked potato game with some olive oil, a sharp knife, and sage butter with these hasselback potatoes you'll want to pair with everything.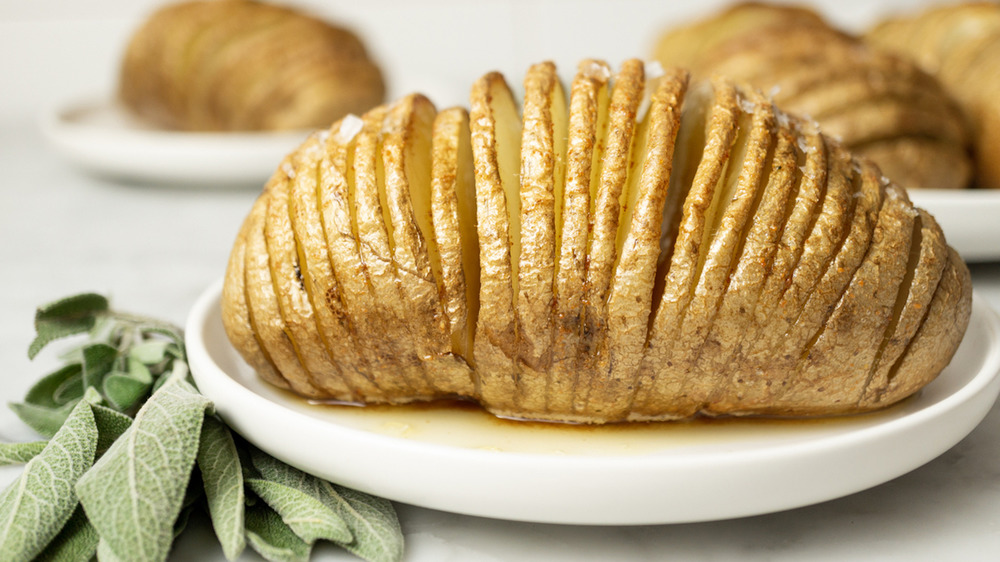 Ingredients
4 large russet potatoes
4 tablespoons olive oil
5 tablespoons unsalted butter
7 leaves of sage
Optional Ingredients
Flakey sea salt & pepper to taste
Directions
Preheat the oven to 400°F.
Clean the potatoes and set them on a cutting board.
Place 1 potato in the center of the board and position one wooden chopstick or extra thick wood skewer on either side of potato (lengthwise).
Using a sharp knife, carefully cut ⅛" slices across the whole length of the potato. Repeat for all potatoes.
Place the potatoes in a small baking pan or on a baking sheet lined with aluminum foil.
Brush on the olive oil, ensuring oil gets down into each slice.
Bake uncovered for 30 minutes.
When 30 minutes is up, recoat the potatoes with more olive oil.
Bake for another 30 minutes.
When there are about 10 minutes left of the second bake time, prepare the sage infused brown butter.
Place the butter into a small pot along with the fresh sage leaves.
Heat on low-medium heat until the butter melts and begins to simmer. Once melted, the butter will begin to foam and bubble around the edges. Stir the butter frequently to avoid burning.
Once the butter is a deep golden brown, immediately remove the pan from heat and pour into a heat-proof bowl. Set aside.
When the second bake is finished, set the oven to broil to crisp the tops of the potatoes for a minute or two.
When the potatoes are done, generously drizzle the warm brown butter over each potato.
Sprinkle flakey sea salt on top and add fresh ground pepper to taste.
Nutrition
| | |
| --- | --- |
| Calories per Serving | 544 |
| Total Fat | 28.4 g |
| Saturated Fat | 11.2 g |
| Trans Fat | 0.6 g |
| Cholesterol | 38.2 mg |
| | |
| --- | --- |
| Total Carbohydrates | 67.8 g |
| Dietary Fiber | 5.5 g |
| Total Sugars | 2.3 g |
| Sodium | 20.9 mg |
| Protein | 8.2 g |