Trader Joe's Shoppers Are Loving These Sweet Pull Apart Aloha Rolls
Trying to get your hands on Hawaiian rolls can prove trickier than you might imagine. If you love this sweet bread, you could pick up a pack of the iconic King's Hawaiian rolls from your local supermarket (via King's Hawaiian). If you feel super ambitious, you can even make your own rolls from scratch, assuming you have the necessary seven hours of free time it takes to produce a tray of these exquisite breads (via Baked By An Introvert). If neither of these options sound too appealing and you have been craving some variety, you're in luck — Trader Joe's has thrown their hat in the Hawaiian roll ring with its latest creation and fans can't get enough of. 
Instagrammer @traderjoeslist recently posted a picture of this new offering alongside the caption, "SWEET PULL APART ALOHA ROLLS 🚨 $2.99 // If I could eat gluten I would eat these on the regular. As a kid I loved these so much... I hope there are a lot of people out there who can enjoy these on my behalf." The post has already attracted over 11,000 likes, and the momentum hasn't slowed down a bit.
A Hawaiian roll we can't get enough of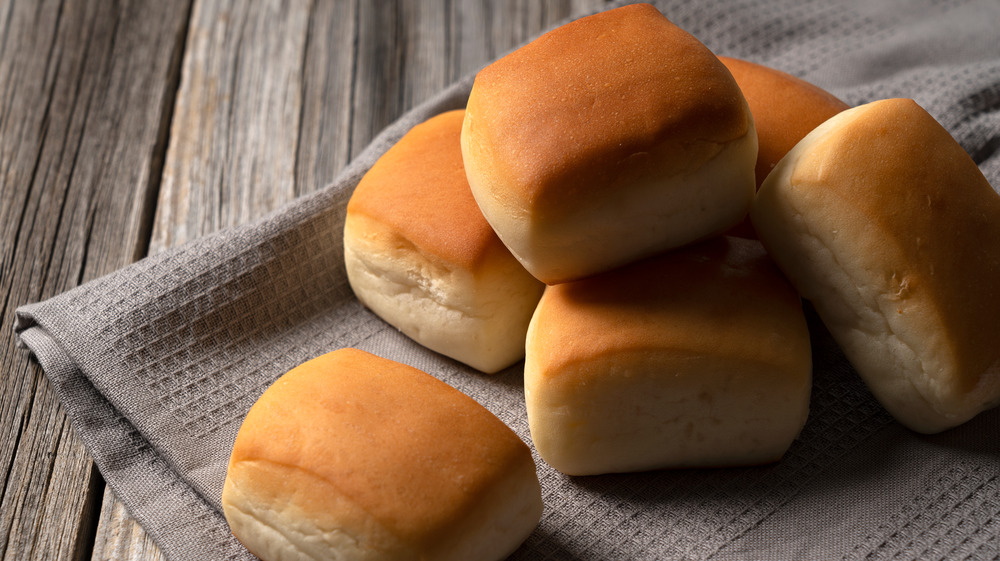 Shutterstock
Trader Joe's fanatics have been chomping at the bit to get ahold of one of these new products. Replies to the post have flooded in, with responses ranging from, "These are sooo good!! We like them for sloppy joe sliders or butter sandwiches!" to "I have to buy these 2 at a time, my kids absolutely love them!! They always request these for their sandwiches." If this amount of excitement has got you ready to buy, get a move on, as you don't want to miss this sweet deal.
Trader Joe's has a habit of pulling our favorite goods far too soon, so make sure to grab a package or three of these Hawaiian rolls while you can. If the brand decides to pull them, who knows how long it might take for us to see them again and if you feel tired of making these from scratch or only buying King's Hawaiian brand rolls, you have to spice up your culinary life with these rolls today!