Aldi Just Brought Back Its Fan-Favorite Feta Cheese
Feta's long history has truly helped cement the cheese as a fan favorite. Mentions of the precursor to feta first appeared in Homer's Odyssey, while the travel memoirs of an Italian merchant from 1494 described the current version of the cheese (via The Culture Trip). Fast forward to the present day, and shoppers still love the unique flavor that feta packs into every bite. We no longer have to travel to Greece to pick up this delicacy, thanks to Aldi serving up a fan-favorite version of this cheese that the internet just can't get enough of.
Instagrammer @aldifavoritefinds discovered Aldi's iconic Feta Traditional Cheese and Feta with Tomato and Basil on one of their grocery runs and posted a picture of the cheeses alongside the caption: "The Feta block is back! It is in the Aldi Finds refrigerated section so it may sell out very quickly. If you have seen the Baked Feta Pasta craze all over social media, now is your chance to make an all Aldi version!" The post has garnered over 1,000 likes since it went public, in addition to a wide swathe of positive replies, like "I love this feta!! Grab some cucumbers and red onion and this tasty feta and add some of your favorite dressing or vinaigrette and you got a nice summer salad," and "I tried it (had to use crumbled bc Aldi was out of the block) but it was delicious!!!"
The perfect Feta for pasta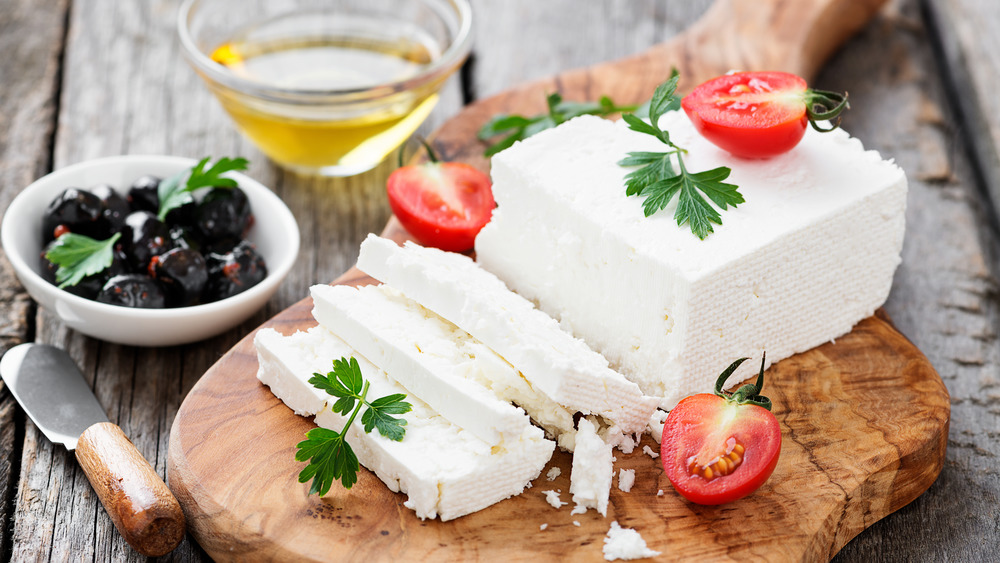 Shutterstock
Anyone who has tried using Aldi's feta to create TikTok's Baked Feta Pasta has had massive success. Instagram users who tried out this recipe with Aldi's newly returned 8-ounce block of cheese replied to the post enthusiastically, with one user saying, "I do the baked feta pasta with the honey goat cheese they have at Aldi and it's so good! Made one last week with the goat cheese, peppers and onions and put Italian sausage on top." Another user recommended their own twist: "I made the feta pasta last week! We did feta seasoned with oregano and pepper surrounded by the tomatoes and 3 cloves of garlic in the oven for 40 mins at 400 with some addtl crumbled feta, then tossed it with cavatappi and chopped fresh basil. It was super yummy!"
If these comments can't get you inspired to make some great feta recipes, you just have to try this cheese for yourself to see what has inspired all the buzz. After one taste, you can transport your taste buds back to Greece and get inspired to use this feta in all your upcoming recipes.