Aldi Shoppers Are Excited For These Zany Pancake Pans
Who doesn't love having pancakes for breakfast? Sweet, fluffy, and covered in syrup and butter, the pancake breakfast is a classic treat that is tough to beat. But while pancakes may not be outdone, they can be improved upon, and Aldi is showing us how with their new assortment of Crofton pancake pans. Aldi's pans are nonstick, ergonomic, and made with heavy-duty cast Aluminum, but that's not all. Their Adventure Pancake pan also features seven cute and creative designs that add a boost of fun to every bite.
The popular Instagram account @aldiusa posted about this week's exciting new Aldi Find, exclaiming, "Blast off! It's breakfast time! Whip up pancakes the whole fam will love with #ALDIFinds." The pancake pan has smaller stencils that come in adorable shapes like clouds, mermaids, unicorns, dinosaurs, robots, spaceships, and stars. These magical designs look sure to delight all the kids at the breakfast table. But they aren't just cute; these pans are also functional, high-quality, and can be used to make a variety of items.
Aldi shoppers couldn't stop raving about the adorable designs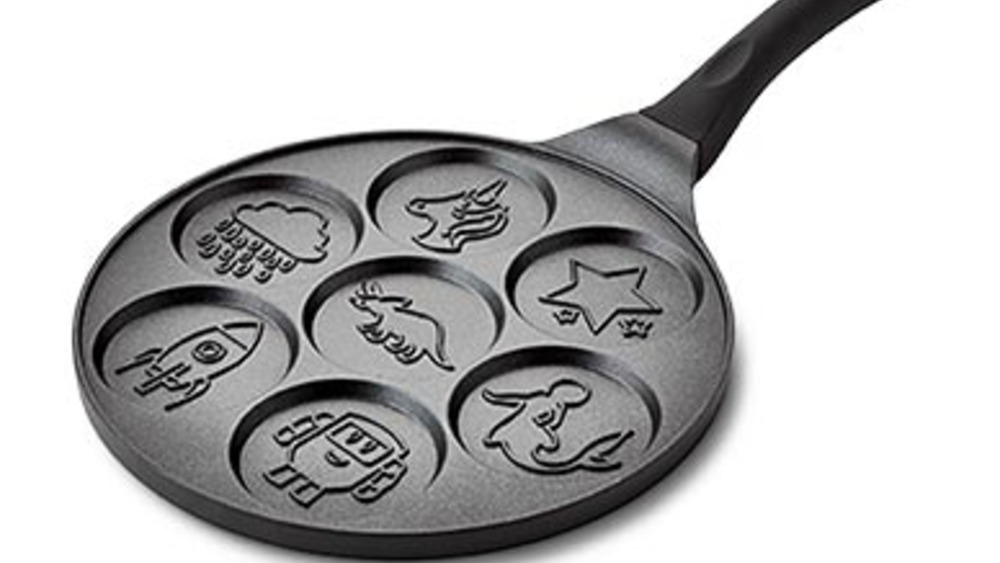 Aldi
Instagram user @naturallyinspiredmamasandpapas raved: "The pancake pan works great for eggs too! Love it," and user @whimblyp agreed: "The pancake pan is awesome! It heats evenly and is just a bit tricky to flip (my spatula was big) I even cooked scrambled eggs in it to make tiny sandwiches. Perfect!" Other followers were also quick to sing the praises of Aldi's new pan. Follower @marychampaigne posted, "We bought the pancake pan this weekend, and it's so much fun!" while @nomadicdoula wrote, "Oooh, I'm coming! Hold one of those pancake pans for me!"
The best part is, you can have all of these delightfully delicious designs for just $9.99 per pan. However, the pan is an Aldi Find, which means it won't be on store shelves for long. So if you want to be able to make yourself an out-of-this-world breakfast every morning, consider heading to your nearest Aldi and grab your own adorably cheerful pancake pan.