The Spicy Condiment Sunny Anderson Always Has In Her Kitchen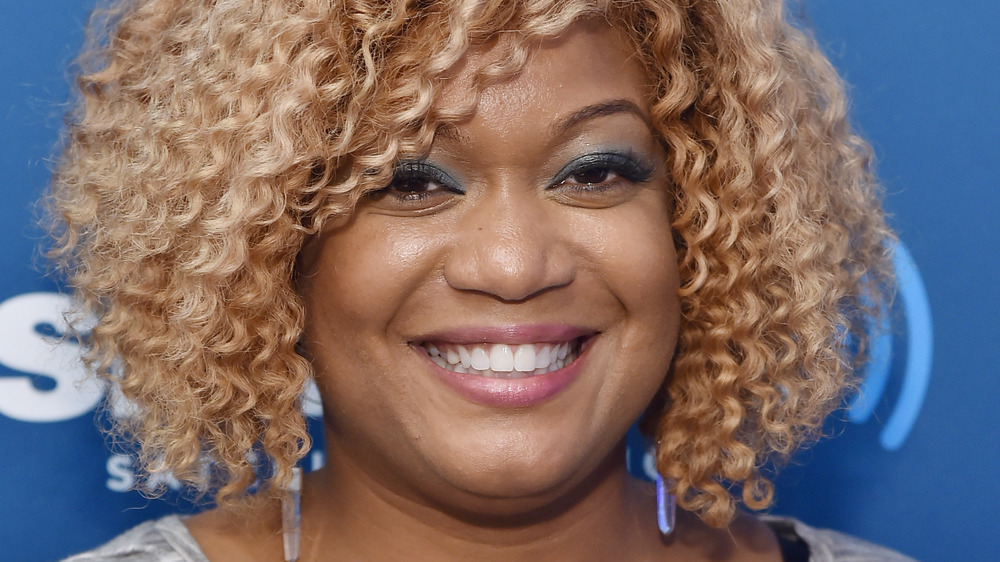 Mike Coppola/Getty Images
Sunny Anderson has delighted Food Network fans on various shows, from Cooking for Real, Home Made in America, to The Kitchen, where she often shares simple, easy food ideas to enhance recipes (via Food Network). In a recent interview with The Kitchn, Anderson shared a variety of pantry ingredients that are always stocked on her shelves. While some items, like canned black beans and even peanut butter, are commonly found in most kitchens, one particular pantry item can boost the flavor in various recipes and deserves prime space upfront. 
Anderson shared that one spicy condiment is always in her kitchen. For her, sambal oelek chili paste or other chili sauces are her go-to for adding a little heat to "gravy, or soup, or eggs, anything like that," (via The Kitchn). That little jar of sambal oelek chili paste might be small in size, but it is huge in flavor. Even just a little small spoonful can be a significant flavor enhancer. Although people might be more familiar with Sriracha, this particular chili sauce can add heat without adding inhibiting the other flavors in a recipe. Isn't it time for you to discover this flavor-boosting ingredient?
How do you use sambal oelek chili sauce?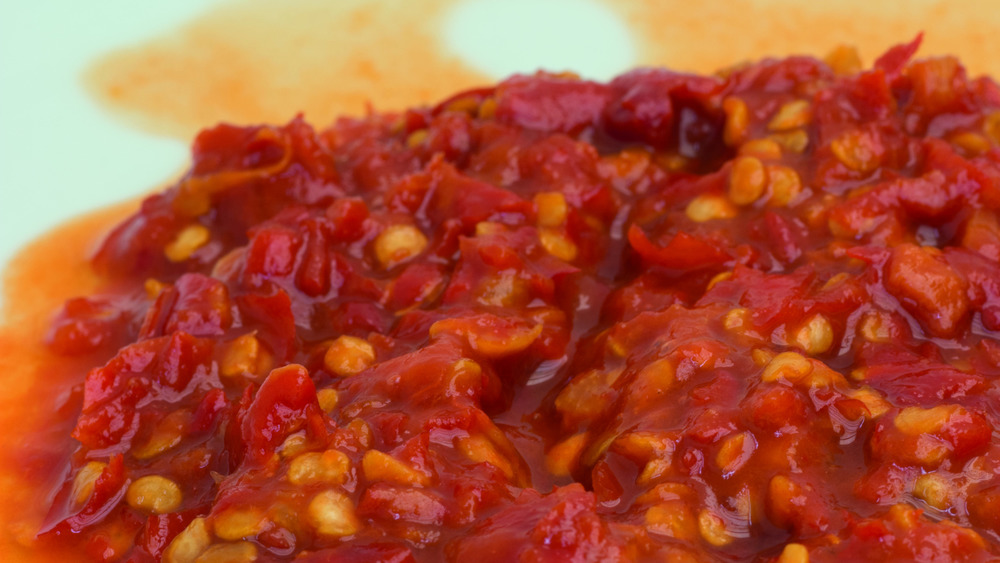 Shutterstock
Combining the Indonesian word for "sauce made with chile peppers" (sambal) and the word for mortar and pestle (oelek), this flavor enhancer tends to be less "acidic" than Sriracha, but offers a bold heat when added to dishes, according to The Kitchn. It's made with hot red chile peppers, salt, and sometimes lemon, sugar, vinegar, and garlic. While the home cook might not want to eat this condiment by the spoonful, the reality is that a little dollop can boost the flavor in many dishes. Often found in the Asian food aisle, it might be time to add a jar to the next shopping trip.
While Sunny Anderson uses sambal oelek in dishes like gravy, soup, and eggs, this condiment has a variety of recipe applications, like in pho, dips, and even a spicy cocktail (via Martha Stewart). Unlike the vinegar qualities of Sriracha, the sambal oelek boosts heat without impacting the other flavors. Although Asian dishes seem like an obvious choice, the reality is its versatility makes sambal oelek a true pantry essential. From marinades to pasta sauces, the creative culinary options are many. Isn't it time to skip another bland bite and add a scoop of sambal oelek?