MasterChef Champ Courtney Lapresi's Genius Hack For Instant Ramen
Courtney LaPresi made a name for herself when the girl from Philly decided to compete on Fox's reality television cooking competition, Masterchef, and was ultimately crowned Masterchef winner for season five of the show. Per Reality TV Revisited, LaPresi had to beat out 22 other contestants and impress the likes of Gordon Ramsay to win $250,000. She did just that and then went on to write a cookbook, titled, Everyday Fancy: 65 Easy, Elegant Recipes for Meals, Snacks, Sweets, and Drinks. While the entertainment site noted LaPresi eventually wound up working at Tesla instead of in a professional kitchen, we discovered she is still sharing cooking tips and tricks on her Instagram page and we are so glad she is. 
One of her posts that has us talking involves everyone's favorite, economically-friendly dish: ramen noodles. The company Instant Noodles reveals that in 2019 around the world we ate over 106 billion servings of these instant noodles, which turns out to be over 290 million servings every day. Fair to assume a lot of people like instant noodles. Well, with LaPresi's hack you may love them even more, and we love how her trick feeds into the whole waste not, want not philosophy. 
Add leftover proteins and vegetables to your ramen noodles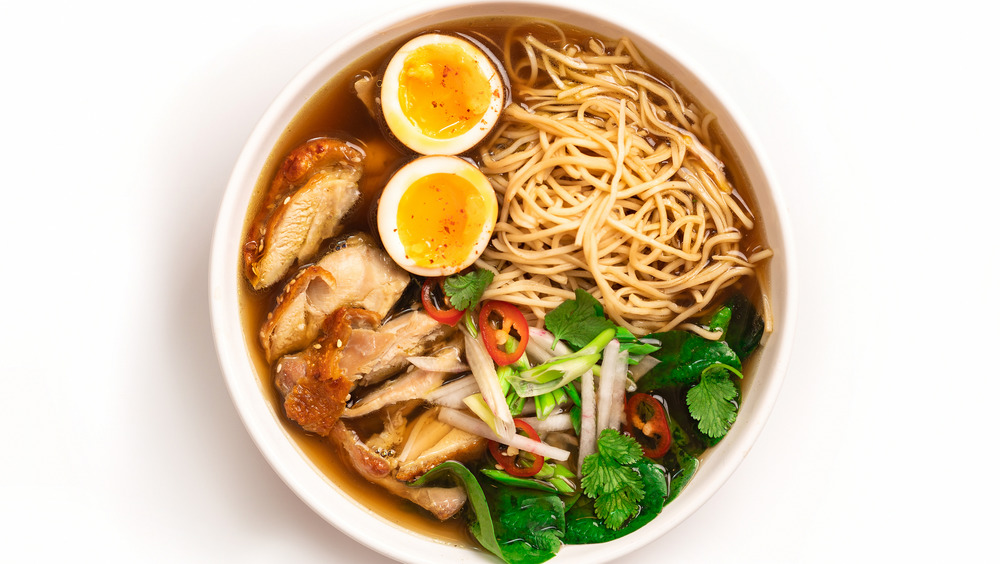 Shutterstock
LaPresi suggested via Instagram that you can use up some of your leftovers and add flavor to your favorite instant noodles by adding a leftover protein from meals past, including those sauced up wings from Papa John's or barbecue joint of choice. LaPresi first asks, "Do you have chicken wings or bbq rib leftovers from yesterday?" Anticipating that your answer is in the affirmative, she continues her caption writing, "Cool! Add them to some top ramen. The dry rub or sauce on the proteins will boost the packet broth, throw in some frozen veg, and an egg, too. I let the egg boil in the pot and then just cracked it in the soup when it was done." 
We think this is a great way to create a truly filling and satisfying meal that is both budget conscious and delicious to eat. Not to mention, what a great way to get the family to eat up some of those vegetables that they would otherwise ignore. And don't worry if you don't have a fancy bottle of wine to drink with your upgraded ramen noodles bowl. LaPresi notes that this flavorful dish, "Pairs well with Netflix." Sounds like the perfect combo to us.