The Truth About Subway's Italian B.M.T. Sandwich
Both affordable and widely available at different franchises, the Italian B.M.T. at Subway has long stood as a simple burger alternative for happy omnivores. Load the 6-inch up with all your favorite veggies — perhaps black olives and spicy peppers — and enjoy the Genoa salami, spicy pepperoni, and Black Forest ham stacked between fresh bread. It's one of the 15 sandwich staples on the American menu (via Subway). For the average Italian B.M.T., you'll come in at a calorie count of around 220 calories for a 6-inch, which is pretty good for a sandwich loaded with meat.
And while ordering the sandwich is pretty straightforward, the name often has people confused. As one Quora poster explains, "...besides the fact that not one ingredient of this BTW is really Italian... It should be absolutely tasty... but it has nothing to do with Italy," (via Quora). So what is with that name, anyway?
To start, sub sandwiches themselves are short for "submarine" because the bread cut looks a lot like a submarine (via Bon Appétit). Subway was originally named after this popular sandwich type, called "Pete's Super Submarines" before it shortened its name to the one we all recognize today.
The Italian B.M.T. is a classic favorite Subway sandwich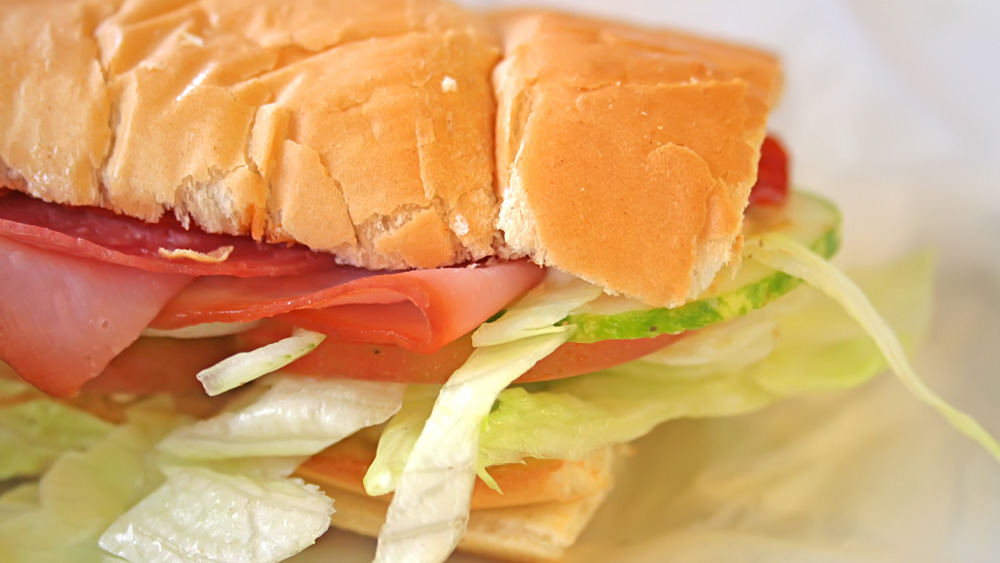 Shutterstock
Many years after moving on from Pete's, the Subway marketing team wanted to emphasize speed and movement, and began using the logo with arrows and decorating the store with maps of the New York mass transit — just like the Subway system (via High Names). The New York theme then inspired the B.M.T of the Italian sandwich. According to Quora guides, this once meant Brooklyn Manhattan Transit, but has since changed to Bigger, Meatier, Tastier to reflect current brand guidelines. "The B.M.T. stands for Biggest, Meatiest, Tastiest, and plays off the Brooklyn Manhattan Transit system, which was part of the theme," poster Lorri Robinson alleges. As for the Italian part, we're guessing this is inspired by Genoa salami?
In October of 2011, the Italian B.M.T ranked among Subway's best-selling sandwiches (Subway via Wayback Machine). At the time, the company served nearly 2,800 sandwiches and salads every minute. Also at this time, Jared was still a spokesman, so take these stats in context. A more recent survey conducted by Mashed found that only 7.62 percent of 656 respondents thought the Italian B.M.T. was the most delicious Subway offering. While tastes have changed over the years, it would appear that the love for this classic sandwich has not. Thousands of Instagrammers all over the world continue to post their sandwich love under the #ItalianBMT hashtag. As one sums it up simply, "My favorite subway sandwich: 6 inch Italian BMT on wheat #dinner #subway #loadedwithveggies" (via Instagram).