Chick-Fil-A Fans Are Losing It Over This Cheesy Spicy Chicken Sandwich Hack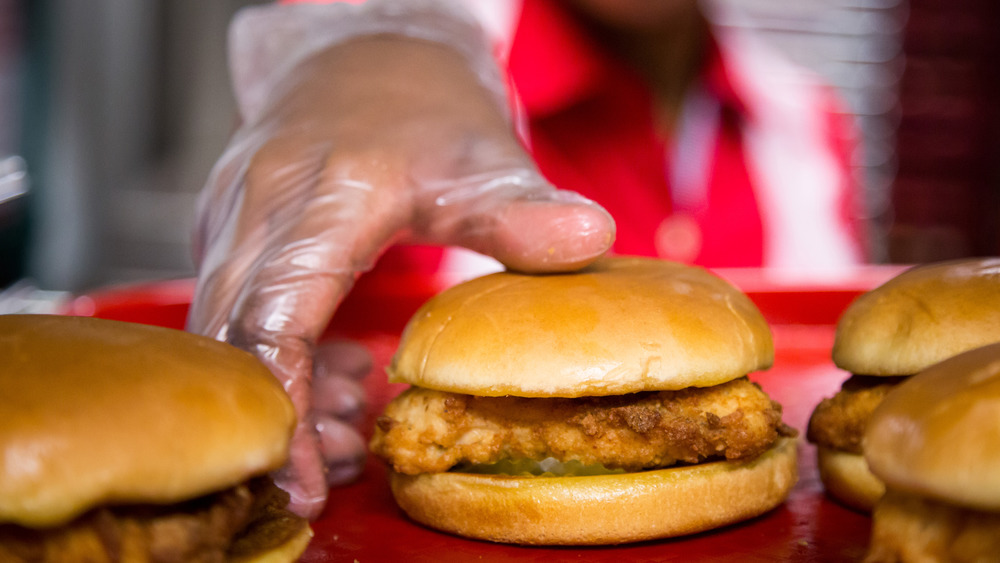 Bloomberg/Getty Images
If you asked, the nice people who work at Chick-fil-A surely would be happy to add a slice of cheese to your chicken sandwich. The deluxe sandwich, in fact, already has a cheesy option right on the menu. But for the ultimate in extra cheese (and extra carbs), you might want to follow the lead of the social media account @grubspot, which specializes in decadent fast food hacks.
In a video @grubspot posted to TikTok on March 14 and then to Instagram, you see well-manicured hands pull a spicy chicken sandwich out of its Chick-fil-A foil bag. (When you have 1.8 million TikTok followers, proper hand care is important.) After opening up the sandwich, this @grubspot representative dumps a full order of Chick-fil-A mac and cheese on top of the fried chicken breast, then douses the sandwich's insides with the chain's Buffalo sauce. It looks a bit much, but then again this is from an Instagram account that shows someone dipping Raising Cane's chicken fingers, Texas toast, and French fries into a milkshake — all at the same time.
This Chick-fil-A spicy chicken sandwich mac-and-cheese hack is too much
The Chick-fil-A chicken sandwich and mac-and-cheese hack (more of a plop than a hack, but whatever) got the attention of @grubspot's social media followers. "Too much power, man," a commenter on Instagram said. If by "power" they meant "unhealthy stuff," then this commenter is correct. If you go to Chick-fil-A's nutrition facts page and add up the numbers for a spicy chicken sandwich, mac and cheese, and Buffalo sauce, you get half the calories and all the fat a person should eat in a day (via Cleveland Clinic), and more than the recommended sodium intake (via FDA). In other words, it may not be illegal for Chick-fil-A to put this hack on its official menu, but it may need a warning label.
While @grubspot on Instagram got a few "I can feel my stomach bubbling up" and "I almost threw up" comments, a lot of followers were loving the towering, messy, Chick-fil-A hack. "That's [fire emoji] but you gotta put another chicken filet in that sandwich," a commenter said. "Only thing that's missing is bacon," another said. For some people, there's no such thing as too much.
A large number of commenters on both the Instagram and TikTok accounts had the same complaint: @grubspot recommended this Chick-fil-A hack on a Sunday.