The Truth About Anthony Bourdain And Adam Richman's Relationship - Exclusive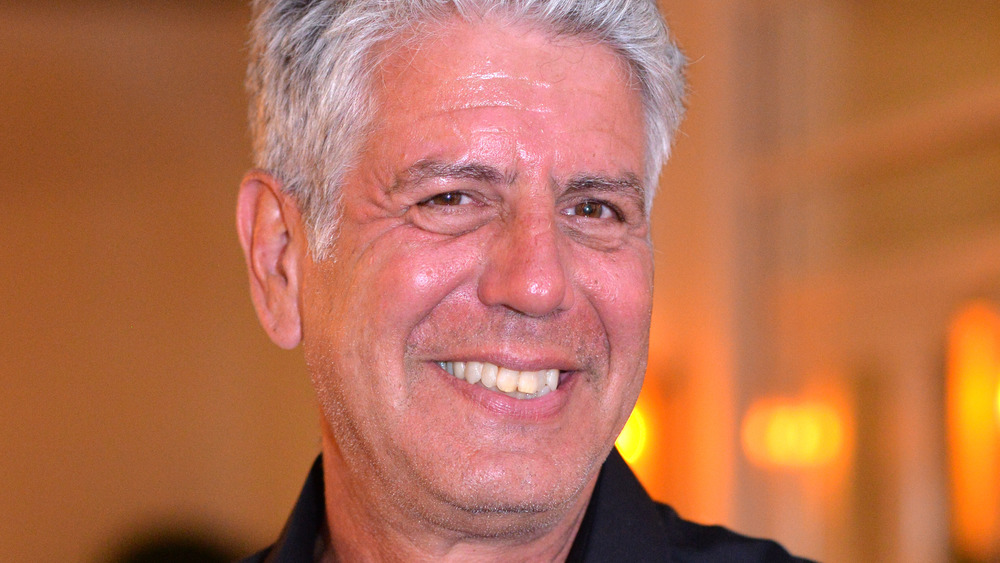 Dylan Rives/Getty Images
If you've ever heard Anthony Bourdain's comments about Man v. Food, you probably wouldn't believe that he and host Adam Richman were very good friends. Bourdain had no problem sharing his opinions about the show, suggesting that it highlighted some of the worst things about America, as reported by the LA Times. But the truth is that Richman and Bourdain had a unique and real friendship.
In an exclusive interview with Mashed, Richman opened up about their relationship, which goes back to the early days of their TV careers. "When I started at Travel Channel, Andrew Zimmern, Anthony Bourdain, and Samantha Brown were on the network. And most food shows were on the Food Network. So it was just me, Tony, and Andrew," Richman explained. And while Bourdain may not have respected Man v. Food, it seems he was fond of the man behind the show. Richman told us, "Tony didn't like Man v. Food. He liked me. And he made that very, very clear." Richman went on to share some of his favorite memories of Bourdain with us, as well as the impact the food media icon had on Richman's life and career.
Richman and Bourdain developed a friendship behind the scenes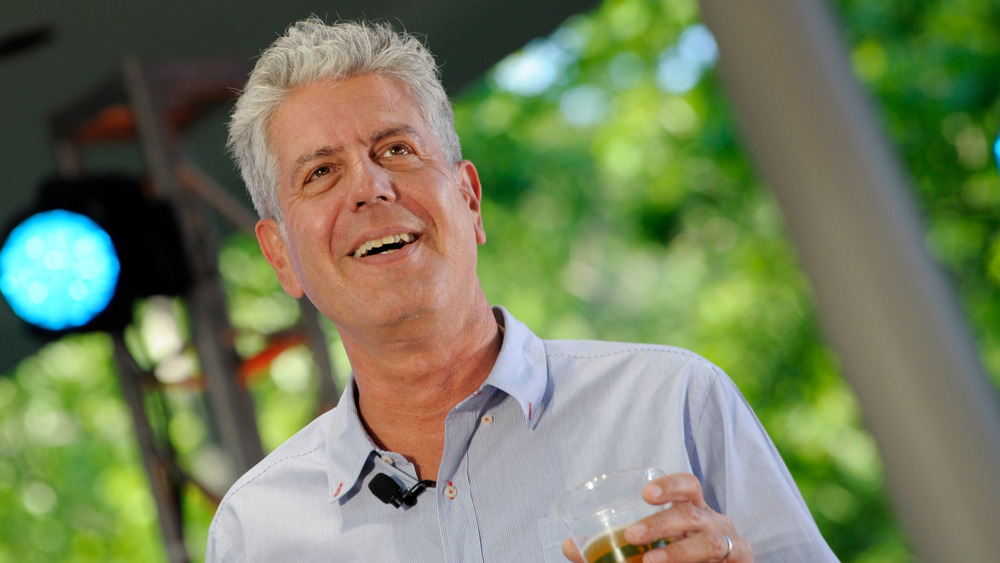 Ilya S. Savenok/Getty Images
Despite some professional differences, Adam Richman says he and Anthony Bourdain developed a friendship over the years, to the point that Richman could casually call up Bourdain for restaurant recommendations. We're thinking that's not something Bourdain would do for just anyone, and that relationship is something Richman does not take for granted. "I mean, I was spoiled in many respects," Richman told Mashed, "to be able to say like, 'Oh! The last time I saw him, I was filming in Rome. Found out he was in Rome, shot him a text, went by his hotel...' being able to be in Saigon and text Anthony Bourdain, 'Where should I eat? And what do you love?'" Richman says he and Bourdain shared mutual friends as well. "I would text him pictures like, 'Look who I'm with.'"
As Richman explained to us, he and Bourdain were in lock step in many ways when it came to traveling and filming in the early days of his career, and developed a bond through that shared grind. Richman even revealed "his crew and my crew had a little bit of an unofficial competition for who can tell the most tasteless jokes." He wouldn't share any of jokes with us though, admitting "they were hard, like hard... land in your therapy type humor."
Richman says he and Bourdain shared similar approaches to their work
A lot of the content Anthony Bourdain produced, especially in the later years of his career with Parts Unknown, wasn't meant to be especially glamorous — but it was real, and intimate, and enlightening on so many levels. Adam Richman expressed his admiration for Bourdain and his team's ability to connect with people, and tell great stories as a result.
Richman recalled a time that Bourdain was filming in a small village in Brazil: "his crew has to freestyle rap... with the gangsters, as much as they flirt with the old ladies, as much as they buy the pasteles... the cookies that they're never going to eat. But just to show we're part of you. We're here. We're here to celebrate you so it doesn't seem like this jarring, we're putting you under a microscope thing."
That attitude is something Richman says he identifies with, telling Mashed, "our approaches to the environment and the stuff that you don't see" on TV were similar. "So much of what happens while they're setting up the camera is crucial to what happens once the cameras are rolling. And [Bourdain] got that," Richman explained, adding that he also knew Bourdain "appreciated the way I did that."
Richman almost followed in Bourdain's footsteps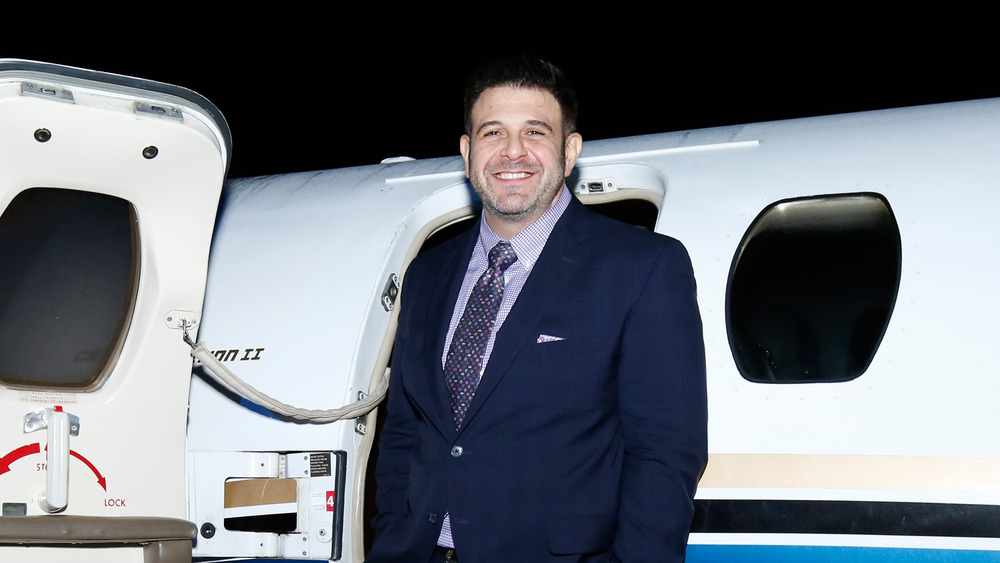 Cindy Ord/Getty Images
Regardless of what Anthony Bourdain may have thought of Man v. Food, he saw potential in Adam Richman's career early on. Richman explained to us how Bourdain once actually tried to hand him a major opportunity.
From 2011 to 2013, Bourdain hosted a show on Travel Channel called The Layover (via IMDB), where he showed off the best ways to spend a short trip in some of the most popular cities around the world. And as Richman puts it, "he told me the plan was he was going to give me the show." Richman says Bourdain "had the idea that he would start the episode, I'd meet him on The Layover. We'd spend time together. He does a brilliant Anthony Bourdain monologue, and then leaves. And then I would take the show."
Clearly that opportunity never quite panned out for Richman, but the anecdote certainly goes to show the depth of his and Bourdain's relationship on both a personal and professional level.
Richman says we can all learn from Bourdain's life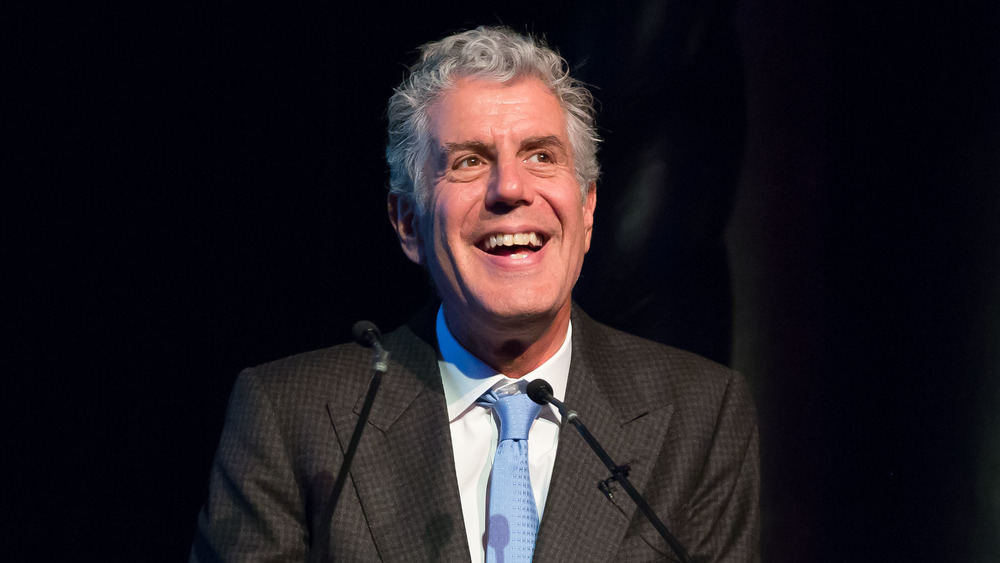 Ben Hider/Getty Images
For Adam Richman, like many in the food media world, Anthony Bourdain's passing in 2018 was extremely difficult to process. "For a long time, I couldn't talk about it," Richman admitted, "because everybody wanted to talk about this icon of peripatetic food adventure who had died. And I just didn't. My friend was gone."
Now, Richman can fondly say he learned a lot from Bourdain in the time that he got to know him, and that there is a lot to take away from his legacy. "What a life he led, and what a life he set for us to lead," Richman praised. "I like the fact that Tony would just sometimes rock the boat to rock it. And I think if you have a little [attitude], and you need to, it's okay to." Richman went on to add that "even in his passing, I think [it] makes us aware of things like mental health and reaching out to others, and how what you see from the outside of the fence is not necessarily what's going on inside."
Richman says he's still trying to embody Bourdain's lust for life in his newest show, Modern Marvels. "That's why people laugh when I film this show," he explained, adding "I'm sucking the marrow out of every moment. But if Tony's example has taught us anything, that's the only way to do this."
If you or someone you know is struggling with mental health, please contact the Crisis Text Line by texting HOME to 741741, call the National Alliance on Mental Illness Helpline at 1-800-950-NAMI (6264), or visit the National Institute of Mental Health website.
You can find Adam Richman on Modern Marvels and The Food That Built America, both on the History Channel and streaming now on history.com.