The Real Reason Olive Garden Keeps Bringing Back Its Never Ending Pasta Bowl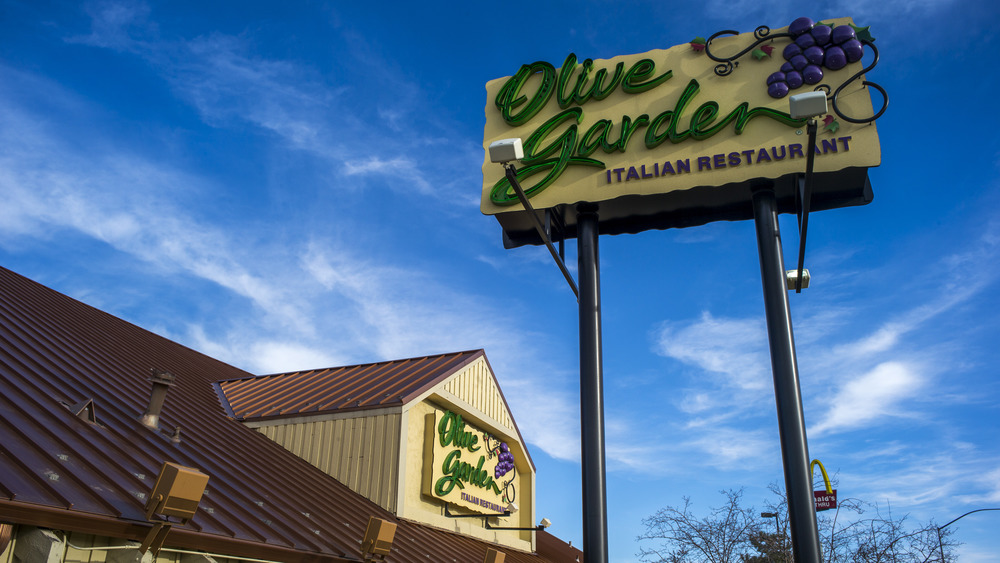 Bloomberg/Getty Images
Everyone's favorite Italian-American bistro chain got a whole lot more popular when they started serving the notorious Never Ending Pasta Bowl. This deal not only includes over 100 combinations of endless pasta and sauces but also soup or salad and breadsticks, Olive Garden proudly describes on its website. Heading to Olive Garden is accepting your fate as a couch potato post pounds of pasta and garlicky breadsticks.
What started as a one-day event back in 1995, according to Today, has turned into a quarter-century-long campaign that has created a borderline cult following. The real money maker has never been the dinner checks, but the Never Ending Pasta Bowl passes. Olive Garden began selling passes for $100, which allowed the lucky pass holder to enjoy unlimited Italian meals during the nine-week designated period. In the past, an unlimited pasta bowl was $10.99, so as long as you craved pasta noon and night, it's been the deal of a lifetime.
The limited supply of Never Ending Pasta Bowl passes would rarely last more than a few minutes before selling out, MarketWatch tells us. Although, when Olive Garden tried something different in 2019, the restaurant chain didn't see the same attraction and as a result, their sales suffered.
Olive Garden has a pattern of reeling us in with copious amounts of food
In July 2019, Olive Garden decided to give a promotion it had tested in 2018 another try – "Lasagna Mia". This personal, customizable lasagna didn't succeed as they hoped. The company's chief financial officer even admitted to investors that they "didn't hit the mark on Lasagna Mia," according to Insider. Olive Garden revisited heaping piles of pasta shortly after the rollout of the Lasagna Mia. In August 2019, they upped the quantity of Never Ending Pasta Bowl passes from 23,000 to 24,000.
Just when pasta lovers thought the deal couldn't get any better, Olive Garden introduced the lifetime pass – a gold card that screamed pasta luxury. For a total of $500, Olive Garden fanatics could purchase a lifetime pass that granted them unlimited pasta during the nine-week promotional period for their entire life. Only 50 lucky fettuccini fans would be chosen for this lifetime pass. Considering over 20,000 of the Never Ending Pasta Bowl passes sell out at rapid speed (MarketWatch says customers bought them up in one second in 2019), it seems almost impossible to score a lifetime pass.
The pandemic put the pasta buffet deal to a halt in 2020 (via CNBC), but we don't think anyone will be surprised to see the Never Ending Pasta Bowl advertised again, considering how much money this promo has brought the company over the years.