Rachael Ray's Distractions While Cooking From Home Are Too Relatable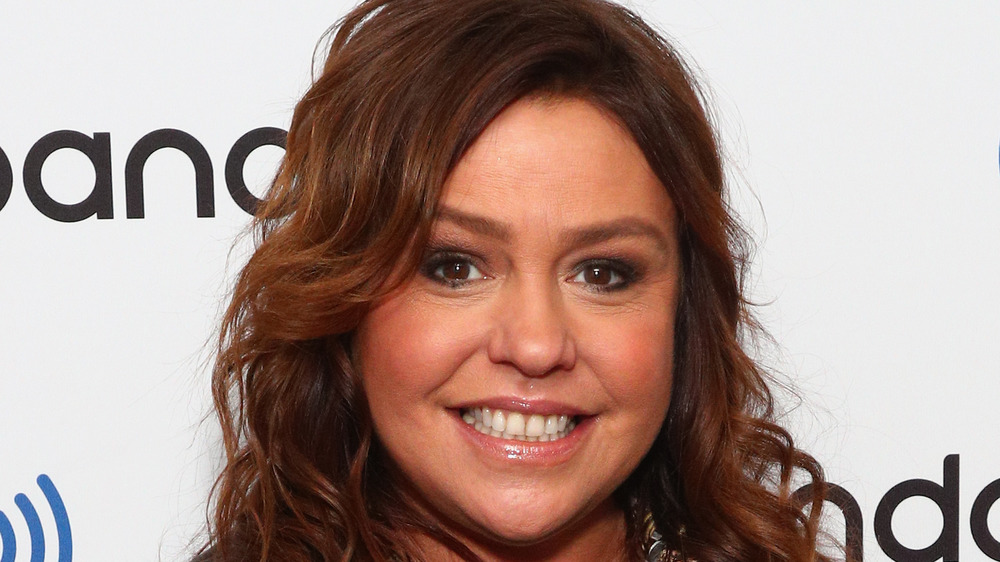 Astrid Stawiarz/Getty Images
What makes Rachael Ray so popular? You can't argue with Ray's enduring success: Her Rachael Ray show has aired more than 2,500 episodes since debuting in 2006 (via Biography). In a word, she's relatable. She didn't go to a fancy culinary school, and she doesn't demand that people address her with "Yes, chef!" and "No, chef!" But she did grow up working hard in commercial kitchens. She says she thinks of herself as "a waitress in my heart and a cook in my soul" (via Showbiz Cheat Sheet).
Another thing people like about Rachael Ray is that her recipes are quick and easy – perfect for families that don't have a lot of time or fancy gadgets. Rather than urging you to hop on the trend and buy a sous vide or air fryer, Ray tells her fans they will get along fine with three things: a knife, a cutting board, and a set of pots and pans, and maybe a food processor, too (via Showbiz Cheat Sheet).
As The New York Times pointed out at the start of Ray's television career, her shows were full of amateurish mistakes – she clangs pots, and she drops things on the way from the refrigerator. "I never said I was the greatest thing ever," Ray told the Times. "I just think people should be able to cook even if they don't have a bunch of time or money." Now that's relatable.
Rachael Ray's work-from-home distractions: a buzz saw and a washing machine
Rachael Ray has built an empire with a lack of polish and professionalism, and an ability to laugh away mistakes. That may be why she hardly missed a beat during COVID-19 quarantine when Rachael Ray had to be filmed in her home (via Rachael Ray magazine). As anyone who's been forced to work from home can confirm, unscripted snafus are an everyday part of the experience. Everyone has a story, whether it's cats, kids, or the occasional naked spouse disrupting an otherwise serious and professional Zoom meeting (via ET).
The Rachael Ray show's Instagram account posted a work-from-home blooper clip on March 22. A camera was trained on whatever dish Ray was preparing when her banter was interrupted by some high-pitched beeps. "Oh, laundry's done again. Sorry about that," Ray remarked. Then she paused to reflect on all the interruptions this work-from-home day had brought."Did you hear before, a tree fell in the front yard? It could have crushed the house, by the way. They were using a buzz saw before, and now the laundry's done. Welcome home! Just like your house, right?"
You're right, Rachael Ray. And this little moment of relatability was well received by the Instagram commenters. "I love you Rachael," one of them said. "You're so real!"