Red Lobster Just Added Wagyu Beef To Its Menu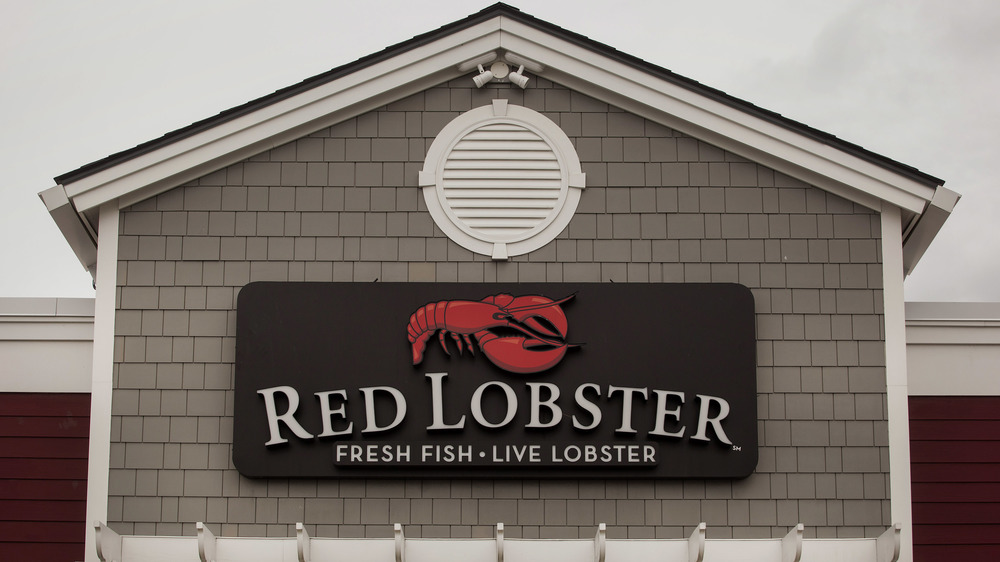 Bloomberg/Getty Images
You might want to save that third Cheddar Bay Biscuit for later. Red Lobster has added a Wagyu beef cheeseburger to its menu, and it might be hard not to finish in one sitting. White cheddar melts on top of the burger patty, which is served inside of a toasted brioche bun with crispy bacon, crunchy lettuce, and juicy tomato (via the Red Lobster website). Round it out with your choice of side, from sea-salted French fries or crispy Brussels sprouts to green beans or lobster mashed potatoes.
The Red Lobster menu doesn't specify whether the Wagyu beef comes from Japanese or American cows, but based on the $12.99 price point (via Brand Eating), it's likely sourced from United States Wagyu cattle. Wagyu cows, which are native to Japan, metabolize fat in a way that creates an intensely marbled beef with a buttery texture and slightly sweet flavor, according to Robb Report. Though these cows were imported to the U.S., they're often bred with angus cattle. This means that American Wagyu beef is still highly marbled, but slightly lower quality than Japanese Wagyu and therefore less expensive.
What people are saying about Red Lobster's new Wagyu beef cheeseburger
Red Lobster diners seem to be reacting to the new menu item with enthusiasm. "I work at Red Lobster and I get this on my employee discount all the time. So yummy!!!" Instagram user @thesavchamberlain commented on the seafood chain's photo of the dish. Another user called it the best burger they had ever had.
Brand Eating reports that Red Lobster launched another new bacony menu item along with the burger: bacon-wrapped sea scallops. The golden seared mollusks are served as an appetizer with a small green salad, according to the Red Lobster website, and you could order them to properly round out your burger meal at the seafood restaurant. If you'd rather not dine inside, the chain is offering both new menu items for take-out and delivery. Every to-go main course comes with two Cheddar Bay Biscuits, so don't worry, you'll get the full warm and cheesy Red Lobster experience.