Here's How Much Five Guys Employees Really Make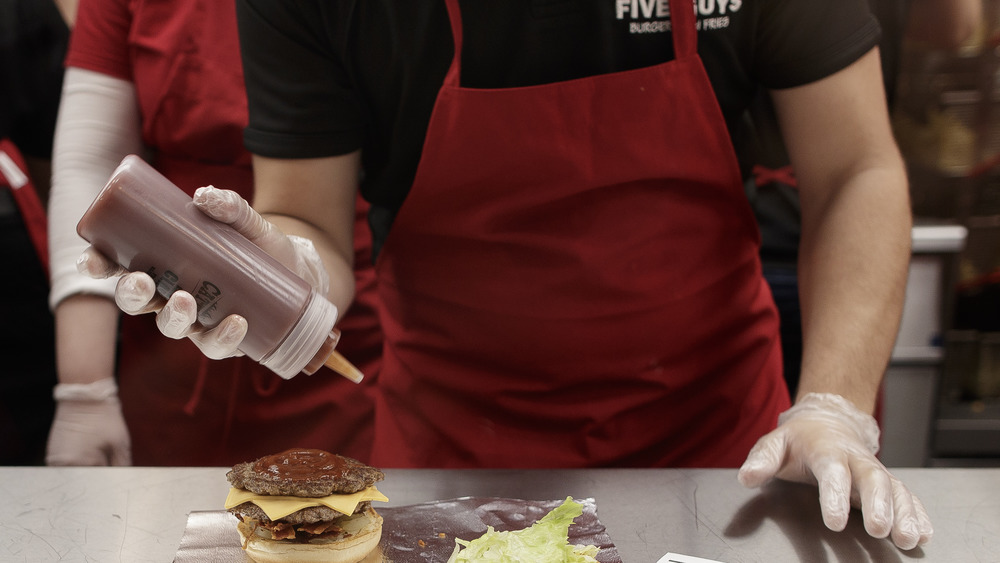 Eduardo Parra/Getty Images
If you're one of the many people who flood the lobby of your nearest Five Guys each week, then you know that chomping down on one of its burgers is a true delicacy. And according to the official Five Guys website, the restaurant — which was founded in 1986 by Jerry Murrell — perfecting its "simple system" can be thanked for that. Only using fresh ground beef and peanut oil when creating its menu items, the Five Guys legacy of providing "a fresh, juicy burger with all the toppings you could stuff between fresh-baked buns" continues to reign supreme over 30 years later.
Murrell said in an interview with Inc. that he studied French cookbooks to learn how to make the best version of a french fry that he possible could, and the 2014 article noted that the restaurant still uses "the best ingredients" today, which can sometimes cause the company to "raise prices to reflect food costs." But even with fluctuating prices, the brand has still established a sort of cult following that cannot be broken.
With all of this in mind, however, does that mean that the restaurant — which Forbes notes has landed on its "America's Best Employers 2021," "Best Employers for Diversity 2020," "Best Employers for New Grads 2019," "America's Best Employers By State 2019," and "Best Employers for Women 2018" — supplies its workers with the pay that they're deserving of? Well, as 2012's "fastest growing food chain in the country" (via Thrillist), you would think so, right? Maybe.
Area managers make almost double the amount of general managers at Five Guys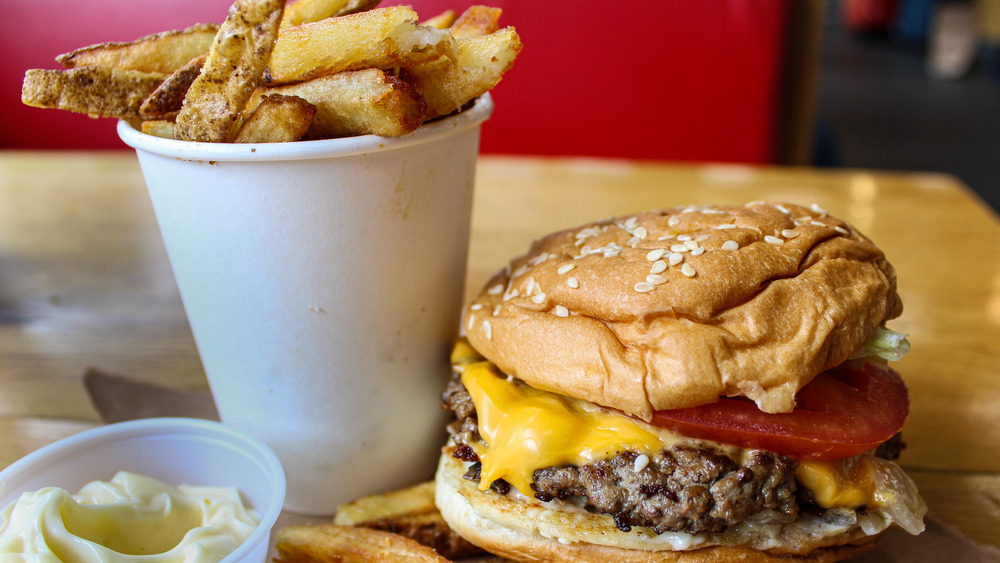 Shutterstock
According to Indeed, if you're interested in joining the Five Guys team, you can expect to get paid an average hourly amount of $9.62 for cooks and $10.95 for crew members. Though that may seem fair, when compared to the amount that Smashburger employees make, it's actually quite low. The same goes for restaurant staff members and cashiers, who only make an average of $11.80 and $9.35 an hour, respectively.
And what about those who have a little more responsibility? That's actually where the pay starts to increase. Shift leaders can bring in about $12.57 per hour, while shift managers make $13.17. General managers, however, get over $2.50 more with their hourly rate being $15.95. Depending on who you are, the $58,858 yearly salary (or $30.51 hourly rate) that area managers make could be impressive, but that's truly all about perspective. As always though, these rates are all subject to change based on a number of factors including location, experience, and required job duties. But, if the option to have unlimited fries and burgers is one of the perks of the job, sign us up.