Andrew Zimmern Adds This Boozy Ingredient To His Bread Pudding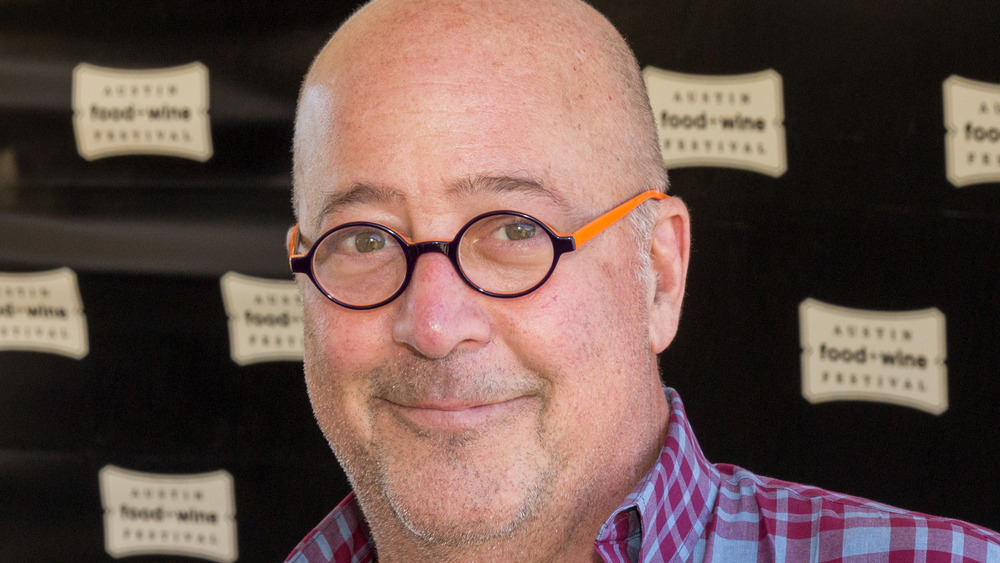 Rick Kern/Getty Images
Andrew Zimmern is known for the bizarre foods he willingly allows to enter his mouth. The gastronomic daredevil and cookbook author is pretty adventurous when it comes to putting his tastebuds to the test. The Daily Meal shares that Zimmern has no fears when it comes to the seemingly unappetizing. From salted tuna sperm to cow placenta and urine to fermented sheep's head, Zimmern appears to have an iron palate and stomach that can handle foods that cue our gag reflex.    
But while the celebrity chef may have built his reputation on eating strange foods, Zimmern also chows down on some pretty normal foods, too. In fact, it's fair to say that the James Beard Foundation Award-winning television host (via Food Network) who calls Minnesota home knows a thing or two about comfort foods or, per his website, what he calls "food with a hug." He also knows a bit about how to add a little something-something to make some of our tried and true favorites a touch more sophisticated. That's the vibe we're feeling when it comes to this boozy element that Zimmern adds to his bread pudding, and we think you'll find that it changes this traditional comfort food into a next-level dessert or breakfast treat.  
Irish whiskey is the secret to Zimmern's recipe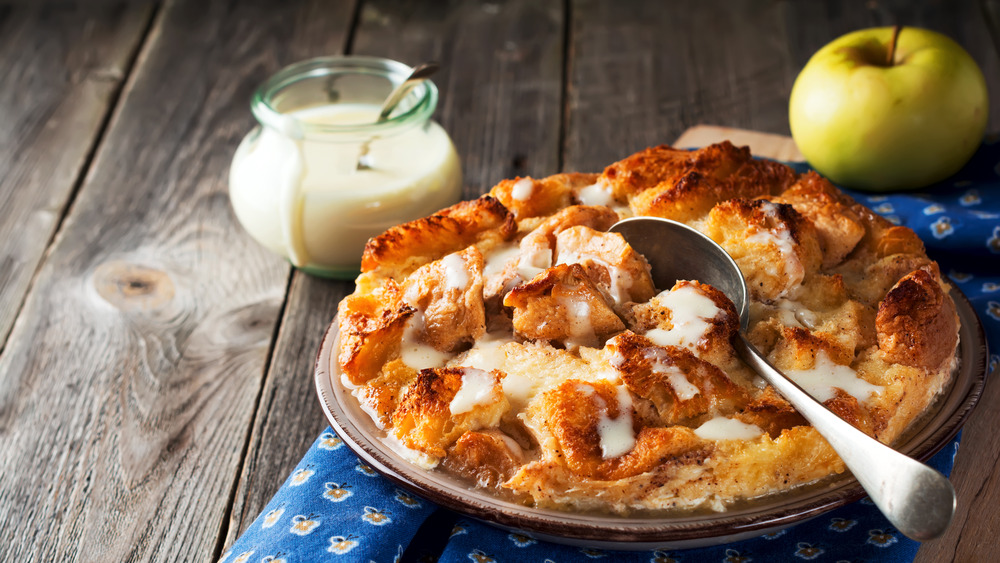 Shutterstock
Zimmern shared on his website that bread pudding is a great way to use up leftover bread and feeds well into his no-waste philosophy, which he has openly discussed on his Facebook page, saying, "Food waste is a problem at every level, from the farm to the wholesaler to the grocery store to your house. Forty percent of food produced in the US ends up in the landfill! We can all do our part to help." So, this is a great reason to swipe away the guilt and enjoy this dish. But it's the Irish whiskey that Zimmern adds to his bread pudding and its sauce that's the real game changer.
Zimmern soaks the raisins in the Irish whiskey and then drains them, but, again with his "waste less" creed, Zimmern reserves the drained whiskey and adds some of it to the vanilla sauce that is used to drizzle over (or drench) your warm bread pudding. Zimmern calls this whiskey-spiked dessert a "decadent addition to your holiday spread" and while we couldn't agree more, we also think this is one of those recipes you can pull out for a nice Sunday brunch, too.