Here's What You Should Be Adding To Asparagus Soup, According To Martha Stewart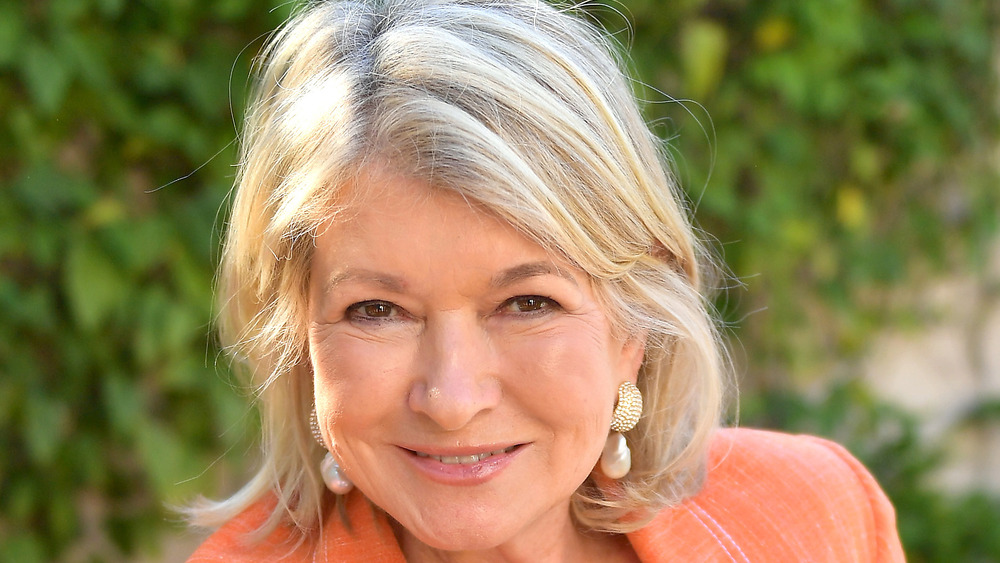 Matt Winkelmeyer/Getty Images
Every season is soup season! It's comforting, flavorful, and full of healthful ingredients. Soup can be made at home at any time, for any meal, and for any occasion — even if there's nothing to celebrate. One of the best parts about soup is that it's an extremely versatile category; you can whip up a delicious bowlful or batch with just about anything in your kitchen.
Asparagus soup, for one, makes an excellent starter course or meal on its own. It's creamy, fragrant, heartwarming, and belly-filling. Asparagus is a multi-talented vegetable that can be easily incorporated into your diet.
Plus, as Healthline reports, asparagus is low in calories, high in vitamin K and folate, and offers tons of nutritional benefits. It supports digestive health, reduces the risk of high blood pressure, heart disease, and diabetes, and can help aid in weight loss. All around, asparagus adds an impeccable flavor, aroma, and body to any dish it touches, such as salads, sandwiches, and of course, soups. Unsurprisingly, domestic goddess, businesswoman, and television personality Martha Stewart has an incredibly delicious recipe for asparagus soup that features a few unique touches.
What does Martha Stewart add to asparagus soup?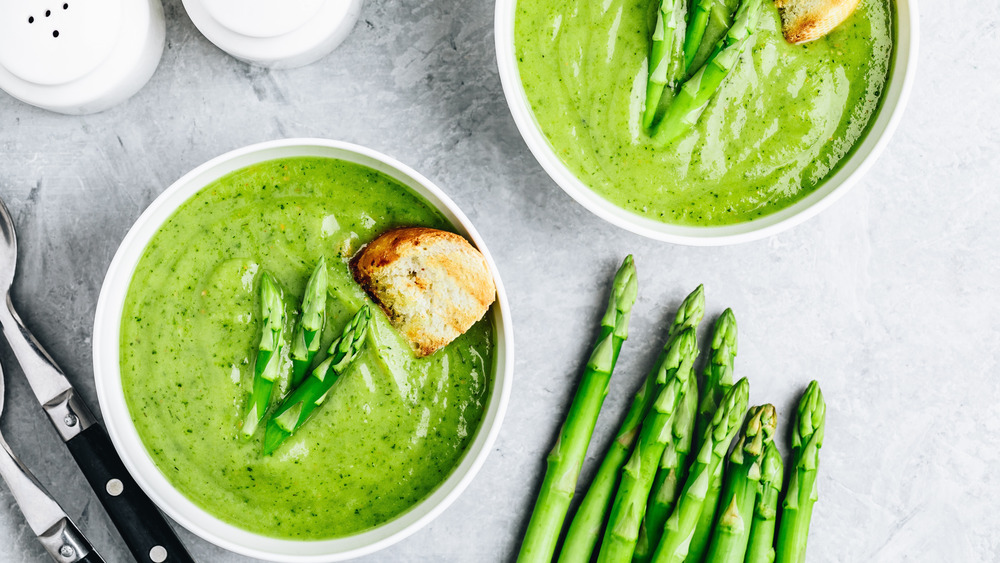 Shutterstock
Martha's asparagus soup calls for two unique ingredients that are sure to amp things up a bit. In an Instagram post shared by Stewart's brand, the caption states that the soup gets "its subtle sweetness from leeks and shallot." The caption also explained that Stewart likes to top it with crème fraîche before digging in. 
Leeks and shallots are allium vegetables that, according to Stewart, possess distinctive flavors and add brightness, depth, and zest to any fare. Leeks and shallots are a bit milder and sweeter than their cousin, the onion. Leeks are bright green and crunchy, and shallots sport a reddish-brown exterior hue and have a firm texture. They are both easily softened over heat, making them easy to purée into soup.
Stewart's recipe for asparagus soup is super simple to make and calls for just a few easy-to-find, good-for-you ingredients. All you need is unsalted butter, leeks, shallot, kosher salt, pepper, asparagus, and vegetable broth. After topping with that tangy crème fraîche and basil, serve hot with some crusty bread and enjoy!