Pickled Eggs Recipe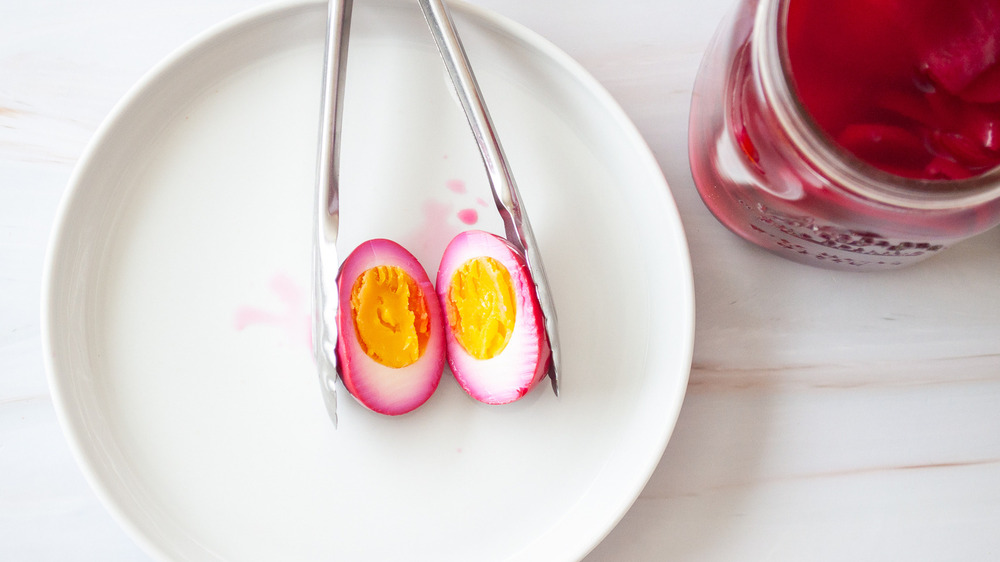 Laura Sampson/Mashed
Want your next salad or sandwich to truly wow your guests? This make-ahead recipe from food blogger Laura Sampson of Little House Big Alaska is the perfect way to lend a pop of color and flavor to any meal. We're talking beet-pickled eggs, and before you click away thinking this recipe is going to be highly technical or require expensive equipment you don't have, just give us one second of your time. Cool? Cool.
Beet-pickled eggs boast a bright pink color that comes from an all-natural pigment: the betalains in red beets. Betalains aren't just pretty (and, er, unwashable — careful with your white t-shirt!), but they also boast a range of health benefits. That's a great excuse to crack open a brewski or two while you wait for them to be ready. Because yes: As you might imagine, there is a bit of waiting involved in making these eggs. But with a bit of patience, you'll be rewarded with beautiful eggs you can slice and arrange atop a green salad, on an open-faced sandwich, or even enjoy plain as a healthy, protein-rich snack.
Gather the ingredients for beet-pickled eggs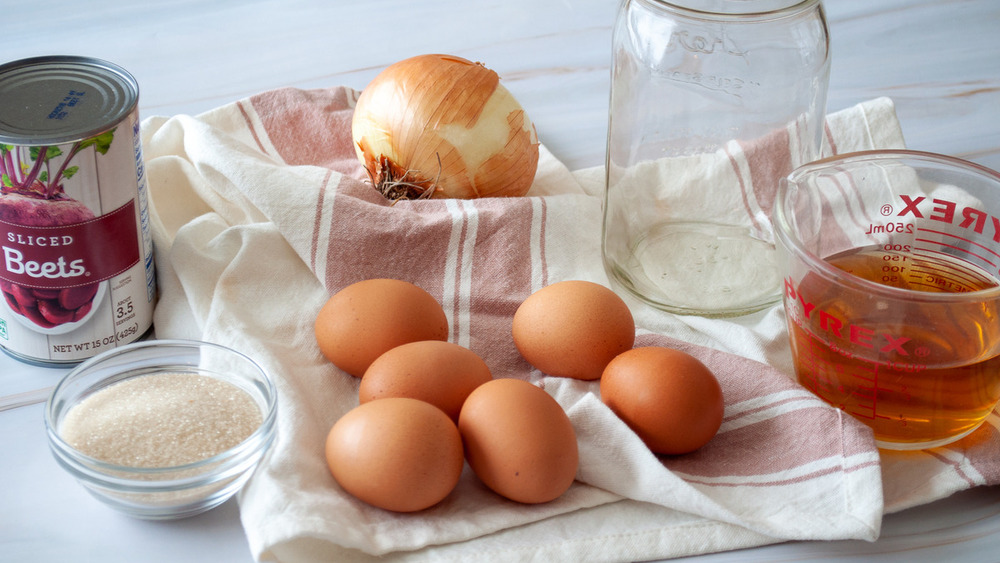 Laura Sampson/Mashed
First off, assemble the ingredients for your beet-pickled eggs. It's a relatively short list relying on canned beets and relatively mild apple cider vinegar. Sampson notes that she loves changing up the vinegars for a different flavor. The oxidative aromas of sherry vinegar could be a fun twist, or red wine vinegar could add even more color.
You'll also need some hard-boiled eggs. Everyone seems to have their own method for making them, whether that means starting in cold water or hot or boiling for eight minutes versus ten. Sampson's method begins by starting the eggs in cold water and bringing them to a boil. Then she cuts the heat and allows them to sit for 12 minutes. This results in perfectly cooked eggs with nice, creamy yolks.
Make the brine for the pickled eggs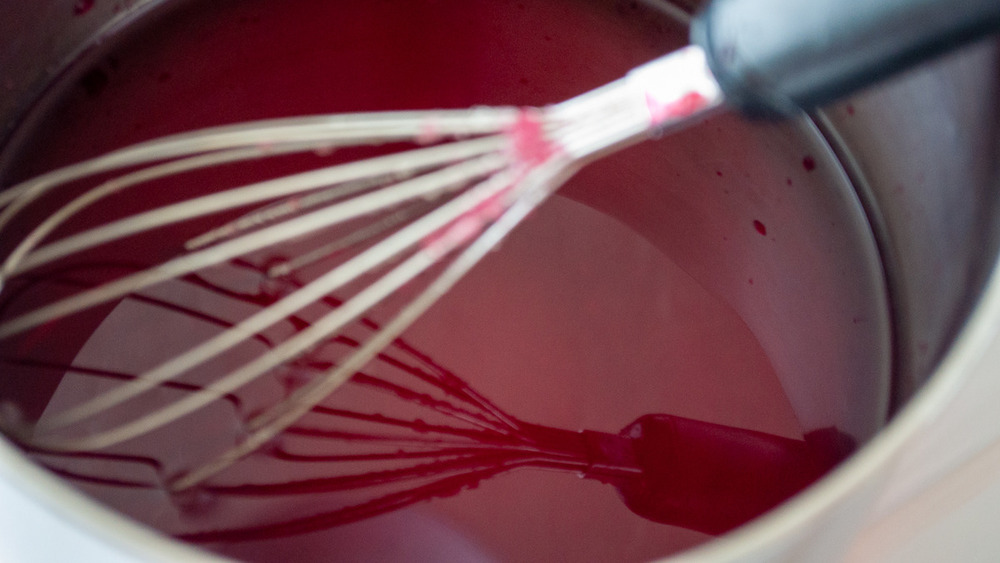 Laura Sampson/Mashed
Next up, it's time to make the brine for the pickled eggs. The vinegar, sugar, and juice from the sliced beets are simmered with the onions for just fifteen minutes. This, Sampson explains, "takes off the sharp, raw edge to the onions." She says, "You could use raw and skip that part, but I prefer a slightly sweeter, gentler approach to onions."
Of course, if you've got onion-haters in the house, you could leave them out entirely. You can also change up the brine by adding allspice, cloves, and star anise to make what Sampson describes as a "super spice-pickled egg."
Layer the beets and eggs in the jar for this pickled eggs recipe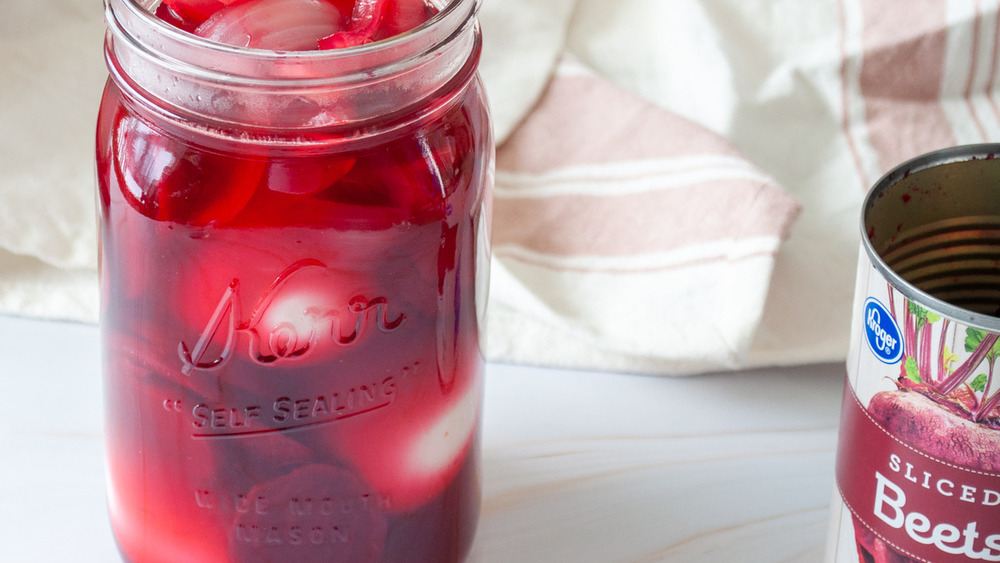 Laura Sampson/Mashed
Now it's time to layer the beets and eggs in a quart canning jar. Start with two eggs, topping them with beets. Add the rest of the eggs, followed by enough beets to reach about an inch below the top of the jar. Then pour in the liquid, including the onions, which Sampson notes are a delightful addition to any cheese plate or salad.
Pour in the brine ... and the waiting begins.
Wait for your pickled eggs to finish brining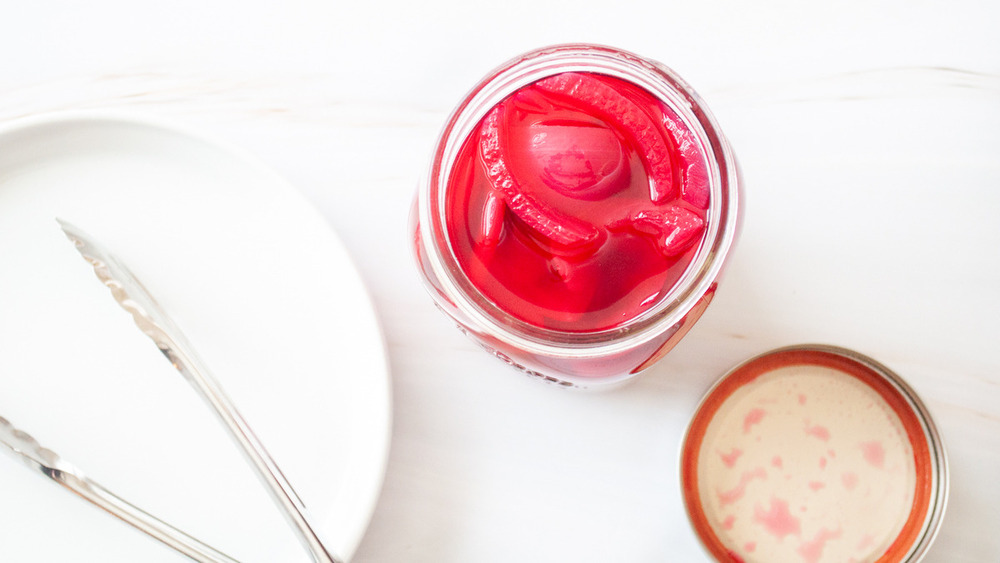 Laura Sampson/Mashed
Patience is key at this stage of the game. These eggs need to chill for at least 48 hours to take on the flavor and color of the brine. Keep the jars sealed so that the aromas don't get soaked up by the other food in your fridge while time does its magic.
Sometimes, the eggs can push up against the sides of the jar, which won't allow the brine to fully surround them and color them. While Sampson notes that "white spots are just part of the rustic charm of pickled eggs," she also suggests shaking them once or twice a day to move them around a little bit and keep their coloring as even as possible.
Serve your pickled eggs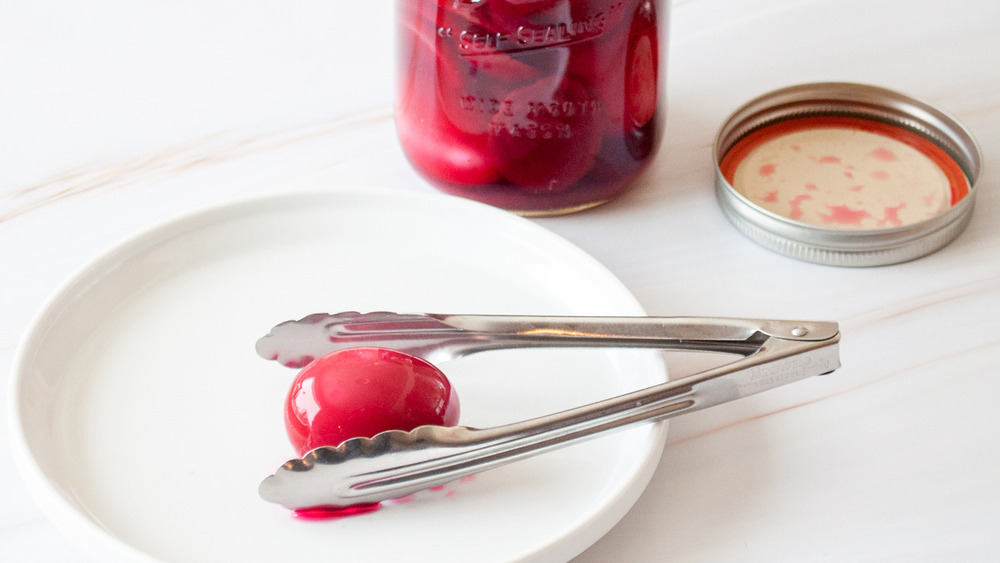 Laura Sampson/Mashed
Once the pickled eggs have sat in their brine for 48 hours or more, you can take them out and serve them! These eggs are delightful on their own as a snack, but that's far from the only way you can enjoy them.
Why not halve them and arrange them on your favorite salad? You could also slice them and layer them on a baguette sandwich with some tomatoes and oil-packed tuna for a pretty play on a pan bagnat. The possibilities are truly endless!
Pickled Eggs Recipe
Want your next salad or sandwich to wow your guests? These pickled eggs are the perfect way to lend a pop of color and flavor to any meal.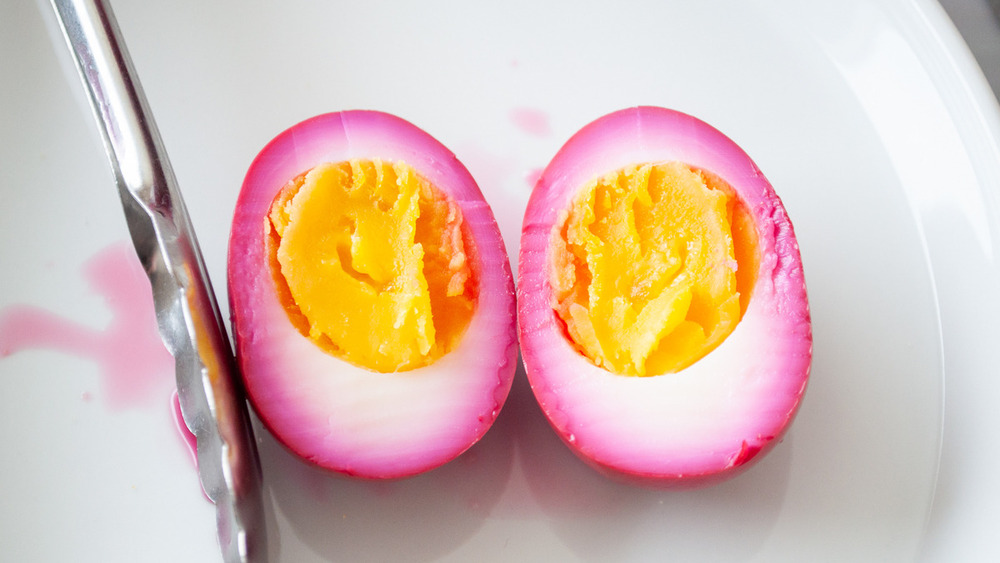 Total time: 48 hours, 15 minutes
Ingredients
6 hard-boiled eggs
1 cup apple cider vinegar
⅓ cup granulated sugar
1 can of sliced beets
½ cup sliced yellow onion
Directions
Peel the eggs, rinse, and set aside.
Put the vinegar in a saucepan. Open the beets and strain the juice into the pan. Add the sugar, and stir to combine.
Add the sliced onion, and bring to a simmer. Cook for 10 to 15 minutes, or until the onions are translucent. Remove the pan from the heat.
Place two of the eggs in a quart jar, and add some of the beets. Layer in the rest of the eggs and enough beets to reach about an inch below the top of the jar.
Pour the brine in the jar to cover.
Put a lid on the jar. Refrigerate at least 48 hours before serving.
Nutrition
| | |
| --- | --- |
| Calories per Serving | 140 |
| Total Fat | 4.3 g |
| Saturated Fat | 1.3 g |
| Trans Fat | 0.0 g |
| Cholesterol | 149.2 mg |
| | |
| --- | --- |
| Total Carbohydrates | 18.3 g |
| Dietary Fiber | 1.1 g |
| Total Sugars | 17.1 g |
| Sodium | 162.0 mg |
| Protein | 5.7 g |