The Rock And Roll Legend Robert Irvine Dressed As For Dinner: Impossible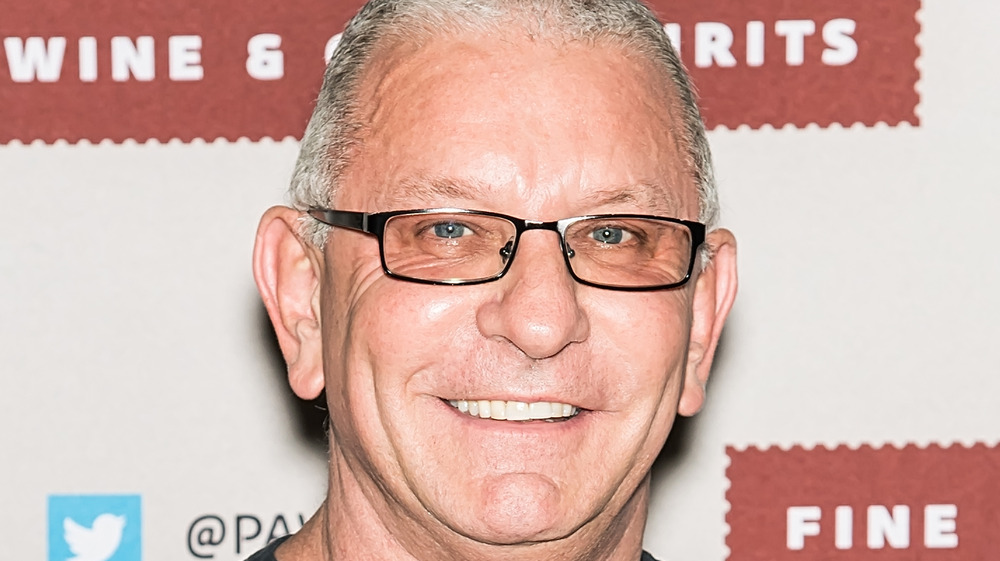 Gilbert Carrasquillo/Getty Images
Robert Irvine has long been known for his eccentric take on what it means to be a cook. Even when he's not challenging himself with a seemingly impossible cooking task (like whipping up a quick, definitely-not-casual meal for thousands of guests), Irvine is the kind of chef that likes to liven up the kitchen. And on the latest episode of the long-awaited Dinner: Impossible reboot, Irvine did just that — Vegas-style.
In the episode "3 Weddings and a Robert," Irvine made it his mission to serve up a full reception dinner for three sets of soon-to-be newlyweds. One couple got the full Vegas treatment, with a ritzy, upscale menu featuring competing beef and salmon tartare and caviar for six guests. As if the fare wasn't fabulous enough, the two grooms — and viewers at home — were beside themselves when Irvine took it a step further and walked out in a full Elvis Presley costume with Las Vegas showgirls at his side. The chef even said it himself: "This is as Elvis as it gets."
While Irvine didn't perform any of the rock and roll legend's classic tunes, he surely gave a show with the food and laughs he served up.
This wasn't the first time Irvine channeled his inner Elvis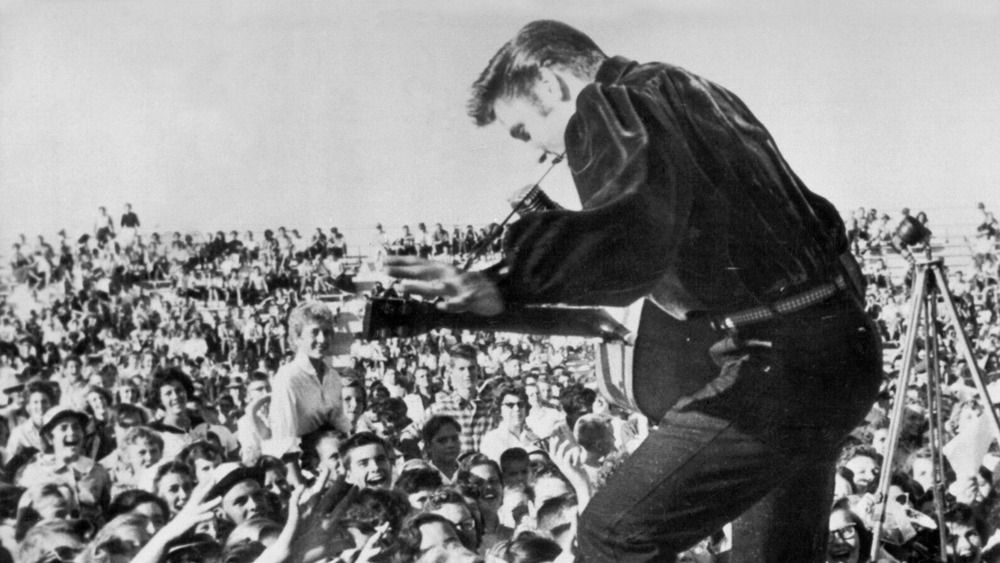 Michael Ochs Archives/Getty Images
After eight seasons of unforgettable cooking challenges, it was to be expected that the Dinner: Impossible host would pull something like this out of his chef's hat. Just before the start of the latest season, Irvine told reporters at Niagara Frontier Publications that production would be "cinematic," and his over-the-top Elvis impression didn't disappoint.
Viewers at home enjoyed seeing Irvine's comical side, especially in the midst of a tense six-hour challenge. One Twitter user told Irvine, "your turn as 'The King' was the real story in the latest episode of @Dinner_Imposs," and we'd have to agree. Irvine seemed to enjoy himself, too. He responded saying, "Tough challenge but Elvis was my idol growing up. I also got to cook at Graceland for a DI years ago OMG."
Yes, you read that right — Irvine is no stranger to the world of Elvis and rock and roll, which explains why he got so into the role. Back during season two of Dinner: Impossible, the chef-turned-Elvis-impersonator was recruited by none other than Priscilla Presley to feed 100 fans who traveled to Memphis for an Elvis convention (via Cooking Channel TV). While Irvine might have traded the banana pudding for some caviar this time around, we're pretty confident that the chef was still living out some of his childhood dreams.