People Can't Stop Talking About Richard Blais' Hair On Top Chef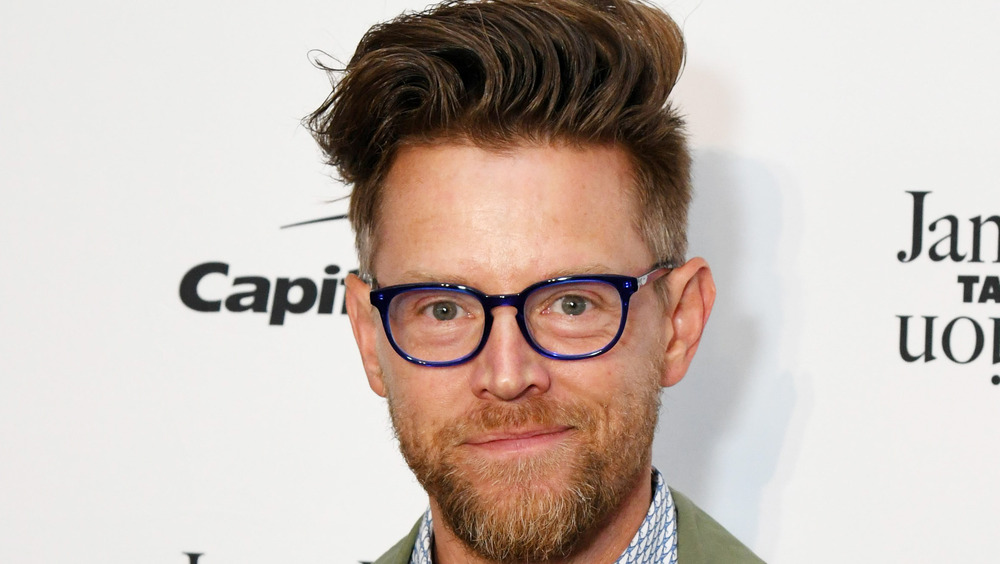 Bryan Bedder/Getty Images
Richard Blais' big hair is one of his signatures, sort of like his love for whipping up dishes with liquid nitrogen (via Eater). Blais knows his hair is the butt of a lot of jokes — admirably thick all around and kept longer up top, with some type of product helping it achieve verticality. Blais has a sense of humor himself, and he pokes fun at his 'do in a Q&A on his own website. Question: "Is your hair inspired by anime?" Answer: "Not necessarily, but the recipe for the hair product is equal parts duck fat & liquid nitrogen."
Now something even stranger is going on with Blais' hair, as revealed in the season premiere of Top Chef, which aired on Bravo April 1. Could it have been his stylist's idea of an April Fool's joke? Even though duck fat should be easy to find in Oregon, the setting for the new season of Top Chef, Blais' usually tall and firm coiffure was replaced with ... a squirrel's nest? A musk ox pelt?
Maybe Blais' stylist didn't accompany the Top Chef crew in their quarantine bubble in Portland during filming last fall (via Variety). Kevin Flynn got on Twitter during the Top Chef season premiere to make a pandemic excuse for Blais: "You all gotta lay off @RichardBlais. Do you remember what YOUR hair looked like in the middle of lockdown?"
Richard Blais 'reverse mullet' was a humorous relief from the pandemic
Other notable Twitter users took aim at Blais' hair during the season premiere of Top Chef. After all, it was such an easy — and big — target. Ryan O'Connell tweeted a GIF that showed Blais walking onto the Top Chef set, a few inches behind his slouching pompadour. O'Connell tweeted, "The always innovative Richard Blais with the reverse mullet. Risk-taker." Mike Ganino wanted to know, "Is @RichardBlais the new chef in the Capitol City in the next Hunger Games?"
Twitter user Ali McCarty had a generous take on Blais' new hairdo: "Who knew that Richard Blais' hair would be the secret ingredient during the pandemic that we all needed?"
Blais took all the needling in good fun, even retweeting all the tweets mentioned here. Blais was announced a while back as one of several guest judges appearing on season 18 of Top Chef (via Variety). Blais is a past winner of Top Chef All Stars, according to his website. He has served as a judge on MasterChef, Guy's Grocery Games, and Cutthroat Kitchen; and he has hosted the Food Network's Halloween Baking Championship.