Jamie Oliver Reveals Your Most Common Carbonara Mistake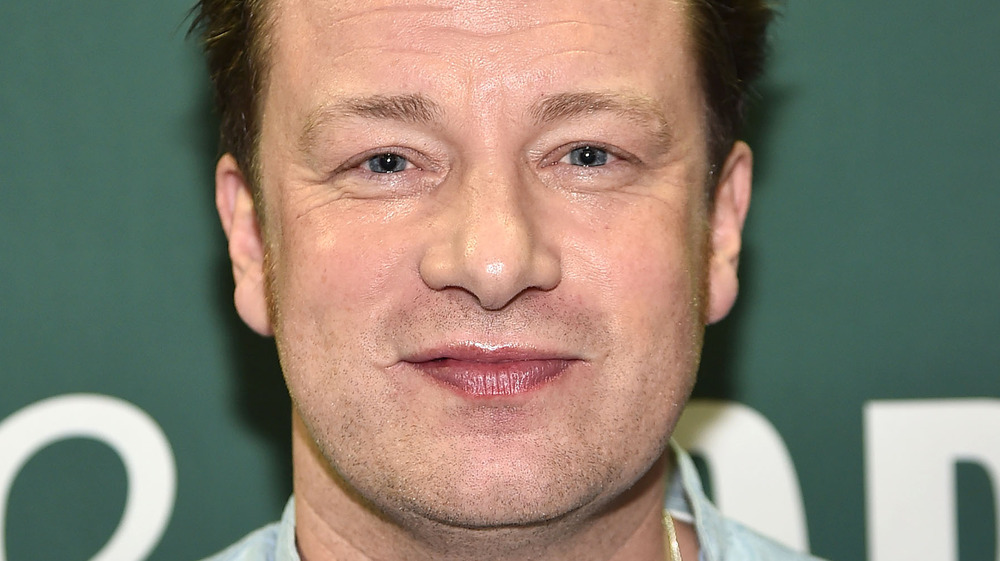 Theo Wargo/Getty Images
While Jamie Oliver may have long ago stopped hosting The Naked Chef, he's still one of the more exciting chefs on the UK food scene. In fact, he may well be a key player in helping British cooking shake its stodgy reputation. While Oliver's greatest hits include such British classics as beef Wellington, fish and chips, and cottage pie, he puts his own special spin on each of these dishes (via The Happy Foodie). What's more, he frequently ventures further afield into exploring the cuisines of other lands, as he did with his infamous paella recipe, even if it means facing some criticism.
One recipe of Oliver's that few would complain about, however, is his classic carbonara. While this dish originates on the continent (Italy) rather than in the British Isles, it's nevertheless Prince George's favorite dish. Oliver's carbonara, it would seem, is the real deal. YouTuber Vincenzo's Plate, an Italian chef, had a few minor quibbles in his reaction video to Oliver's YouTube tutorial, but admitted "Jamie, who is the king, he is making carbonara the authentic way." 
Jamie Oliver says it's all about the eggs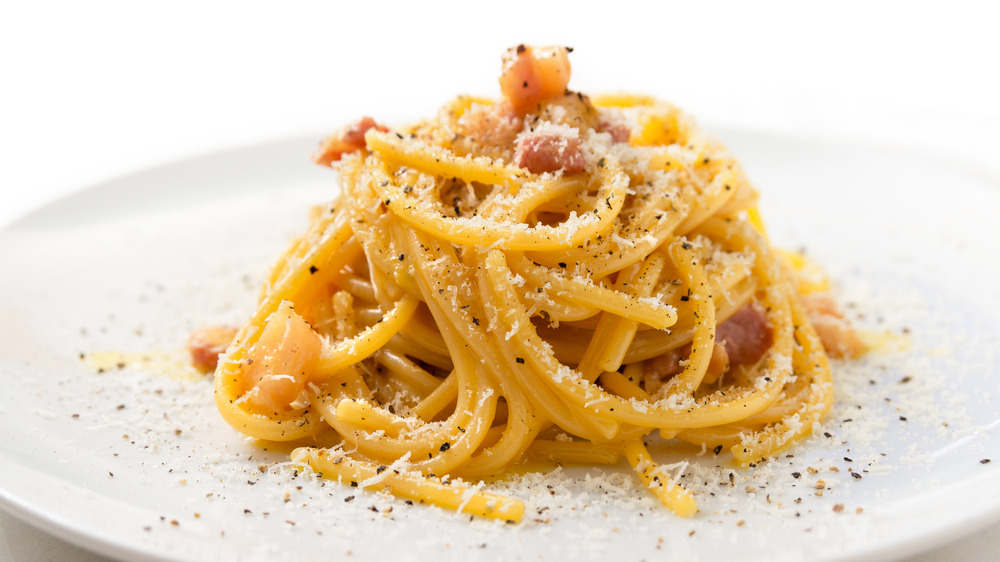 Shutterstock
Jamie Oliver recently participated in a Carbonara Cookalong in collaboration with Barilla, in celebration of Carbonara Day. (National Day Calendar tells us April 6 is the date, so you've still got time to perfect your technique.) In the video, Oliver helped nine home cooks prepare this dish. Everyone seemed to enjoy the results, though some doubted Oliver's ideas about portion sizing. As one of his guest chefs asked, "Did you say this was supposed to serve four?" Without waiting for Oliver's answer, she shared her opinion that "Yeah, this is not going to make it."
Oliver also took time to speak with Mashed about his carbonara recipe, pointing out that the crucial make-it-or-break-it stage may come when the eggs are introduced to the sauce. As he told Mashed, "Eggs tend to cook at a fast rate, especially when introduced to a high heat source." If you just dump your egg mixture straight into hot pasta, Oliver warns "you'll end up with scrambled eggs instead of a smooth, silky sauce." So what does he advise doing instead? Oliver directs cooks to "turn off the heat and let the pasta cool down for a minute or so before gradually adding in the egg mixture." If you do it this way, he says, it will "ensure that your sauce stays smooth and silky." Thanks, Jamie! We'll never cook it any other way from now on.