Krispy Kreme Has Good News For Oreo Lovers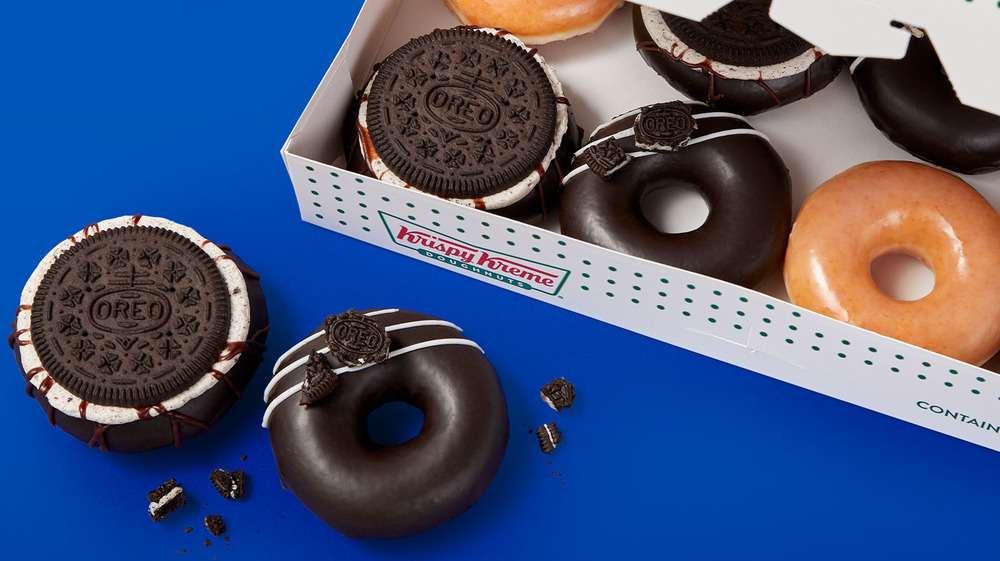 Krispy Kreme
If you love combining Oreos, donuts, and coffee, you normally had to locate the closest Dunkin' Donuts for your snack fix. According to Dunkin', this chain has a long history of teaming up with the creme-filled cookie company to deliver donuts and coffee that satisfy any craving. The collaborations have also gone the other way, with Dunkin' inspiring a mocha Oreo flavor that critics went wild over (via Taste of Home). If you love the donut-cookie mashups, but have wanted more variety, Krispy Kreme has something exciting in store for anyone with a sweet tooth.
According to USA Today, Krispy Kreme unveiled two new official Oreo donuts, a first for the company in its 84 years of operation. The Oreo Cookie Glazed Doughnut and Oreo Cookie Over-The-Top Doughnut hit stores today, and should prove delicious. If these flavors already sound tempting, don't hesitate to grab some — the donuts disappear again on April 18. If you crave some Oreo-inspired refreshments, but those donuts don't sound like they can hit the spot, Krispy Kreme has something else planned for you. You can also pick up the new Oreo Mocha Chiller, a frozen, espresso-based drink that packs in a ton of Oreo chunks together with whipped cream and cookie crumbs. The sweet combo of cookies and espresso makes this drink the perfect treat to cool down with.
A new era for Krispy Kreme fans and Oreo fans alike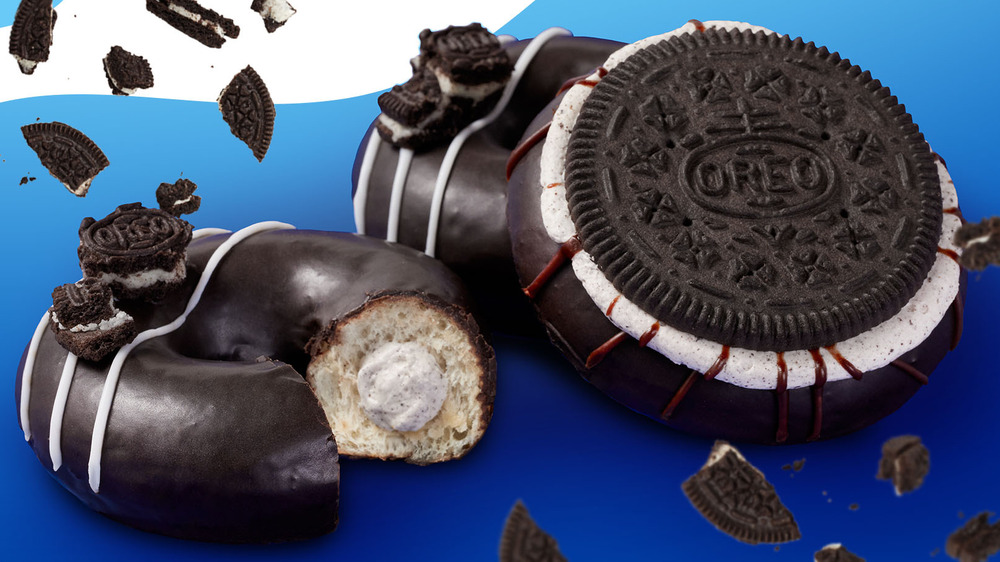 Krispy Kreme
While this collaboration marks the first time Oreos and Krispy Kreme joined forces on a new product, astute donut fans might remember a time when Oreo cookies cameoed in Krispy Kreme's donut line. According to USA Today, Oreo cookie crumbs have topped a variety of donuts at Krispy Kreme, including the iconic Valentine's Day 2018 heart pastries. The biggest difference between past mashups is the fact that the two new Oreo donuts feature a glaze both companies made together, which shows off the best of both worlds that the cookie giant and donut megalith have to offer. 
If you can't wait to dig into these new donuts, make sure to get a move on ASAP. You don't want to miss these two new flavors that guarantee to win over Oreo lovers and donut fans alike. With a bit of luck, we might even see a return of these flavors if enough people get out and show their love for this historic collaboration. Just make sure to hurry, as this deal won't last forever.