Why You May Want To Think Twice Before Drinking A Moscow Mule From A Copper Mug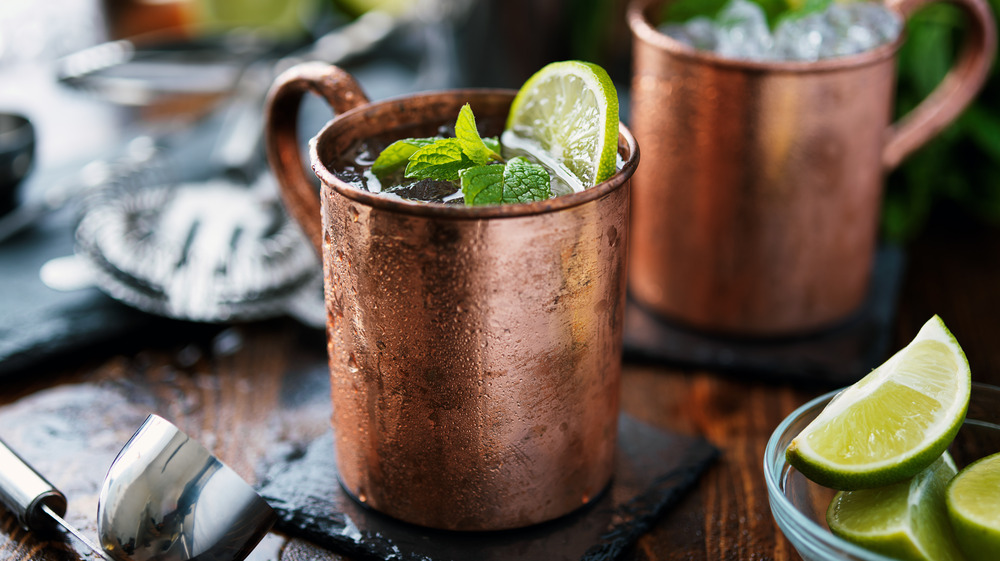 Shutterstock
The popular Moscow Mule cocktail has been gracing bar menus since 1941, according to NY Times. The refreshing flavors of lime juice and ginger beer mixed with vodka make for a tasty beverage, but there is another factor of this cocktail that catches people's attention — the vessel. Moscow Mules are traditionally served in copper mugs, and many modern bars have held up that tradition by serving the drink like so, but could they have accidentally harmed their patrons just for a cool mug? Copper poisoning could be a possibility, says WQAD.
Moscow Copper reports that while the copper cup is known to aid the drink in a handful of ways, the only reason copper mugs were originally used for this specialty drink was a chance encounter between 3 creatives: a copper mug seller in search of buyers, a vodka distillery owner, and a pub owner hoping to peddle the ginger beer he developed. The three worked together to combine their products and ultimately came up with the one and only Moscow Mule, served in a copper mug, of course.
The signature mug may not be worth it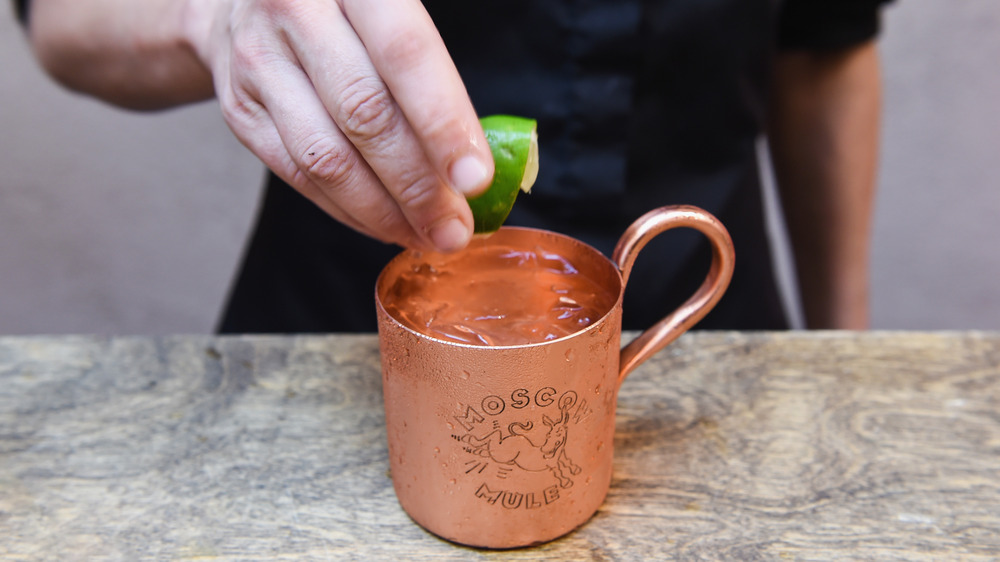 Erika Goldring/Getty Images
The material of the mug is said to keep the drink nice and cold while even improving the taste, per Moscow Copper. While that may be true, the mug could do more harm than good. In 2017, a restaurant manager in Iowa named Todd Brooks, who served up Moscow Mules in glasses rather than copper mugs, explained that the softness of the copper mixed with the acidity of the cocktail could make drinkers sick (via WQAD). Brooks wasn't the only Iowa resident choosing glass over copper. That same year, Iowa's Alcoholic Beverages Division posted an advisory on the topic, noting that copper could contaminate the drink. The entire state banned the use of copper mugs for serving Moscow Mules.
Food and drinks that have a pH below 6.0 are banned from coming in contact with copper, based on the FDA's Model Food Code. "The pH of a traditional Moscow Mule is well below 6.0. This means that copper mugs that have a copper interior may not be used with this beverage," the advisory bulletin read. 
While copper could keep your drink frosty, you may want to opt for another receptacle the next time you order a Moscow Mule. WebMD explains that while some copper can be beneficial for your well-being, in the long run, people can suffer such symptoms as diarrhea, dizziness, nausea, headaches, and eye, nose, and mouth irritation.