What You Should Know About Butcher Block Counters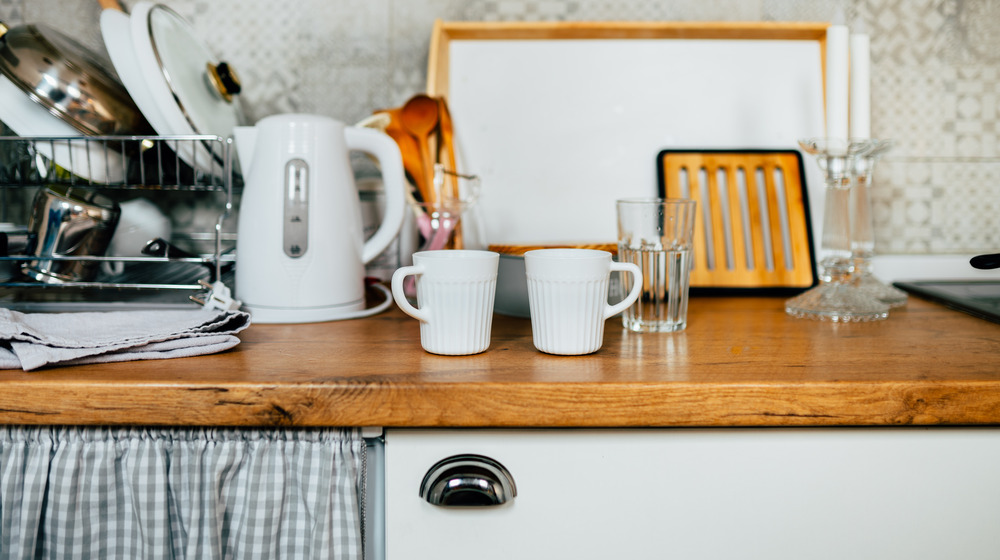 Shutterstock
From marble to quartz to laminate, there are a wide variety of options available when it comes to choosing your kitchen countertops, and many individuals are drawn to the cozy vibe of butcher block counters, which have been quite trendy in the past couple of years. The material has both pros and cons to consider if you're thinking of revamping your kitchen and are leaning towards replacing your old granite with butcher block counters.
To start with, they're more affordable than a lot of the other countertop options, with Bob Vila estimating that a butcher block counter costs between $20 to $60 per square foot. They're also a lot easier for any DIYers to handle — while you can't do much at home with a massive slab of stone, cutting wood is easily done with just a few tools.
The variety of woods available also means you can customize your countertops to your preferred aesthetic, from pale sand-colored surfaces to rich chocolate browns. You can even choose the way the wood is laid out. Butcher block counter options include edge grain, which features long planks of wood, or end grain, where end pieces of wood are combined into a checkered pattern (via Kitchn).
Finally, they can be very easily spruced up if they're looking a bit worn. All you need to do is sand and oil them for a cost-effective face lift (via Basic Builders).
Beware the elements — and don't ignore maintenance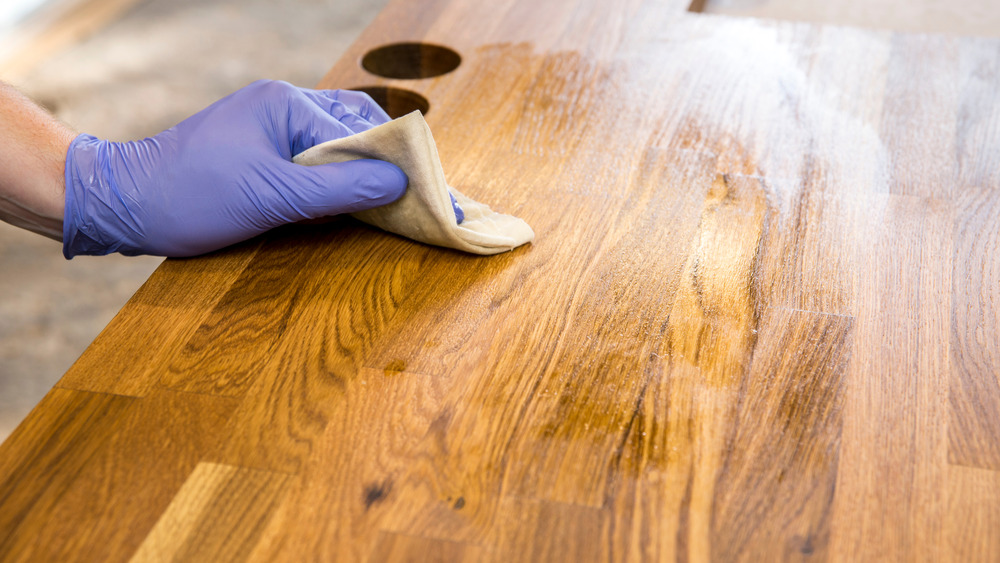 Shutterstock
Butcher block counters are essentially one giant cutting board, and you can prepare your food right on the countertop. However, be aware that using your counters for everyday meal prep may shorten their lifespan, so you'll have to weigh the convenience vs. the cost to potentially replace them sooner (via Taste of Home).
Moisture is a major enemy of butcher block counters. If you make the decision not to seal your butcher block counters with oil, you'll have to be extra careful when splashing around the sink, as too much water can actually cause the wood to rot (via Basic Builders). Stains are also a risk for these countertops. Since wood is porous, as Taste of Home explains, you'll need to be careful when handling a bubbling pot of marinara sauce, or pouring too enthusiastically from that bottle of Beaujolais.
You'll also need to be mindful when installing them. Wood will swell or shrink slightly according to the seasons if you live in a place where it gets chilly in the winter and balmy in the summer (via Basic Builders), so a bit of wiggle room should be left for your counters to swell and shrink.
Finally, the maintenance. Butcher block counters do require some elbow grease in the form of oiling the surface on a regular basis, as Taste of Home recommends. However, this extra task in your chore list will help create a barrier against spills and moisture, according to Bob Vila.