If You Bought A Bottle Of Chick-Fil-A Sauce, You Helped Its Employees — Here's How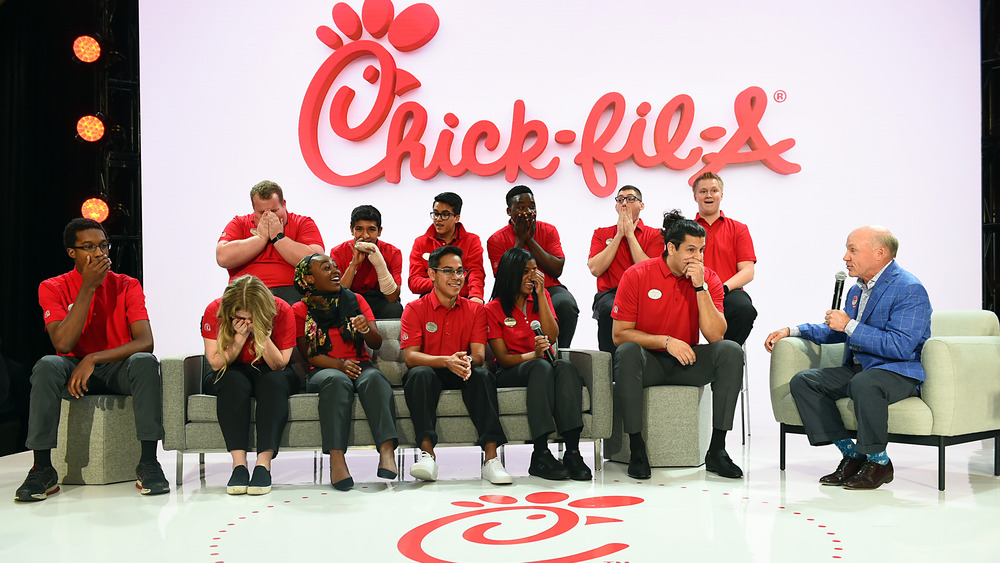 Marcus Ingram/Getty Images
There may never be a winner of the ongoing chicken sandwich war, but when it comes to condiments, Chick-fil-A certainly takes one of the top spots. The Georgia-based fast food restaurant offers a plethora of sauces for visitors to dunk their sammies and nuggets in, from classics such as Honey Mustard and Barbeque to their signature namesake sauce and Polynesian flavor (as seen on Chick-fil-A's website).
In years past, being able to indulge in the chain's one-of-a-kind dressings at home meant either stocking up on tiny packets during each trip through their incredibly efficient drive-thru or attempting to re-create the delectable tastes at home. However, the company delighted fans last year by announcing (via their internal newswire) that they would be stocking the shelves of select retailers such as Walmart, Target, and Publix with 16-ounce bottles of Chick-fil-A signature and Polynesian sauces, as well as offering 8-ounce bottles of their other sauce flavors at participating restaurants. The products were originally only available at stores in Florida, but have since expanded to several more states and are expected to be available nationwide sometime this year (via Chick-fil-A). 
The ability to purchase Chick-fil-A's sauce during your next grocery store run is no doubt exciting, but there's more benefits to it than just being able to enjoy the signature condiments at home, since your purchase will also be benefitting many of the chain's employees as well (per Fox News).
Sales of bottled Chick-fil-A sauce help send team members to college
Aside from having Chick-fil-A's signature sauces on hand whenever you want them, stocking up on the bottled condiments at the grocery store offers the added benefit of helping employees of the restaurant chain further their education. According to Fox News, 100 percent of royalties from the sauce sales go into the restaurant's Remarkable Futures Scholarship Fund, which has benefited more than 66,000 team members since it began in 1973, according to Chick-fil-A's website.
"Restaurant Team Members go above and beyond every day to care for our guests and the communities they serve," L.J. Yankosky, Chick-fil-A's senior director of Innovation & New Ventures, said in a press release. "We're thrilled that every 16-ounce bottled sauce purchased from a participating retailer will help provide additional scholarship opportunities to Team Members, who are a key ingredient to our restaurant experience."
In 2020, the company was able to provide an additional 400 scholarships to employees thanks to sales of its bottled sauces, bringing the grand total of Remarkable Futures Scholarship funds for the year to $19 million that was awarded to 7,492 individuals across the United States and Canada. Of that group, Fox News reported that 16 percent were first-generation college students.
With the availability of the Chick-fil-A products rolling out nationwide, the chain will likely be able to award even more scholarships in 2021. So there's another reason to stock up when you see them at the store!