Trader Joe's Newest Candy Tastes Just Like Starburst
Starburst's cube-shaped fruit-flavored taffy has been "making mouths water" since 1959 when the candy was first invented by a man in the U.K., Peter Pfeffer, who then entered them into a contest (via Laura Rose Creative). The soft and chewy candy that came in various fruit flavors won the competition and won hearts in the U.K., thanks in part to their relatable television commercials promising that they would "make your mouth water" (via Facebook). In 1967, Opal Fruits made their way to the U.S., where they were re-branded as "Starburst" and quickly caught on in popularity. 
And that, of course, is where Trader Joe's invariably comes into the story. One of the things that Trader Joe's is famous for is selling a number of food items that end up acquiring cult followings. As Today wrote in 2018, America is "wild" about Starburst, especially the pink squares — the ones that are mean to taste like strawberry. So it seemed to us that it could only be a matter of time before Trader Joe's went ahead and made its own private-label version of Starburst fruit chews. And now it appears they have because their newest candy creation is said to taste just like Starburst. 
What people are saying about Trader Joe's newest candy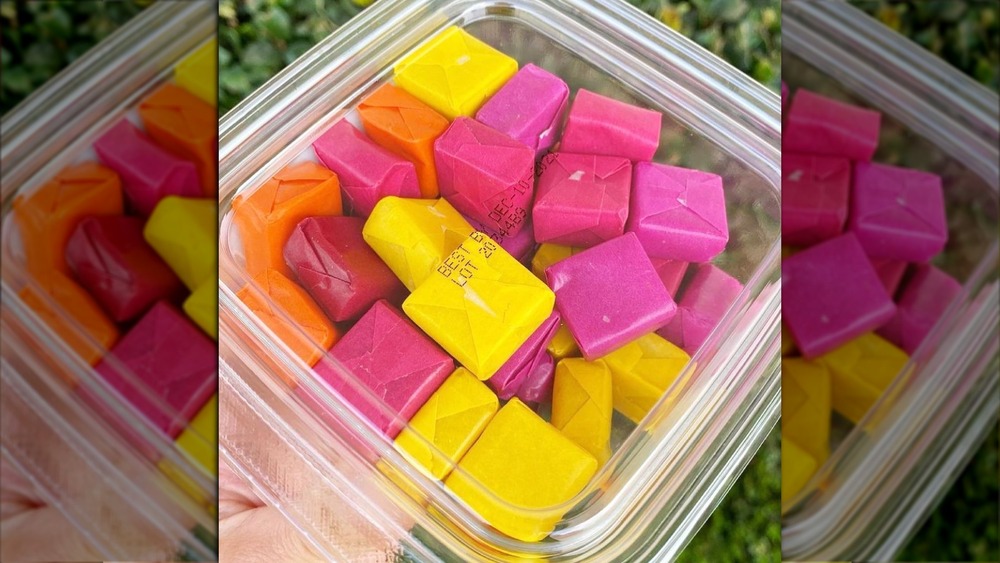 On April 6, 2021, Instagrammer @traderjoeslist posted three colorful photos of Trader Joe's newest candy, "Trader Joe's Fruity Chewy Candy," along with the caption, "Looks a lot like Starbursts to me ... Will you be adding these to your Trader Joe's List?" (via Instagram). Although the Instagram user hadn't yet tasted this new entry into the Trader Joe candy lineup, we're feeling pretty certain that they will be delighted to find it tastes just like Starburst because that's what the buzz appears to be on social media. 
For example, in a Reddit thread dedicated solely to this new candy, user TheModernWay wrote, "Bought them today, I tried the cherry, raspberry, and strawberry (haven't tried orange and lemon yet but the cashier who rang me up said the lemon tastes sweeter than the Starburst version). The cherry tastes pretty identical to cherry Starburst in my opinion. I was hoping the strawberry would taste like the pink Starburst but alas. It's still pretty good overall!" So much for reinventing the already-perfect pink strawberry Starburst. And for what it's worth, Reddit user, LexusK said that they want to try this new Starburst-esque candy so badly, they're willing to risk messing up some recent dental work.