Emeril Lagasse Has A Surprise Ingredient For His Famous Omelet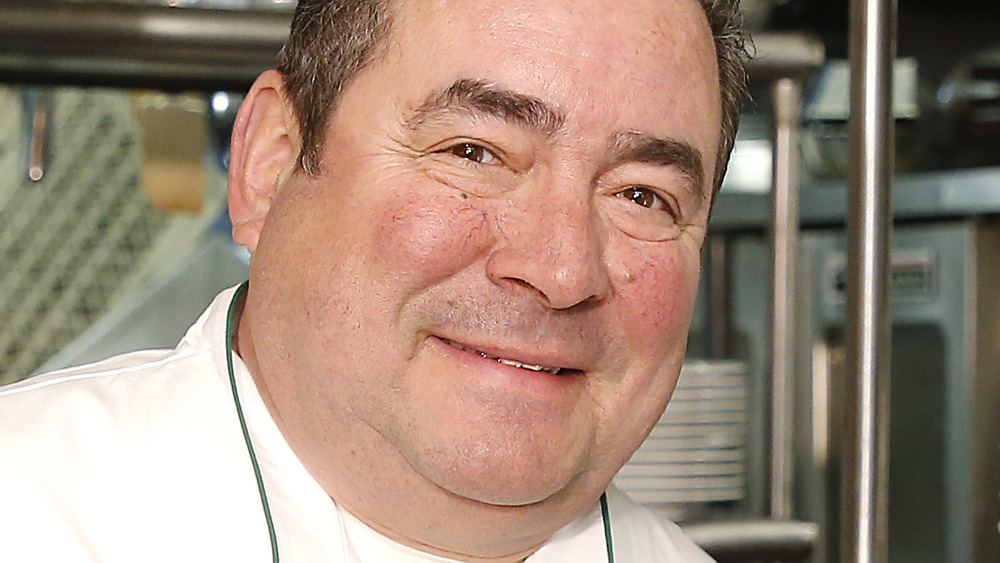 John Lamparski/Getty Images
Chef Emeril Lagasse showcased a mouth-watering brunch offering with a tempting twist from his restaurant, Emeril's Coastal, in a recent Instagram post. Lagasse's recipe features a fluffy egg omelet, expertly pan-fried to a light golden color and folded around smooth melted Brie. Chopped applewood smoked bacon and chives are sprinkled over the delicately-formed eggs, and the entire plate is drizzled with Creole tomato glaze. As if that combination isn't delectable enough on its own — surprise! — the dish is surrounded by a generous helping of crispy fried oysters! The salty treats appear to be battered and cooked to perfection, lending a sophisticated southern vibe to a classic breakfast. 
Lagasse has been cooking in the South for over three decades (via Emeril's Restaurants), and his elegant, yet simple recipes reflect the myriad of strong culinary influences running through that region of the United States. Lagasse refers to his signature style as "New New Orleans," as it incorporates traditional Creole and Cajun flavors and focuses on fresh, regional ingredients. With that in mind, it is no surprise to see him taking an ingredient that is so prolific on the Gulf Coast and elevating it to a different level. 
Lagasse's cuisine is truly out of this world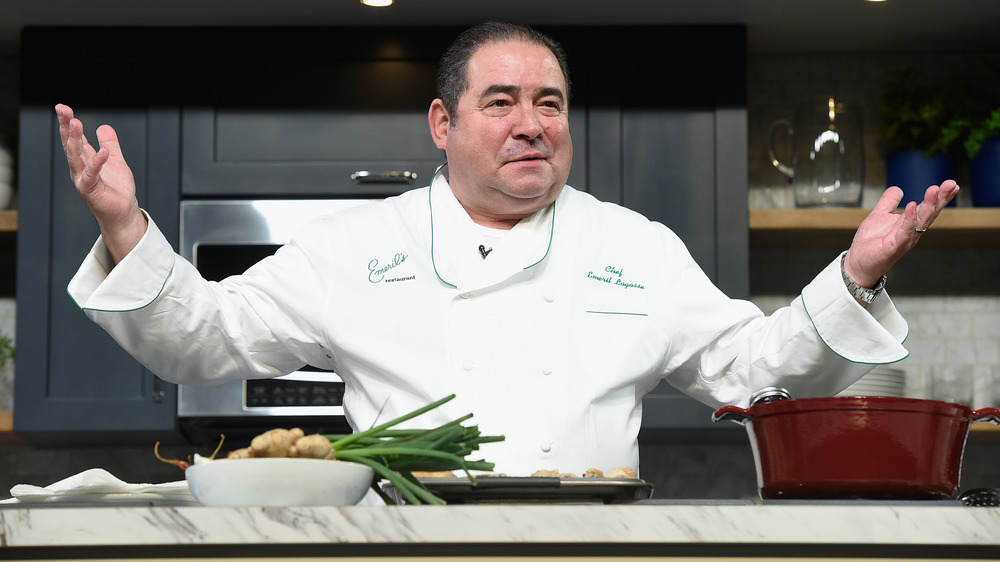 Gustavo Caballero/Getty Images
Lagasse possesses a remarkably innovative and determined spirit that he has demonstrated throughout his long career. The accomplished percussionist turned down a full music scholarship to go to cooking school and landed the executive chef position at a prestigious New Orleans restaurant by the time he was only 23 (via Cooking Channel). The year after he opened Emeril's Restaurant in 1990, Esquire named it "Restaurant of the Year" — which is only the first of his impressive list of awards and accolades (via Emeril's Restaurants). 
In 2006, Lagasse shared some of his most popular recipes with NASA, five of which were chosen to make the long voyage to the International Space Station (ISS) (via NASA). The renowned chef even made his most remote television appearance on NASA TV during a live chat with the three astronauts living aboard the station. According to the article, crew members were reportedly thrilled with the selection of flavorful instant dishes, listing Lagasse's spicy Mardi Gras jambalaya and "kicked up" mashed potatoes as their favorites. One of the astronauts explained that after being in space for a prolonged period of time, their taste buds needed a little jolt. 
A "jolt" is exactly what comes to mind when we think of Lagasse's fried oyster omelet drizzled with Creole tomato glaze.