Anthony Bourdain Liked To Listen To These Songs While Cooking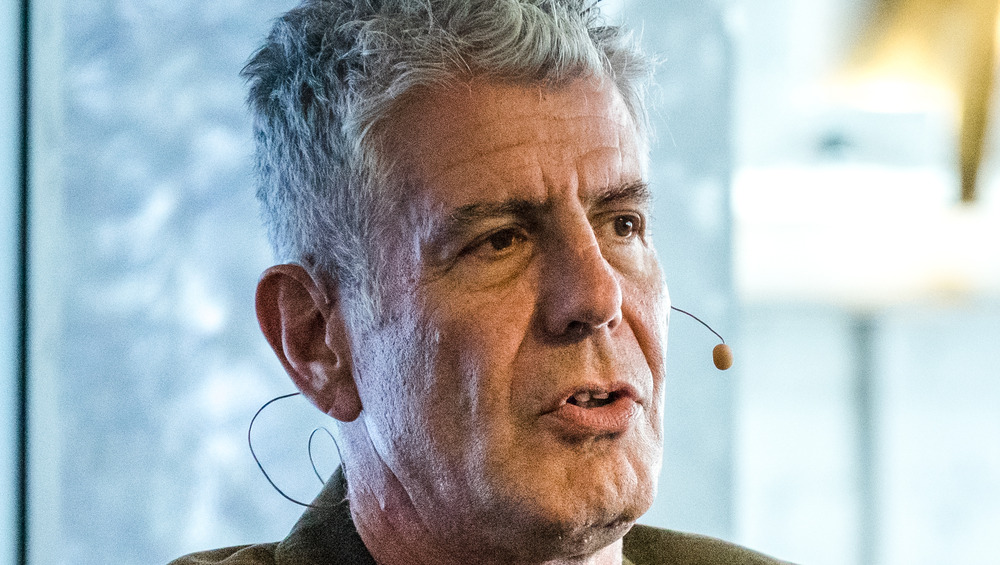 Shutterstock
Before he was a world-class chef, best-selling author, and award-winning documentarian, Anthony Bourdain was a music-lover. According to Current Biography Yearbook 2006, Bourdain was born in New York City in 1956 (via Internet Archive). He grew up listening to a wide range of music supplied to him by his father, an employee of Columbia Records. By his own account, music was at the center of Bourdain's early life. As he put it in a 2014 Rolling Stone interview: "For the first two thirds of my life, I built my identity almost entirely by what albums I was listening to." Although Bourdain would go on to attend the Culinary Institute of America (via Travel Channel), and from there forge a spectacular career in some of the top restaurants of New York City, music remained a constant in his life. He told Rolling Stone he used music as "a soundtrack to whatever movie [was] running in [his] head."
Music also played an important role in Bourdain's career as a film-maker and documentarian. In the latter half of his life, the prolific NYC-chef created and executive-produced several very successful nonfiction television shows, including Parts Unknown and Mind of a Chef, and music and soundtracking were integral parts of these works (via Far Out). Parts Unknown even had original scores, with musicians commissioned to make songs.
Another Side of Anthony Bourdain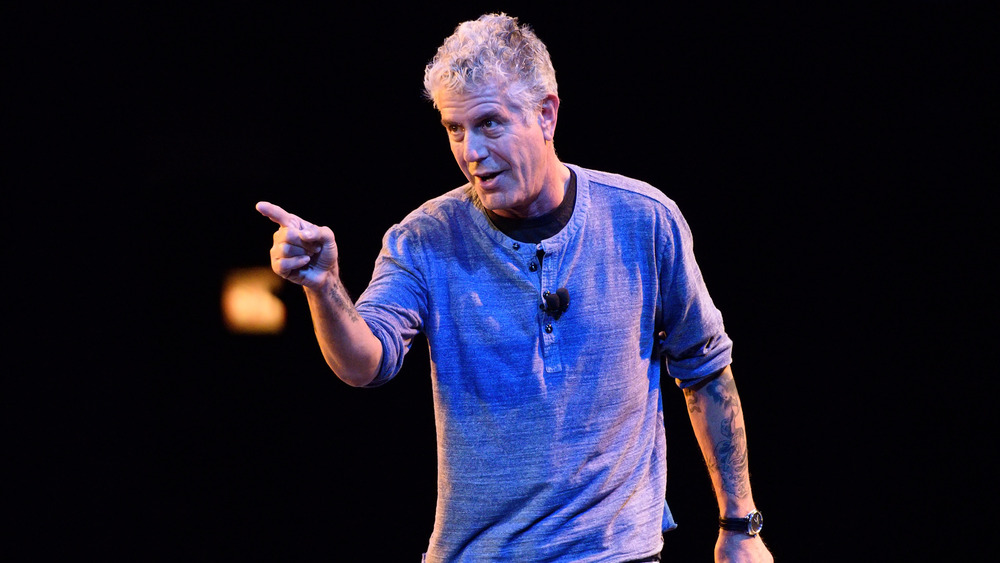 Daniel Boczarski/Getty Images
One of Bourdain's longest-running shows was Mind of a Chef, a documentary series narrated by Bourdain and profiling up-and-coming chefs. The series debuted in 2012 and completed its sixth season in 2017 (via IMDb). As with Parts Unknown, Mind of a Chef bears the mark of Bourdain's eclectic taste in music and offers a glimpse into the "soundtrack" of this multi-talented chef's mind. To celebrate Bourdain's love of music, and to acknowledge the place music held in Bourdain's approach to cooking, the Mind of a Chef Spotify account has shared a playlist titled "Anthony Bourdain's Music to Cook By."
Sampling music from far and wide, "Music to Cook By" is further evidence of the breadth of Bourdain's palate. Although he was well-known for his appreciation of punk rock and was a longtime fan of such groups as the Ramones and the Dead Boys (via Far Out), the Mind of a Chef playlist leans heavily on R&B, Blues, and Soul (drawing from such artists as Bobby Womack, Curtis Mayfield, and Bill Withers) with occasional detours into alternative rock and disco (by way of Elvis Costello, The Pretenders, and Earth, Wind & Fire). The individual tracks include Womack's "Across 110th Street," "Tangled up in Blue" by Bob Dylan, "What" by A Tribe Called Quest, and the Rolling Stones' "Plundered My Soul."