The Ridiculous Amount Of Money One McDonald's Chicken Nugget Sold For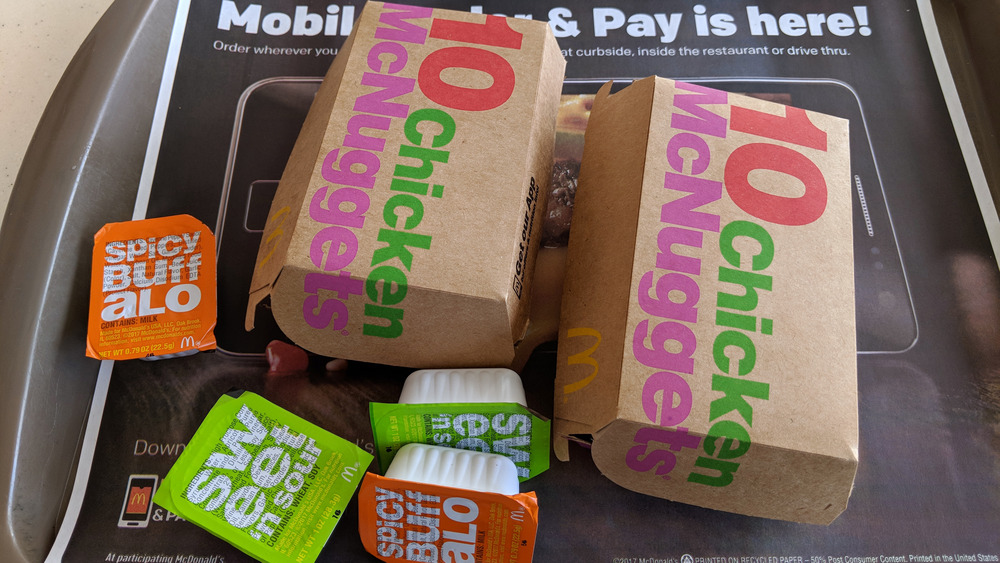 Shutterstock
The McDonald's menu may look very different than it did the year you were born, but one thing that has remained the same is its low prices. After ditching their dollar menu in 2013 (via Business Insider), the chain reintroduced the concept in 2018 with $1, $2, and $3 price points which, at the time, Thrillist reported included things like a $1 soft drink, $2 Bacon McDouble and a $3 Happy Meal.
The current Mickey D's menu still features the three-tiered meal deal (via Mcdonald's website) – and yes, it still includes their exponentially better-tasting Coca-Cola for a dollar – as well as a number of other products for some below-average prices. In some states, Restaurant Business reports that you can even grab the company's iconic Big Mac sandwich for less than $4 (but don't expect that if you're pulling through a drive-thru in Seattle). We have good news if you're a fan of the Golden Arches' chicken McNuggets as well, as the chain has been known to offer the 10-piece boxes when they run their 2 for $5 Mix & Match Deal (via McDonald's website).
So why, then, with the ability to get so many McNuggets (and other McDonald's menu items) for such a low price, did somebody once offer a four-digit payment for a single one of those bad boys? Per the New York Post, its resemblance to a very famous historical figure was what drove up the cost.
A single Chicken McNugget once sold for more than $8,000 on eBay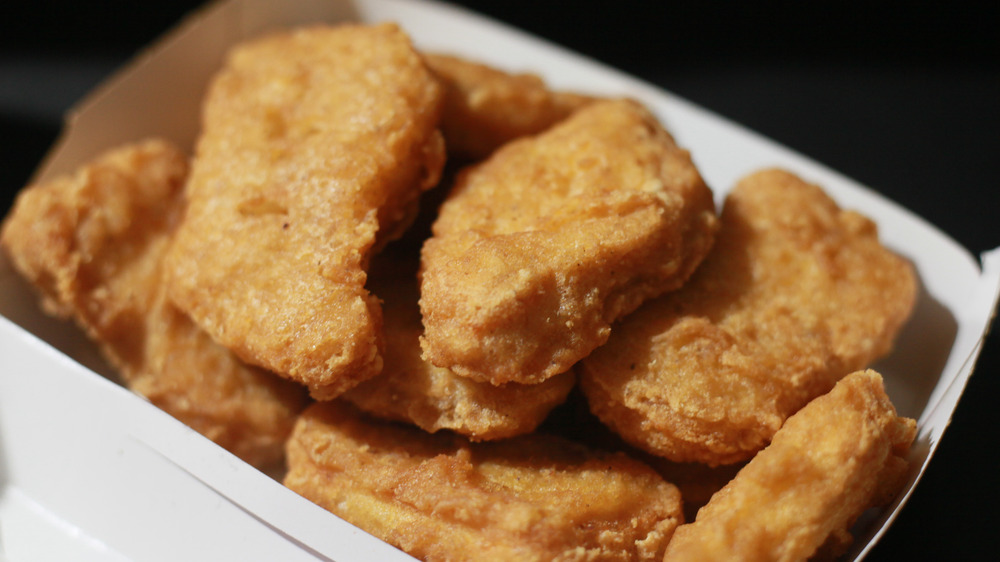 Shutterstock
According to the New York Post, a single McDonald's chicken McNugget was sold for over $8,000 on eBay back in 2012. Its original owner was Rebekah Speight, a resident of Dakota City, Nebraska, who had recognized the familiar side profile of one of the founding fathers during a trip to the fast food chain three years prior. "Sure enough, it was the likeness of President George Washington," she wrote on the nugget's eBay page, per BBC.
Speight saved the one-of-a-kind nugget in her freezer until 2012 when she decided to post it to the online marketplace in an attempt to raise some money for her church's youth camp – and her goal was more than fulfilled. After 71 bids, the McNugget went for $8,100, which Yahoo! News reported was more than half of the $15,000 fundraising target set by the church hosting the camp.
This was not the first time a McDonald's product has been flipped for big bucks on the internet. In February 2021, a Pokémon card found in a Happy Meal from the chain was sold on eBay for an impressive $500. In 2018, CBC reported that a man attempted to sell a six-year-old order of a cheeseburger and fries from the chain on the auction site, and was set to make at least $150 from the combo, though it was ultimately pulled from eBay for violating its terms.