Guacamole Deviled Eggs Recipe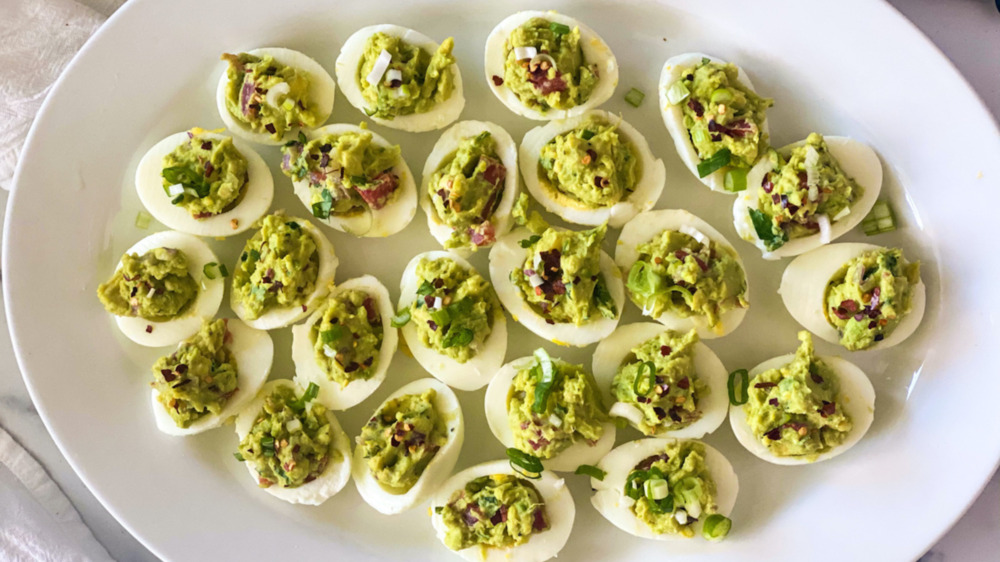 Miriam Hahn/Mashed
If you're a frequent picnicker or love hosting cocktail parties in the spring and summertime, then there's a good chance you're familiar with deviled eggs. The hors d'oeuvre is a reliable starter that's so easy to love. However, sometimes, it's fun to switch things up ... and that's where spicy guacamole deviled eggs come in.
This dish from recipe developer and wellness coach Miriam Hahn of YouCare-SelfCare takes the best parts of deviled eggs — an egg white vessel carrying a creamy, delicious filling — and puts a tasty twist on the standard yolk and mayo middle. This is the perfect instance when combining two appetizers people already love (deviled eggs and guacamole) makes a truly crowd-pleasing dish.
One of the best things about this spicy guacamole deviled egg recipe? It's quick and easy to whip up if you're in a time crunch. So, the next time you're looking for a solid appetizer that's different enough from your standard fare, we here at Mashed have you covered.
Gather your ingredients for guacamole deviled eggs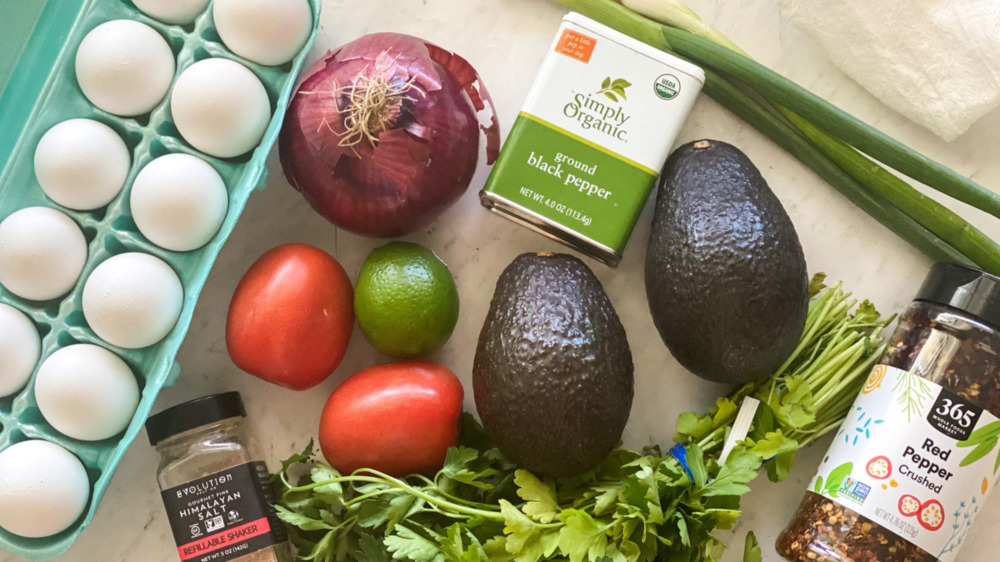 Miriam Hahn/Mashed
The ingredients list is one that you can probably guess just by knowing the two foods that are combined to make this recipe: deviled eggs and guacamole.
You'll need a dozen eggs, and then your classic guacamole ingredients. Everyone makes their guacamole a little different depending on their preferred spices and spiciness. The difference in this guacamole compared to your typical recipe comes mainly in how it's prepared with the egg yolks (more to come on that later). For this recipe, Hahn uses medium-sized avocados, cilantro, red onion, chives, juice from one lime, salt, garlic powder, pepper, and red pepper flakes. You'll also need a roma tomato with the seeds taken out.
"Roma tomatoes tend to be a little firmer and less watery than regular tomatoes, so I like using them to keep the filling firm and not watered down," Hahn says. "That is also why I take the seeds out. I use a grapefruit spoon for this."
Prepare the hard-boiled eggs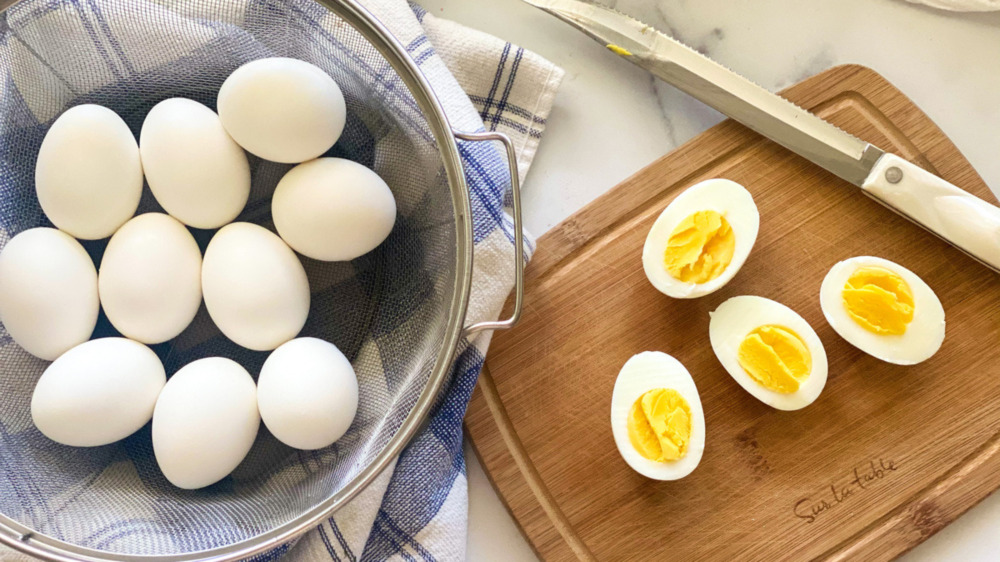 Miriam Hahn/Mashed
The first thing you'll need to do as soon as you have the necessary ingredients is boil the eggs. And if you've ever hard-boiled eggs before, you know it's like riding a bike: It's an easy task you never really forget how to do once you know how to do it.
Start by putting the eggs in a large pot. Add cold water until the water sits about an inch above the eggs. Bring the water to a boil, and then cover it with a top and take the pot off of the heat source. Let the eggs sit in the water to fully cook, which should take about 12 minutes.
Once that's ready, drain the water out and run cold water over the eggs. Some people also prefer to put the eggs in an ice bath. Either way, the goal is the same: Cool the eggs before peeling. Once they're cool enough, peel each egg (running them under cold water or submerging them in an ice bath will help the shells come off much easier).
Finally, cut the eggs in half lengthwise, and then scoop out the yolks into a large mixing bowl.
Mix the avocado and egg yolks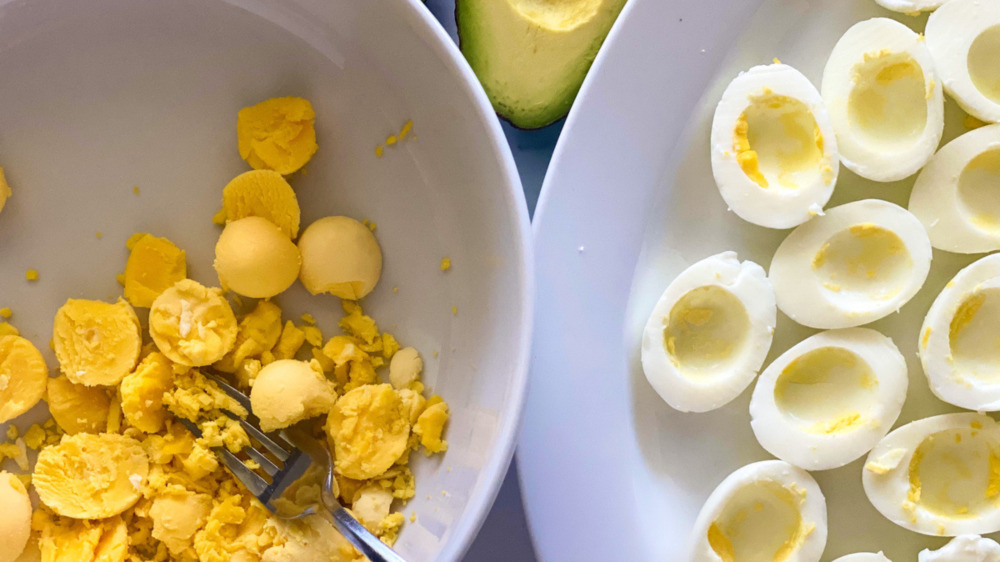 Miriam Hahn/Mashed
While you may already know how to make standard guacamole, this recipe does things a little differently to make them, well, guacamole deviled eggs. First, break up the boiled egg yolks with a fork until they're completely mashed. Then, cut your avocados in half and remove the pit. Using a spoon or fork, scoop the avocado into the same large mixing bowl that you put the 12 boiled and mashed egg yolks into.
Get back to mashing, this time making sure to fully combine the avocado flesh and the egg yolks. "Mixing the egg yolks into the guac makes it a bit thicker and gives it a more dense flavor," Hahn says.
The avocado is essentially taking the place of the mayonnaise that's in your typical deviled egg recipe. That makes it perfect for people who aren't fans of mayo. You're not likely to run into the same mayo issue, either, because who isn't a fan of avocados?
Finish the guacamole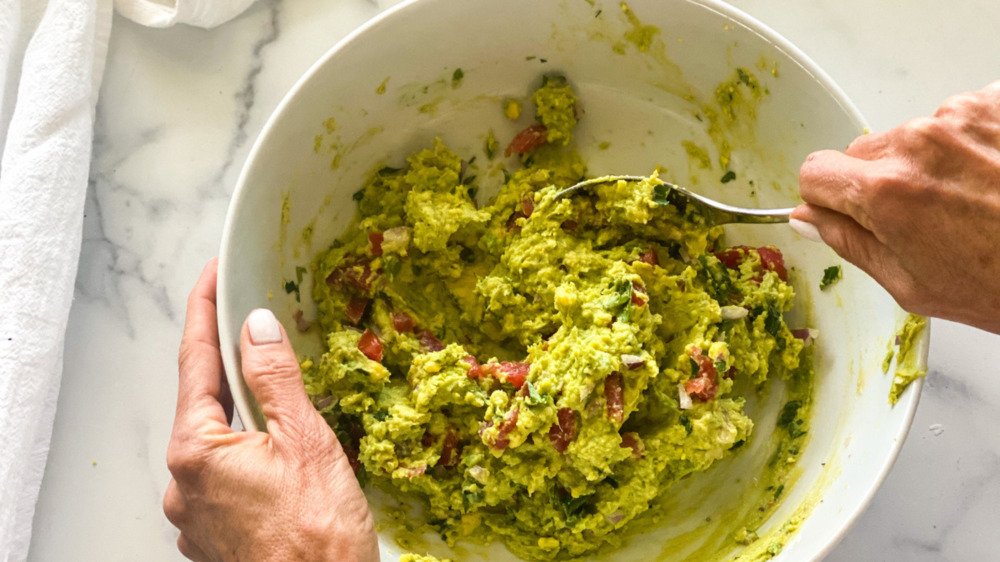 Miriam Hahn/Mashed
With the avocado and egg yolks fully combined, it's time to add all of the other things that give guacamole that easy-to-love flavor. First, dice your red onion and seed your roma tomato before dicing it as well. Then, chop the cilantro. Add all three ingredients to the yolk-avocado mixture, followed by the juice from one lime, ½ teaspoon of salt, ½ teaspoon of garlic powder, and ¼ teaspoon of pepper.
As with any guacamole or salsa recipe, feel free to add in spices and peppers or make substitutions depending on how spicy you like your food. "You can add in diced jalapeño to give it an extra kick or drizzle with Tabasco or Cholula," Hahn says. "I have also added chili powder in addition to the red pepper flakes. They are pretty versatile so you can add a variety of toppings."
Fill the egg whites with the guacamole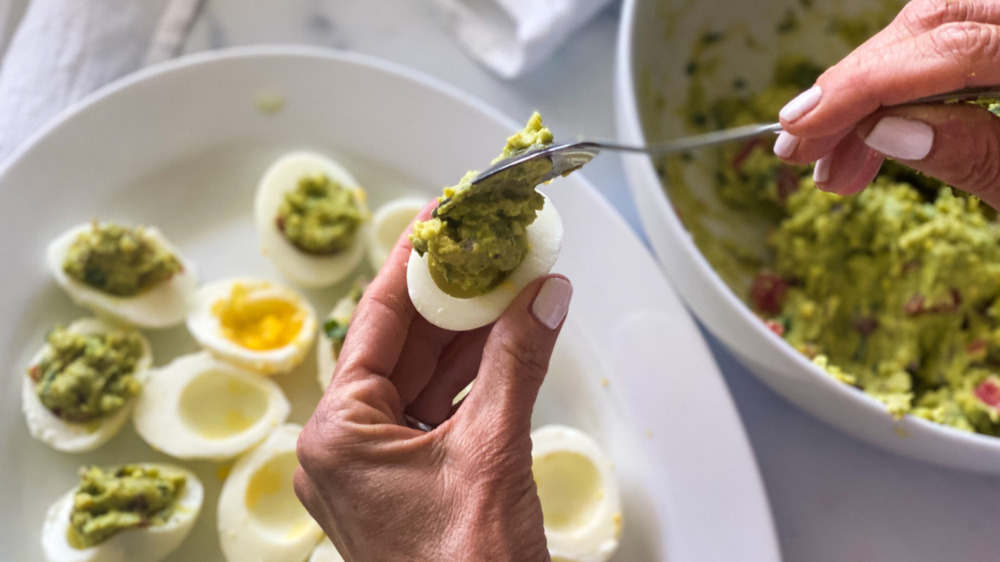 Miriam Hahn/Mashed
Work your guacamole-egg yolk filling until it's completely smooth. The fewer the lumps, the easier it will be to handle when putting the mixture into the egg whites. There are two ways to put the filling evenly into the middle of the egg whites: with a spoon or a piping bag.
If you have one, a piping bag makes the filling process easy. All you have to do is put your guacamole mixture into the bag and squeeze it into the egg whites. The shape of the piping bag nozzle is how you obtain those little swirls and patterns on your finished deviled eggs.
However, don't fret if you don't have a piping bag. It's easy to get the mixture into the egg whites with a spoon as well. Simply scoop some out with a regular-sized spoon, and then scrape it into the egg white. Start small at first if you're not exactly sure how much to add. The main goal is to have as equal an amount in each egg half as possible, so add more if you have extra at the end.
All that's left to do now is top your deviled eggs with red pepper flakes for a slight kick and a boost of color.
Keep the guacamole deviled eggs fresh until they're ready to serve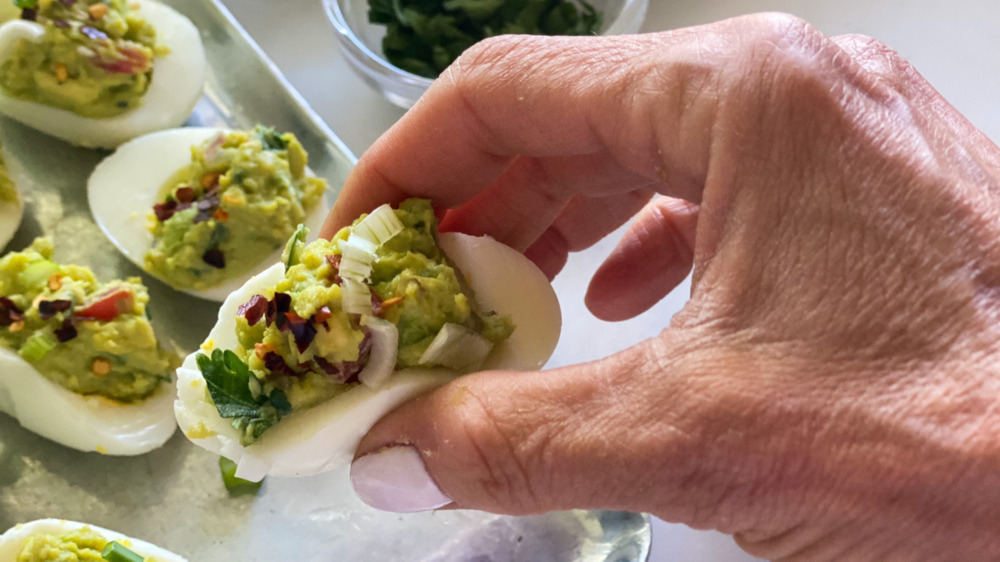 Miriam Hahn/Mashed
Unlike traditional deviled eggs that you can make in advance and pull out of the fridge as soon as you're ready to eat them, these guacamole deviled eggs require a little more careful timing. As every guac fan knows, avocado browns far too easily.
"These are best to serve right after making, because they will turn brown if made more than an hour ahead," Hahn says. But, that doesn't mean you have to do everything all at once. Some of the steps can be done ahead of time so that you can quickly assemble as soon as it's ready.
"I like to have the egg whites ready to go as well as the yolk mixture, and then it is easy to add the avocado last and fill the shells when your guests have arrived or you are ready to eat them," Hahn says.
Guacamole Deviled Eggs Recipe
This is the perfect instance when combining two appetizers people already love (deviled eggs and guacamole) makes a truly crowd-pleasing dish.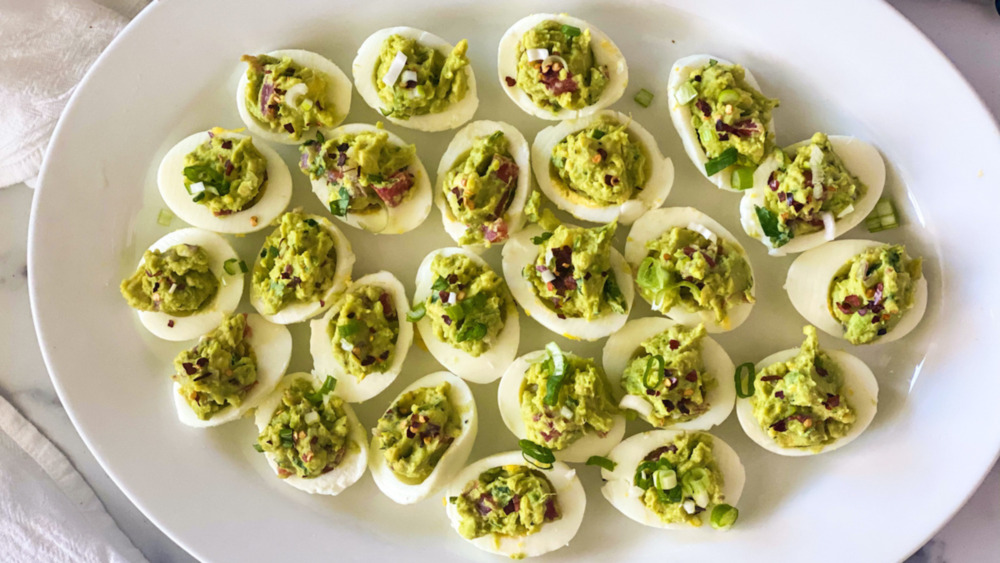 Ingredients
12 eggs
2 medium avocados
1 roma tomato, seeded and diced
1 tablespoon cilantro
1 tablespoon red onion, diced
½ teaspoon salt
½ teaspoon garlic powder
¼ teaspoon pepper
juice of one lime
red pepper flakes for topping
Directions
Put eggs in a large pot and cover with 1 inch of cold water. Bring to a boil, then remove from heat, cover, and let sit for 12 minutes.
Drain water and run cold water over the eggs. Once cool, peel the eggs and cut them in half lengthwise. Scoop out the cooked yolks into a large bowl.
Mash the egg yolks with a fork. Cut the avocados in half, remove pits, and scoop avocado flesh into the bowl with the eggs. Mash well and blend with the egg yolks.
Add the diced roma tomato, cilantro, diced red onion, lime juice, and spices. Mix until combined.
Spoon the guacamole mixture into each egg white and top with red pepper flakes.
Refrigerate until ready to serve.
Nutrition
| | |
| --- | --- |
| Calories per Serving | 59 |
| Total Fat | 4.5 g |
| Saturated Fat | 1.0 g |
| Trans Fat | 0.0 g |
| Cholesterol | 80.0 mg |
| | |
| --- | --- |
| Total Carbohydrates | 2.1 g |
| Dietary Fiber | 1.3 g |
| Total Sugars | 0.3 g |
| Sodium | 80.4 mg |
| Protein | 3.1 g |