Trader Joe's New Vegan Ranch Salad Kit Is Turning Heads
Nothing makes life easier than knowing that we have a premade salad waiting for us at home. These prepackaged items have only graced our lives for a relatively short period of time. According to Hortidaily, we first started to see full salads in a bag in the 1990s. Prior to this decade, we could expect to potentially find bagged and cut lettuce, but stumbling across a full salad kit, complete with dressing and add-ins, seemed unlikely. Thankfully, Ready Pac came out with the Bistro Bowl, the first full salad in a bag, approximately three decades ago, and the rest is history. 
Fast-forward to the present, and Trader Joe's continues to take this time-saving salad style to the next level. Instagrammer @traderjoeslist discovered the brand's latest foray into salad kits and posted a picture of Trader Joe's Vegan Ranch Crunch salad kit alongside the caption "NEW VEGAN RANCH CRUNCH SALAD KIT // @traderjolene // I am so here for this #vegan salad!! Anything with ranch really gets me super excited!! My brain immediately was like 'why don't you crumble some of those pickle [sic] in a chip all over this too'. Def going to have to do that! I'll be removing the crispy onions from this since they contain my nemesis gluten, but I hope you're able to enjoy that extra flavor!"
A Trader Joe's salad that makes you take notice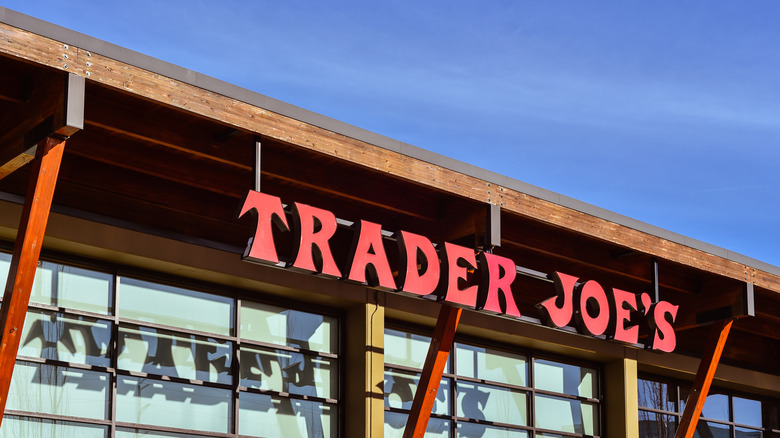 Shutterstock
The kit has proven sensational. The post has so far raked in over 11,000 likes and a flood of excited comments, ranging from "So Excited for a Brand NEW Ranch Vegan Salad," all the way to "SO GOOD! Had it tonight and ate the entire bag for my dinner!!" According to the post, this new salad comes complete with green cabbage and romaine lettuce, fried onions, roasted sunflower kernels, kale, red cabbage, carrots, green onions, and a vegan ranch dressing. 
The Vegan Ranch Crunch salad kit comes on the heels of another vegan kit that took Trader Joe's by storm earlier this year. According to Veg News, the grocery giant released their Vegan Taco Salad kit in January to wide fanfare. The previous salad packaged together chipotle-spiced seitan, pico de gallo, lettuce, purple cabbage, carrot strips, tortilla chips, and a spicy, vegan ranch dressing. Together, these salads should provide a one-two punch that customers have searched high and low for.
Given the trend of new vegan products, we can only hope another salad kit hits Trader Joe's shelves soon to round out our meals for the week. With such a popular item like the latest Vegan Ranch Crunch kit now on shelves, make sure to pick up a bag while supplies last. You wouldn't want to miss out on an ultimate salad kit like this, so make sure to keep an eye out on your next grocery run.