How Guy Fieri Really Feels About Bobby Moynihan's SNL Impression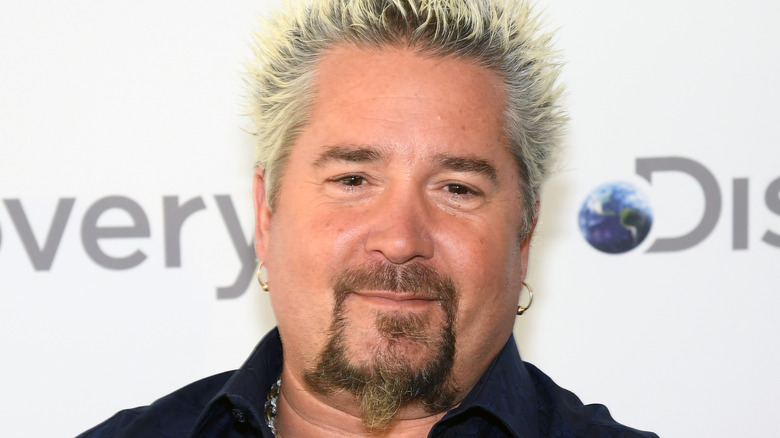 Dimitrios Kambouris/Getty Images
As long as both comedy and celebrity exist in the world, there are funny men and women standing at the ready to make fun of high-profile figures. Knowing this, it's not exactly a life-altering piece of knowledge that Guy Fieri has been the target of the occasional comedic impression. After all, he's pretty much the most meme-able celebrity chef out there, thanks to his distinctive ... everything. Loud shirts, frosted tips, catchphrases, instantly recognizable vocal patterns – the man is basically custom made to be imitated.
That being said, Fieri is obviously far more than a flame-patterned dude screaming sweet nothings about the countless greasy allures of Flavortown. He's a real human being who has become a food industry hero during the COVID-19 pandemic by using his considerable platform to act as the voice of the strained industry. In the past, Fieri has expressed incredulity at the way some of his harshest and most vocal critics, like Anthony Bourdain, have been quick to take potshots at him and his work. As such, one can't help but wonder what the chef thinks about the hilarious, yet quite exaggerated, version of himself that used to appear on Saturday Night Live, as brought to frost-tipped life by cast member Bobby Moynihan. Let's take a look at how Guy Fieri really feels about Moynihan's SNL impression.
Guy Fieri appreciates Bobby Moynahan's talent and enjoys the impression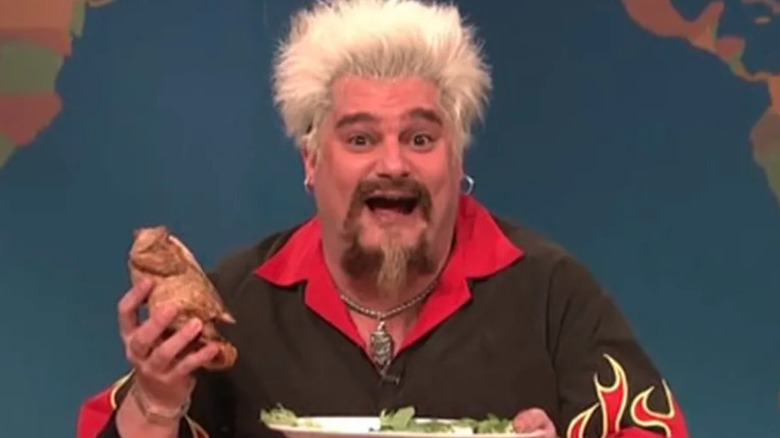 NBC
Say what you want about Guy Fieri, but the man knows how to laugh at himself. In fact, in an interview with The Huffington Post, Fieri revealed that he utterly loves Bobby Moynihan's hyped-up, boozed-up, ever-rhyming Weekend Update take on him – to the point that the two eventually met and became friendly. "I've always loved SNL and I think Bobby kills it," Fieri revealed. "I think Bobby is hysterical. As a matter of fact, we've become buddies."
Fieri says that his appreciation of Moynihan's impression was such that he once even enlisted the comedian to reprise the impression in a video for his son's birthday, and he appears to have genuine fondness for Moynihan's SNL Fieri. "He's a true artist," Fieri said of the comedian. "He's able to pick out the nuances and point them out to the fifteen-millionth-degree." That being said, the chef does have one complaint: Moynihan didn't always take his parody of Fieri's style far enough. Fieri has even entertained the thought of doing a cameo on one of the sketches to set things right. "I wanna do it one day, though, where he says 'and the Jägermeister...' and then I come on and go, 'No Bobby, you're doing it wrong....It's the Jägermeister goes in the raisins.'"