There Are Two Tricks To Making Geoffrey Zakarian's Favorite Dish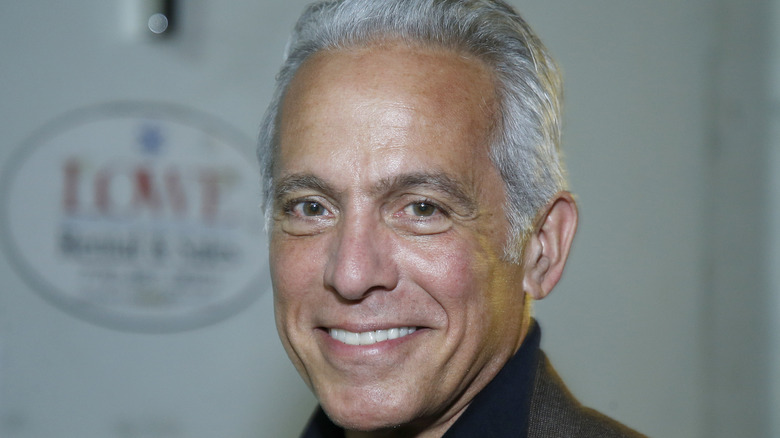 John Lamparski/Getty Images
Geoffrey Zakarian, co-host of The Kitchen, is constantly whipping up tasty dishes in his role, but according to Distractify, he waited until the 300th episode of the show to make one of his absolute favorite meals. Zakarian is apparently a huge fan of roast duck, and he offered two go-to tricks that will help any cook pull this dish off without a hitch at home.
The first tip is all about seasoning. According to Zakarian, duck has a somewhat dull flavor, so adding plenty of herbs and spices is an absolute must. Michelin-starred chef Tom Kerridge has a flavor-packed spice rub that will definitely do the trick, and it includes smoked paprika, ground ginger, Chinese five spice, Sichuan pepper, star anise, as well as honey and soy sauce (via Cuisine Fiend).
While duck may seem somewhat bland to Zakarian, it does have a much bolder flavor than typical poultry, so you can really go wild with the seasoning. Forget just adding salt and pepper — create your own perfect blend, from a herbaceous mix of thyme and rosemary and lemon or a mix of Asian-inspired flavors. Citrus-based sauces in particular match very well with this type of meat, too, as Great British Chefs suggests.
The second key to making a perfect roast duck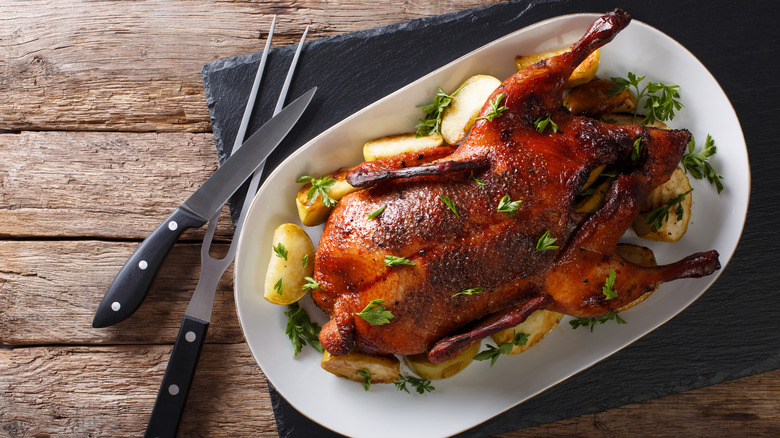 Shutterstock
Geoffrey Zakarian's second tip is about the heat. He suggests cooking the duck on a low heat, which may seem contrary to some of the other opinions on roasting a duck (via Distractify). For example, Martha Stewart recommends a quicker roasting time frame and a 425-degree Fahrenheit oven.
However, many seem to agree with Zakarian's strategy of roasting the duck low and slow in order to arrive at a moist, juicy end product rather than a dried-out bird. Food52 has a recipe that involves sticking the duck in an oven at 250 degrees Fahrenheit, and letting it slowly cook for about three hours.
The one thing with the low and slow method is that you'll often want to crank up the heat towards the end in order to get that perfectly crisp, brown skin that everyone wants. Hunter Angler Gardener Cook also warns that you should never cover the duck, lest it simply steam. You need it uncovered to achieve the exterior you want while maintaining a moist interior.
Another tip for getting that crispy skin? Pour a kettle of boiling water over the duck and then let it dry for about an hour before popping it in the oven (via Great British Chefs).