Aldi Fans Are In Love With This Strawberry Beer
Who doesn't love a great Aldi find? A recent Instagram post by @Aldi.MadeMeDoIt showcases a six-pack of Shiner Strawberry Blonde beer. Although the account doesn't say where this seasonal beer was found or how much it costs, many people were quite excited to see the beverage on the shelf. One commenter even shares, "This is my favorite Shiner beer." While the label says that it is a beer brewed with strawberries, some commenters tried to better explain the flavor. One person said, "It's not sweet like a fruity cocktail, but it's really light and crisp with a very delicate strawberry flavor." And another person said, "Not overly sweet with a really good aftertaste of strawberry."
According to Shiner, the Strawberry Blonde is a seasonal beer with a 4.3% ABV and is made with strawberries from Poteet, Texas, referred to as the Strawberry Capital of Texas. Mashing In shared that the Shiner Strawberry Blonde was a seasonal offering back in 2017. The beer has been described as "quenching," with the flavor of "juicy homegrown strawberries" and a "crisp finish." Given that it's both a seasonal release and an Aldi find, if you want to take a sip, it might be best to grab a six-pack before Shiner Strawberry Blonde disappears from the shelf.
Does Shiner make other fruit beers?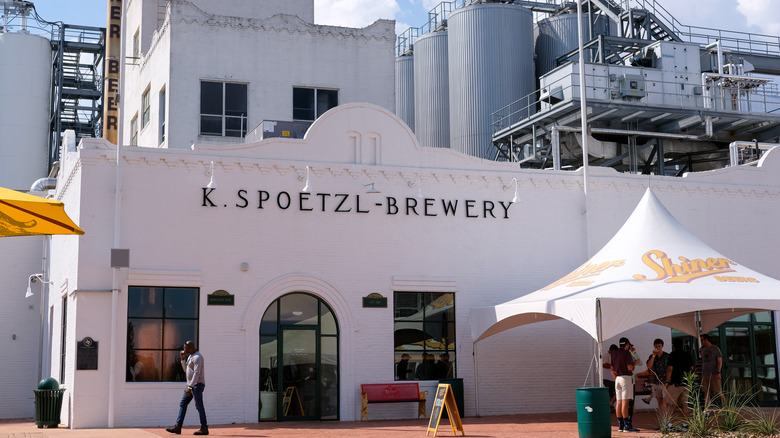 Shutterstock
Founded in 1909, Shiner beers are made exclusively in Shiner, Texas, as proudly stated by the company. The beer brand believes that the local well water makes an exceptionally tasty beer. While the beer can be found beyond the borders of the Lone Star State, its connection to the small Texan town emains strong. Brewed at the Spoetzl Brewery, founded by Kosmos Spoetzl, the beer brand has become a legend while staying true to its Texas roots.
Although the Shiner Bock beer might be the brand's flagship offering (per VinePair), the brewery releases several year-round beers as well as seasonal beers. In addition to the Strawberry Blonde seasonal summer release that was found at Aldi, Shiner often sells a Texas Heat Wave variety pack for summer. In the current release, the flavors include Prickly Pear, Agua Fresca, and Berliner Weisse. As the warm weather hits, these fruit-forward beers might be quite refreshing. And, as shared in a Shiner company video, each bottle comes with a twist-off cap for the simple reason that you can easily get the beer out. Sometimes, simplicity is a good thing.