Chick-Fil-A Fans Are Losing It Over This Simple Fry Hack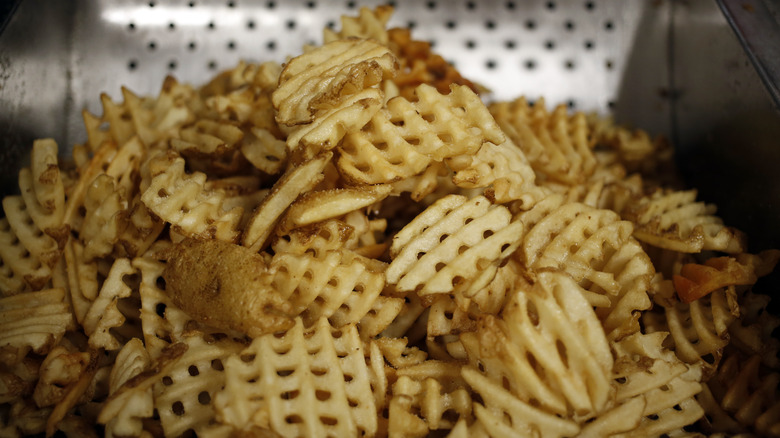 Bloomberg/Getty Images
At Chick-fil-A, there is far more than one way to waffle fry. Some fans order their fries well done, or twice-fried, while others request them with a slice of melted cheese on top (via Wide Open Eats). Other fans prefer more elaborate Chick-fil-A hacks, doctoring up their fries at home by folding them into homemade crunch wraps with the chain's mac and cheese and ranch dressing or "loading" them with cheese, saucy nuggets, and buffalo sauce.
But that's a lot of work. One waffle fry hack is so easy, you could pull it off in the parking lot after your trip through the drive-thru. Demonstrated on the Chick-fil-A Reddit thread, the trick involves stuffing a layer of waffle fries into a signature chicken sandwich with cheese. It's "the real reason I get fries," said one user. It works best with just two to three larger, flatter waffle fries from your side order with the sandwich.
What Chick-fil-A lovers think about the fry-stuffed chicken sandwich
For Chick-fil-A fans that have not yet sampled waffle fries inside of a chicken sandwich, this Reddit post was a revelation. "Duuuuude... My mind is blown," one user commented. Fellow novices said they would definitely be trying the hack soon, while other aficionados said they already know and love it. "I also belong to the waffle fry on sandwich club," wrote a Redditor. Another added it's the "perfect use of the occasional Omega Supreme fry."
Some Redditors chimed in with their own versions of the waffle fry sandwich. One user likes the same hack, but with a squeeze of Chick-fil-A sauce for added moisture and tang. A different user kicks the idea up a notch, ordering her chicken sandwich spicy from the fast food chain and stuffing it with mac and cheese and buffalo sauce instead of waffle fries. Want to personalize the hack? Just envision your ideal Chick-fil-A meal — sauces, sides, and all — and stuff a bit of everything into your chicken sandwich.