Pineapple Drop Cookies Recipe Brings Sunshine To Dessert Time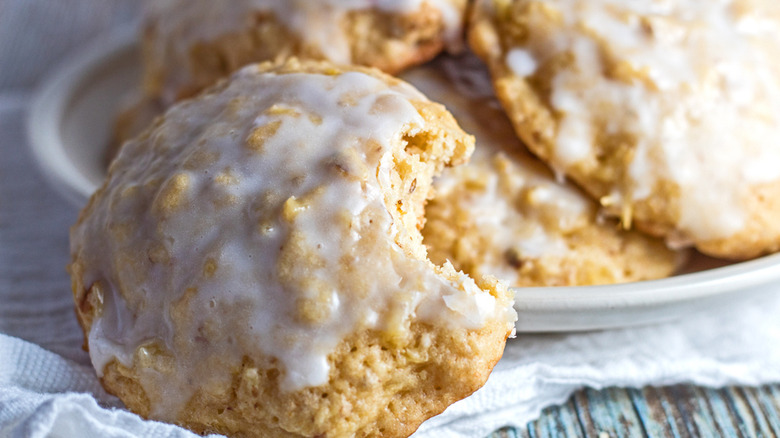 Angela Latimer/Mashed
Sometimes, all that it takes to brighten up your entire day is a brightly colored, fruity, fresh cookie. While chocolate chip cookies and snickerdoodles are always delicious, we can all use a taste of sunshine every once in a while. For those days, it's hard to beat these old fashioned pineapple drop cookies from Angela Latimer, chef and recipe developer behind the blog Bake it With Love.
"This is the perfect cookie for someone like me that is just dying for something sunny in dreary Minnesota weather!" Latimer says. Plus, "they're relatively light, despite being a cakey cookie."
The pineapple icing is, both metaphorically and literally, the icing on top. And while they can taste like a hit of summer when they're made in the dead of winter, these pineapple drop cookies are just as lovely when enjoyed in the warmer months — after a picnic, for instance, or really any time and any place.
Gather your ingredients to make these pineapple drop cookies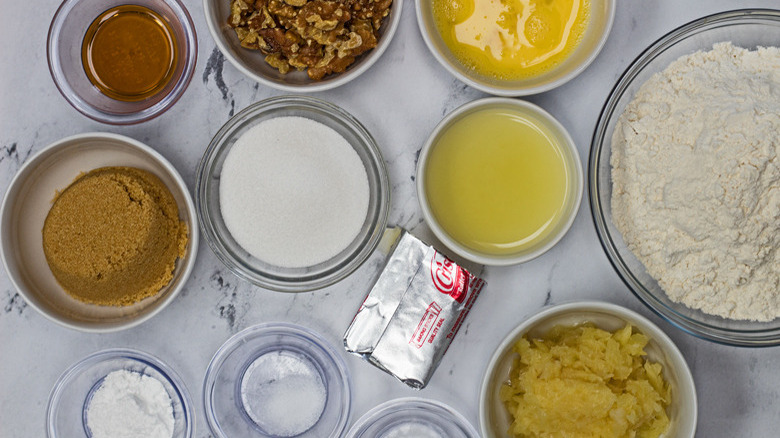 Angela Latimer/Mashed
Many frequent cookie bakers will already have most of the ingredients on hand. This particular recipe uses shortening, packed light brown sugar, sugar, egg, vanilla extract, baking powder, baking soda, salt, walnuts, powdered sugar, and all-purpose flour. And, of course, there's the star ingredient: crushed pineapple.
The humble can of fruit plays a role in two parts of this cookie recipe. The chunks of fruit itself are added to the body of the cookie for flavor, while the juice from the fruit is added to the icing for texture and a light pineapple note. Needless to say, after looking at the ingredients, sweet sugar and pineapple are dominant flavors in these old fashioned pineapple drop cookies. "They're absolutely suited to pineapple lovers, which is me to a tee," says Latimer.
Cream the shortening, and mix the wet ingredients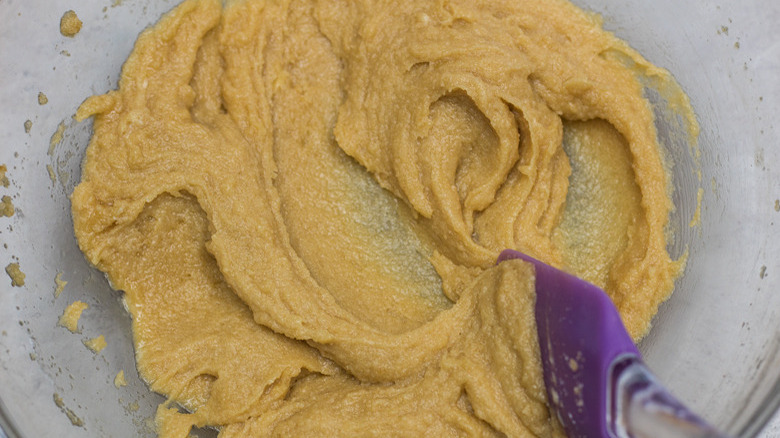 Angela Latimer/Mashed
The first thing you'll need to do before putting any of those ingredients to use is preheat your oven to 350 F. You'll also need to line a baking sheet (or a couple, depending on the size of your sheet) with parchment paper.
Then, it's time to move to the mixing. Grab a large mixing bowl and cream the shortening with ½ cup each of light brown sugar and sugar. Creaming brings the sugar and fat together to create a light and fluffy texture, and it's a quick and easy step to ensuring your cookies end up being the perfect consistency. Just make sure you start when your shortening is at room temperature. It should be slightly firm, because the fat won't mix properly if it's too soft.
Lastly, add 1 large beaten egg and 1 teaspoon of vanilla extract. Mix the final ingredients well with the creamed shortening before moving on to the dry ingredients.
Mix the dry and wet ingredients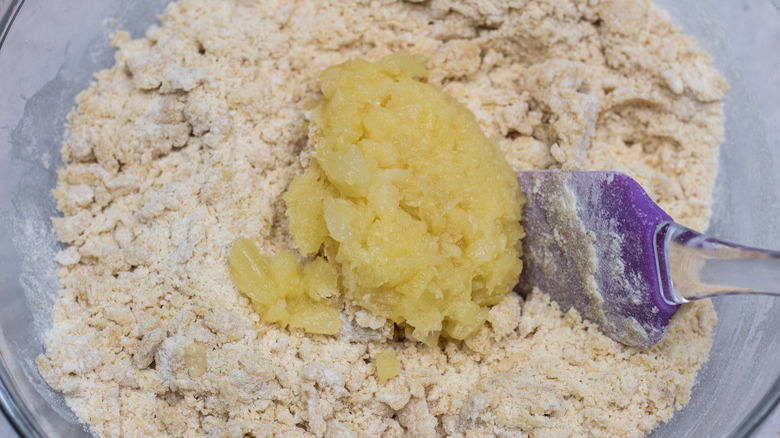 Angela Latimer/Mashed
In a separate bowl, add 2 teaspoons of baking powder, ¼ teaspoon of baking soda, and ¼ teaspoon of salt. Stir that all together, and then add 2 cups of all-purpose flour, and mix. Mixing the dry ingredients and wet ingredients separately results in a more uniform mixture. With both sets ready, the next step is to combine the two, and mix until fully incorporated.
Frequent cookie bakers may look at this dough and immediately think that it's too crumbly once it's all combined. Fear not, as the pineapple fixes that problem. Measure out 1 cup of crushed pineapple — you'll want a generous cup that's lightly drained until there are around 3 tablespoons of juice. Separate the pineapple and the juice, then add the pineapple into the incorporated mixture, and stir. The goal is to evenly distribute the chunks of pineapple so that you're not left with any pineapple-less cookies, but not to mix so much that the entire dough is overworked.
Fold in the walnuts, and scoop out your cookies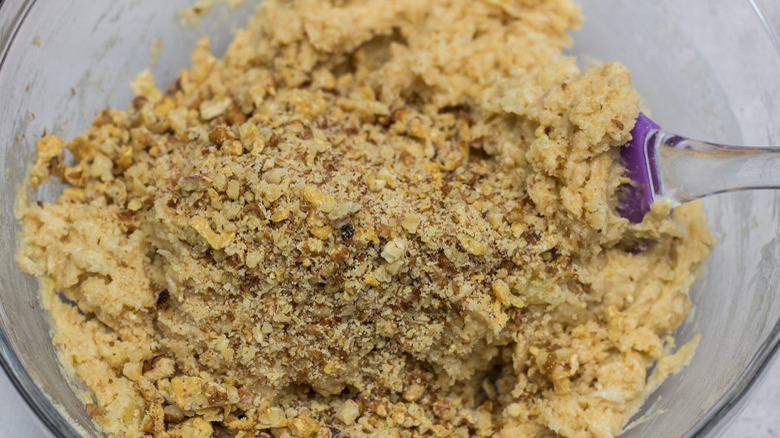 Angela Latimer/Mashed
If you're using nuts, grab ⅔ cup of crushed walnuts, and fold them into the mixture by scraping the bottom of the bowl and lifting the batter over itself to combine. The goal here is similar to the goal with the pineapple: fully incorporate, but don't over mix.
Your dough has just about seen the last of the mixing bowl at this point. Grab a tablespoon (a regular spoon works as well), and scoop out a large portion. You can also use an ice cream scoop, which "gives the cookies a uniform shape and size," Latimer says. Just note that the size from a traditional ice cream scoop may mean that the cookies take a little longer to bake. Whichever method you use, put it straight onto the baking sheet that you lined with parchment paper at the start of the recipe. Repeat until there's nothing left in the bowl.
Make your icing while the cookies bake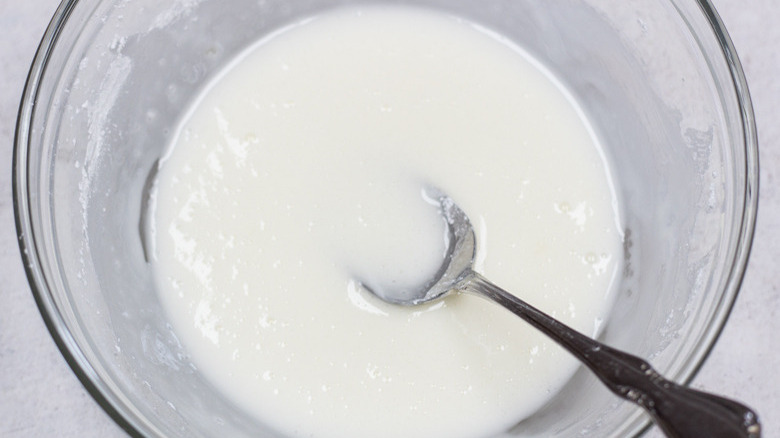 Angela Latimer/Mashed
Once the baking sheet is full of properly spaced out drops of pineapple drop cookie dough, pop them in the oven. Bake them for between ten and 12 minutes (or 16 and 20 minutes if they're larger cookies measured with an ice cream scoop). You'll know they're ready when the bottom edge is lightly golden and the cookie doesn't give when lightly pushed on. At that point, take them out of the oven and let them cool for about five minutes, and then transfer each of the cookies to a wire cooling rack to evenly bring the temperature down further.
You can make the icing while you're waiting for the cookies to finish cooling. Simply stir 1 cup of powdered sugar with the 3 tablespoons or so of pineapple juice reserved from the mixing step. Check the texture to see that it falls in a slow drip rather than a steady stream. If needed, thicken with a little more powdered sugar.
"The icing flavor is mildly pineapple," Latimer says, "but it also adds a bit of creaminess to the cookie that is a nice texture contrast."
Top your cookies with icing, and enjoy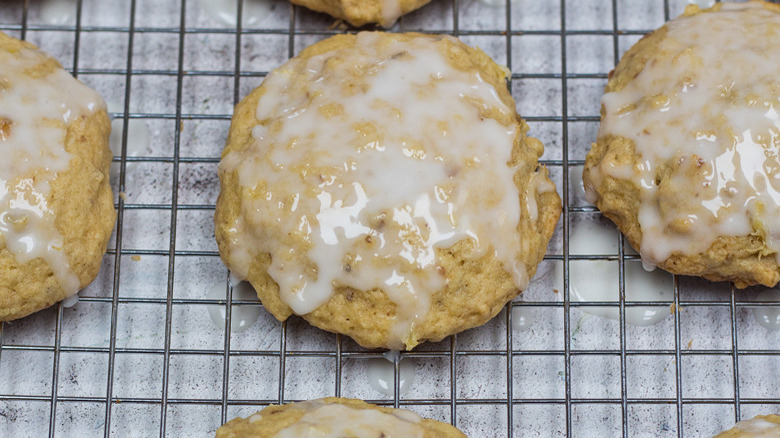 Angela Latimer/Mashed
Your cookies should be finished, or close to finished, cooling by the time you've made the pineapple juice icing. Here's where you'll want to make sure your cooling rack with your cookies is over a piece of parchment paper. If not, you'll have a bit of a difficult mess to clean up.
Using a spoon, spread a scoop of icing onto the top of each cookie. Use the sides and back of the spoon to make sure the whole top of the cookie gets covered. Some of the icing will spill over to the sides, which is perfectly fine and actually preferable for more coverage, and some will drip straight off the cookie and onto the parchment paper below. That, too, is fine and expected. You'll have to wait a little bit longer once the cookies are covered. Let the icing completely set before bringing these old fashioned pineapple drop cookies out of the kitchen. Then, all that's left to do is enjoy.
Pineapple Drop Cookies Recipe Brings Sunshine To Dessert Time
We can all use a taste of sunshine every once in a while. For those days, it's hard to beat these old fashioned pineapple drop cookies.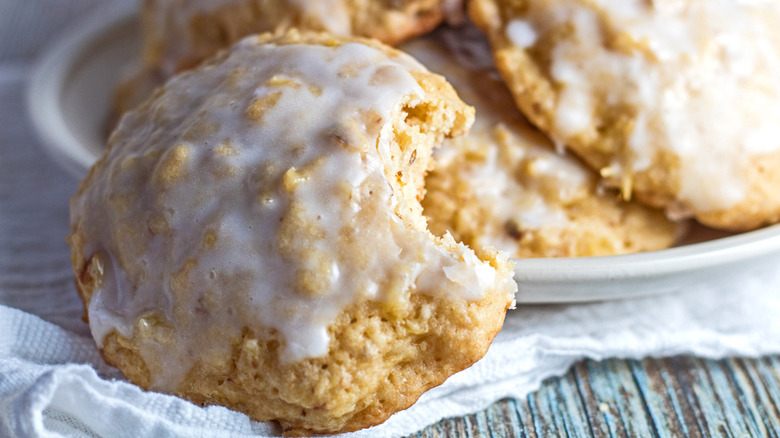 Ingredients
½ cup shortening
½ cup light brown sugar (packed)
½ cup sugar
1 large egg (beaten)
1 teaspoon vanilla extract
2 teaspoons baking powder
¼ teaspoon baking soda
¼ teaspoon salt
2 cups all-purpose flour
1 cup crushed pineapple (generous 1-cup portion that has been lightly drained, reserving 3 tablespoons of the juice)
⅔ cup chopped walnuts
1 ½ to 2 cups powdered sugar, for icing
Directions
Preheat your oven to 350 F and line a baking sheet(s) with parchment paper.
In a large mixing bowl, cream the shortening with light brown sugar and sugar. Add the egg and vanilla, and mix well.
Add the baking powder, baking soda, and salt to a separate bowl and stir, then add the flour. Mix the dry ingredients with the wet ingredients.
Add the pineapple and mix just enough to incorporate all ingredients. Fold in the crushed walnuts.
Drop large tablespoon portions of the mixture onto your prepared baking sheet(s).
Bake for ten to 12 minutes (or 16 to 20 minutes if you used an ice cream scoop) until the bottom edge is lightly golden and the cookie doesn't give when touched. Remove from the oven and allow to cool for five minutes before transferring to a wire cooling rack to cool completely.
Once the cookies are cooled, mix the reserved pineapple juice with 1 cup of powdered sugar. Stir to combine, and add more to adjust the consistency to a slow drip (not a steady stream or runny).
Place your cooling rack with the cookies over a baking sheet or piece of parchment paper. Spread the icing on the tops of the cookies and push to the sides with the back of your spoon until the top is coated (the icing will drip and do the rest). Allow the icing to set before serving.
Nutrition
| | |
| --- | --- |
| Calories per Serving | 110 |
| Total Fat | 4.5 g |
| Saturated Fat | 0.9 g |
| Trans Fat | 0.4 g |
| Cholesterol | 5.2 mg |
| | |
| --- | --- |
| Total Carbohydrates | 16.9 g |
| Dietary Fiber | 0.4 g |
| Total Sugars | 11.0 g |
| Sodium | 48.1 mg |
| Protein | 1.2 g |